This week Sky Sports News will ask whether or not the recession is having an effect on sport, and if so, what is being done to fight it?
Our reporter, Geraint Hughes, has been looking at the impact of the economic downturn on various sports in the UK and you can see his reports every day throughout the week on Sky Sports News.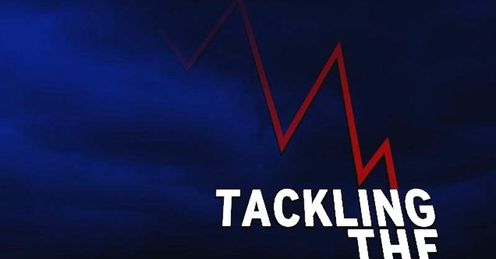 You can also read his blogs on skysports.com each day this week - and don't forget to leave your comments using the feedback form at the bottom of the page to let us know how the recession is having an impact on your enjoyment of sport.
This Thursday, March 26, is the final day football clubs can go into administration where the penalty, normally a points deduction, will be felt this season. .
Several clubs, mainly from outside the Premier League, have on occasion this season expressed concern over the parlous state of their finances, but will any make the difficult decision to go into administration?
Just under 18 months ago, Luton Town went into administration. Since then the club, in conjunction with creditors and the new management team, has worked hard to ensure its survival, no easy task during these turbulent economic times. Managing Director of Luton Town FC Gary Sweet confirmed to Sky Sports that the club is now "debt free."
However, while many clubs are struggling and the disposable income of supporters is less, there are some better deals or even possibly bargains to be found! Most football clubs are working hard to retain their fan base.
One example is Bradford City, where one of their loyal fans was worried about how much he'd have to pay for a season ticket for himself and his two sons. Bradford have dropped their prices and he's paying £138 and £68.50 each for his kids, if he had any children under 11, they'd go free.
It's not to say attendances are rocketing because all clubs have fabulous offers, but there are deals to be found IF you ask for them.
Overall, attendances across the Premier League, Championship, Leagues One and Two are down just 0.6% on last year, and according to football finance specialists Deloitte, sport is well placed to ride out the effects of the recession.
It's essentially entertainment and loyal fans are reluctant to give up going to the match, even in challenging economic times.
What is your experience of the recession and sport? Can YOU afford to keep going to watch YOUR club? Has your club come up with any schemes to keep you going to matches? Let us know by filling in the feedback form below...
Comments (7)
Shaun B says...
The revenue from spectators now is not as important as years ago because of the money in the game via sponsorship, and getting in the Champions league is worth in excess of £20m.
Posted 12:18 27th March 2009
Phil Antia says...
What does M. Ashdown mean by the Americanization of football? Does he mean that it's absolutely safe for any and all fans to go to any game? Does he mean that American sports are thriving financially and attendances are mostly in the 60-70,000's? Does he mean that the sporting match is an event with entertainment for adults and children? All that is true.
Posted 14:31 26th March 2009
Josh Merrick says...
Im writing for the most of Walsall fans, Bonser needs to go, he shorley knows that every body hates him. Ok he has really done well for us in he past but he's time has got to be over. On a plus note ive heard rumors that ex aston villa chairman Doug Ellis will buy the club for his son, lets just hope that it is true.
Posted 16:47 25th March 2009
David Gardiner says...
Being a life long Hartlepool Utd fan I am extremely worried about the effects the economy is having on our home attendances. Despite having one of the best goal scoring records in L1,beating prem sides at home in both cups we are stiil struggling to get 3,500 crowds this season(at least a 1000 drop from last). Maybe its time to think about going back to regionalising the lower leagues so that fixtures with the likes of Yeovil, Cheltenham ect can be replaced with regular visits from Bradford,Darlo and the like. The larger away following adds to the size of the crowd and would lead to more appealing fixtures for the fans. Plus think of the cost savings for every club. In todays economy they need every bit of help to survive and this would go along way I am sure. UP THE POOLS !
Posted 15:48 25th March 2009
Paul Cook says...
I agree with Paul Webb on that one its not due to the recession but because of how boring the football has been this season, sticking 11 men behind the ball and hoping for the best is not entertaining that is why for the majority of this season id rather stay at home and watch the game because if i get bored i can quite easily turn it over and watch something else.
Posted 11:45 25th March 2009
Ian Allen says...
My opinion is yes, football is flagging. A lot of fans are now having to pick and choose what games they attend due to financial reasons. A dad and lads day out at the game is now stupidly expensive. Financial committments elsewhere are far more important than football. In turn less successful clubs are taking the hit. You only have to look at the Wigan Vs Hull game on Sunday, the attendence was terrible. It looked like a league two game. Its not only the price of tickets, but in recent years Clubs are forever changing the shirts and selling them at increasingly high prices. Supporters are getting wise to football, we put so much in but get very little in return.
Posted 10:37 25th March 2009
Paul Webb says...
i dont believe that the recession is the cause of falling crowds in some grounds because some lower league teams have risen over the past few seasons...i believe that the premiereship is getting boring, not in a sense of the top four being the same year in year out, but football in general.. it has changed so much and its not football as we know it..going back to the recession it baffles me that the big teams still refuse to drop prices of tickets and even have the cheek to raise em because they know that people will be waiting in the wings to get any spare tickets going.. its time the f.a stepped in and put a cap on all ticket prices for all the clubs which would also force the clubs to stop paying silly money to players
Posted 10:30 25th March 2009