This week Sky Sports News will ask whether or not the recession is having an effect on sport, and if so, what is being done to fight it?
Our reporter, Geraint Hughes, has been looking at the impact of the economic downturn on various sports in the UK and you can see his reports every day throughout the week on Sky Sports News.
You can also read his blogs on skysports.com each day this week - and don't forget to leave your comments using the feedback form at the bottom of the page to let us know how the recession is having an impact on your enjoyment of sport.
Sport is big business. It's a great opportunity not just for people to enjoy participating or watching, but also for money to be made.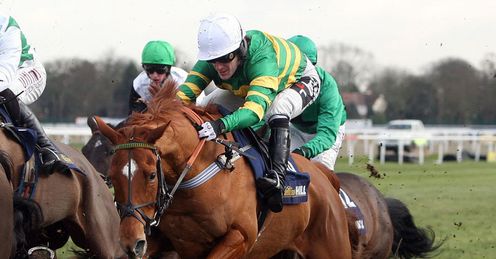 Take racing, the "Sport of Kings and Queens". There are 61 professional racecourses in Britain, from Newton Abbott in the south-west of England to Ayr in Scotland.
Just one has so far found the going too tough during the recession. Great Leighs in Essex, Britain's first new course in 80 years only opened in April 2008, but by January of this year it went into administration.
Deloitte, who are handling the sale of the course remain optimistic a buyer can be found and that racing can resume. For the other 60 courses, they can't rely on just making money from punters coming through the gates. Corporate hospitality and sponsorship has long been crucial for their business models.
At Kempton Park in south-west London for example, they have realised that businesses are feeling the pinch of the economic downturn, so they are offering discounts and a free crate of something bubbly!
Sandown Park, just a few miles away, has a different approach to getting corporate cash. No discounts, but you get much, much more for your money - "adding value," was the phrase Managing Director David Mackinnon was keen to use.
Kempton and Sandown are not typical of all racecourses in Britain. While they have worked hard to see increases in their attendance figures, if you take into account all the courses then attendances are down 15% on last year.
Aintree, home of the forthcoming Grand National, expects numbers for the meeting to be similar to last year, however it's already downsized the corporate hospitality, estimating a 10% decrease in that sector.
Premier League football clubs are not immune from corporate prudence either. Of the 20 clubs in the top flight, eight could not confirm to Sky Sports whether or not they had a shirt sponsor for next season.
Sponsorship Specialist Dominic Curran from Synergy said they expect clubs from outside the 'Big Four' to adopt closer relationships with local companies and their communities, where a sponsor will expect much than just a name on the team's shirt.
The picture isn't too gloomy yet, sport is well placed to weather the recession and maybe come out the other end better off.
However, it's estimated by experts such as Synergy and Deloitte that corporate spending and sponsorship could drop off by as much as 10 % in the coming year.
Difficult decisions will have to be made.
Post to your View!
Be the first to post a comment on this story