The recession is no doubt having a massive impact on how people spend their disposable income.
But everyone needs a bit of escapism, some time with their mates and a game of football can be a great tonic to help forget the daily trials and tribulations.
Sunday League is just that, a game for the keen amateur, yet they turn up, pay and play come rain or shine.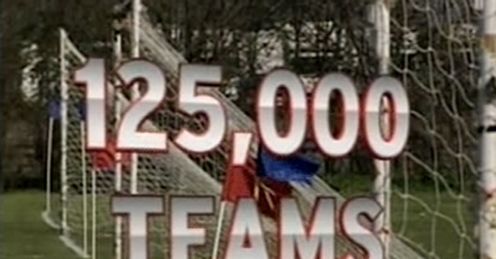 Hackney Marshes has long been a symbol of Sunday morning football, loads of pitches and hundreds of teams of varying ability.
The Hackney and Leyton (H&L) League has five divisions, 57 teams and plays matches on the East Marsh.
Speaking to several players whether or not the recession had made them think twice about paying their match subs and the cost of kits, boots and travel etc, the reply - not one said the downturn would make them stop playing football.
It's too important to them, money didn't come in to it. One chap said he wasn't buying a new car this year, but would always pay to play football. He just loves it too much.
Johnnie Walker, Chairman of the H&L League added: "A lot of our players are feeling the pinch, it's a real working class area this part of East London and many are probably out of work and on benefits, but they'll pay for the privilege of playing football."
Pub closures
So the game appears to be in a healthy state at grassroots level? Yes and no.
A lot of the teams which play in a league such as the H&L are pub teams and pubs have been closing at an alarming rate. Those teams are now having to pay for all their kit, where in the past the pub would pick up the tab.
But it's just another example where people will put their hands in their pockets and pay - football is like that, it makes you do daft things.
To watch Geraint's full report click on the video link on the right of the screen.
Comments (2)
Adrian Johnson says...
I run a team in the H and L League, yes its hard to find the mony which pays for the pitches and league fees which go with them... Our club has never had a sponsor, has been running on players fees and subs during the course of the season... Some players try to use the credit crunch as not to pay, which then leaves the likes of me and other managers to pick up the fees charged by the leagues...This season has seen me out of pocket to the sum of £300.00+. Whcih i can't afford, what you do do if you enjoy football? Taking on the costs is expensive, but players are ok, if they play, but not running a team... Who knows when my club which has been going for 20+ years decides that money will be required.
Posted 15:15 27th March 2009
Dave Kershaw says...
My passion for football is so immense that no amount of "credit crunching" would ever stop me from lacing my boots up on a saturday and sunday and playing against our local rivals! Amateur football is where the keenest and biggest footbal fans lie. Merstham Newton FC are playing our rivals Merstham A tomorrow afternoon, prior to the England Kick off, in a match that couldl decide the winners of Redhill and District League 2. We will all go for a pint afterwards, and hopefully see England demonstrate the same amount of love and passion for the game that we leave on the pitch every week.
Posted 14:41 27th March 2009