The biggest night of the year is almost upon us as the stars of the WWE prepare to hit the Reliant Stadium in Houston, Texas, for the 25th anniversary of WrestleMania.
Much more than a one-night wrestling bill, WrestleMania XXV is a week-long extravaganza and Sky Sports News reporter Adam Craig is in Houston to bring you a flavour of wrestling's showpiece event.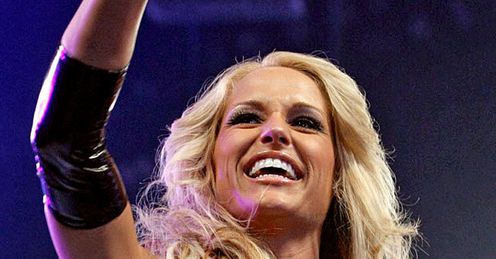 He'll be blogging here on skysports.com every day this week so make sure you check back every day for his updates - and don't forget to watch WrestleMania XXV on Sky Box Office this Sunday night.
I was woken on Tuesday by a 5am phone call.
I won't name the caller to protect the guilty. He wanted to give me details of a WrestleMania satellite feed later in the week and asked what time I'd be flying out to Houston. I reminded him I'd flown out on Monday, it was 5am, and if he wouldn't mind I'd quite like to go back to sleep.
Did I mention that he booked my flight?!
Now wide awake, I called the newsdesk to touch base. They told me that Ade Akinbiyi had just signed for Houston Dynamo and it would be great if I could track him down.
Good news: The Robertson Stadium where they train and play is four miles from our hotel. Bad news: Akinbiyi is currently in Stoke while his visa gets processed.
Our chase didn't end there though as Dynamo's assistant coach is none other than former Chelsea and Scotland striker John Spencer.
I headed down to the stadium with my cameraman, Ben, and John was happy to do an interview with us before he started training and before we got onto the serious business of the day - WrestleMania XXV.
More
These days WrestleMania is much more than just a show on Sunday night. A whole series of interactive fan events have been put on by WWE, starting with Wednesday's 'WrestleMania Art' exhibition and ending with Saturday night's WWE Hall of Fame (live on Sky Sports 3 and a must watch for any Stone Cold Steve Austin fan).
That left us the rest of Tuesday to find evidence of Houston preparing for the showpiece in the WWE calendar. So we jumped in a taxi and were greeted by a lovely sight. A super-sized image of WWE diva Michelle McCool on the back of an even bigger truck. Follow that diva!
The truck, closely followed by our taxi, ended up at the Reliant Stadium which will host Sunday's event. It parked up next to at least a dozen other trucks each emblazoned with a different WWE superstar. WrestleMania is coming to town!
The trucks were filled with all the cables, electrics and satellite equipment required to stage an event of this magnitude and broadcast it live to over 100 countries.
Having captured this on camera and interviewed the riggers we headed off to Fox TV to feed everything back to Sky Sports News HQ in London.
You wouldn't think it would be difficult to put a tape into a machine and press play. You'd be wrong. 'Technical problems' apparently.
Frantic
At one point six of us were gathered around the machine. Several frantic calls to Fox New York later and we realised no feed would be possible until Wednesday.
Total Vision, a small studio in downtown Houston, came to our rescue. It was filled with old movie props and looked like the storage room for items on The Generation Game conveyor belt.
Our interviews finally fed to London, we headed back to the hotel where we were greeted by two Newcastle fans out here for WrestleMania. It would help them, they explained, to forget about their team's troubles for a week or so.
How funny that half-an-hour later I'm sat in the lobby filing this report when I learn via text that my colleague David Craig (no relation) has broken the story of Alan Shearer's return to St James' Park.
I'm off to dinner. I wonder if the real Michelle McCool will be as easy to find...
Comments (2)
Lee D says...
Me and my brother are in Houston too right now for wrestlemania, this is our first wrestlemania. already you can see around the city how big this really is...everybody is pumped up for the big day on sunday..the sun is shining..the ladies are hot what more could you want???
Posted 13:05 1st April 2009
Robert Cameron says...
well at you just a lucky guy. do you want to swap? i wish i could be there
Posted 11:57 1st April 2009