We have seen several signings announced over the past week or two in Super League - except that none of them are staying in the competition. Right now, the NRL has a real lot of pulling power.
The financial benefits are there for players, as well as the opportunity to play in a different competition that is substantially higher in its profile than the equivalent in England and Europe. That is a huge draw for any player.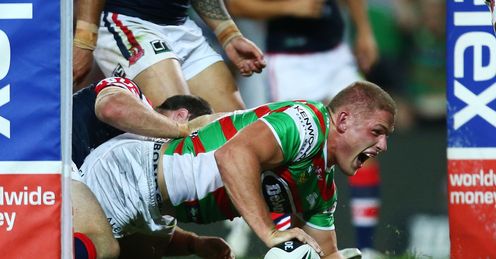 Yet while it is perhaps no shock to see Super League's stars being targeted, I'm surprised to see NRL clubs aim to pick up players who may not be the names expected. Don't see that as a slight on those being signed either, just that it's a new trend we have seen develop of late, and I think we're going to see this happen more and more often in the coming years.
We've got some great prospects in the UK, and NRL teams can take something of a punt to bring them in having seen them display their talents in what is a tough competition.
Luke Dorn
Quotes of the week
Those perhaps halfway down the list of players in a team's Super League squad are the ones on their radar, because these are the guys they can bring in that make most financial sense.
They are making £20-30,000 here in the domestic competition, whereas the minimum salary in the NRL is $75,000. Then there are also individual sponsorships to take into account, so it's a big move for any player.
We've got some great prospects in the UK, and NRL teams can take something of a punt to bring them in having seen them display their talents in what is a tough competition.
They are seeing these guys play in Super League and realising that it's not going to be too much of a challenge in terms of the physical side of things to ply their trade in the NRL. They will then be hoping that the quality of coaching they can provide, and being in their set-up on a permanent basis, can improve the quality of these players.
Burgess boys
George Burgess did just that. He went out there to have a go and test himself, perhaps looking to come through the grades. Now he's probably one of the form props in the NRL, which is no mean feat considering the standard of competition in that position.
For him to go out there and dominate is a big plus for the Super League in one way, but it also means there could be plenty more trying to follow the same path in the future.
That is a concern for the domestic game here. I believe after confirming Gareth Hock and Lee Mossop were joining the Eels, Wigan said that it would be a great opportunity for players from their club to go over there, and then come back to them as better players. But the way it's going, I'm not sure if a youngster is going to go to the NRL, then come back a few years later and think that their career is still on the upward curve.
This should be a worry for the RFL - it was at one stage rugby union that was the main concern for signing league players, but now it is without doubt the NRL.
Half the English national side could end up in Australia, meaning they're no longer playing in the country they represent.
What should worry them the most, though, is I'm not sure there's anything that can be done about it. They should've seen this coming, because the warning signs have been there.
A solution would have been to expand the salary cap, as I've spoken about before in this blog. Yet that means the gap between the 'haves' and 'have nots' would just get bigger.
And could any club really afford to be paying out £3 million without the aid of some serious financial backing? We get solid crowds, but we don't sell out 30 or 40,000 seats for each match here.
And how can even Wigan, for instance, compete with Sam Tomkins being offered $1 million to go to Australia? To match that, particularly considering the current exchange rate, would mean a great chunk of their salary cap was eaten up by one player, albeit a fantastic one.
While players have gone to ply their trade in Australia before, I feel it is another Burgess, Sam, who paved the way for what is happening now to some degree. He has become a face of the NRL. He's everywhere, the fans love him and his style of play suits the game so well. The attraction must be there for all these young Englishmen to go and try and emulate that.
He was undoubtedly a very good player when he left Bradford, but now he is phenomenal. That is down to the development his game has enjoyed from being in an NRL environment.
Even if any player does go out there and feature and plays in just a handful of first-grade games, they could return home and demand more money than they were earning previously in Super League. It's a win-win situation, surely?
The one positive for England could be that it actually aids the national team.
English players are going to be in the NRL playing with and against Australian and New Zealand internationals. They will become accustomed to the style and speed of the game and surely become better players for the experience.
Can even the best Super League sides afford for this to keep happening, though? You can have the best youth development in the world, but if a glut of players go quickly then no team can handle it.
You can follow Luke on Twitter @lukedorn
Comments (2)
Steadman's Tash says...
Adage Edge, I think back to the Castleford teams of the super league era and the one that beat Hull and Wigan recently. The 17 was full of not just British lads but ones from Cas too. I look at Huddersfield and Saints today and add teams like Wigan and Leeds who have promoted youth consistently for the last decade and think we have a lot less mediocre imports than a few years ago. Especially since relegation was removed and dual registration is giving game time too fringe players too. Are things as bad as you say?
Posted 05:43 2nd July 2013
Adge Edge says...
British Rugby League has only got itself to blame for what is happening to our game over here. We have been letting hundreds of overseas players joining our teams which is obviously not letting our teams develop young British talent. I have seen lots of excellent young prospects stop playing rugby league because they have not and will never be allowed to develop their talent in the current set up. The vast majority of the overseas players are not good enough to play in their own countries but there is a misconception that because someone is an aussie or a kiwi he must be a top player. Wrong. If they were top players they would be back in their own countries earning better salaries than what they get here. What we are starting to see now is a vicious circle developing whereas the aussies are now starting to take our best talent and, because we have no home grown talent to step up we have to take in overrated players from abroad and pay them inflated salaries. I think that the only solution would be painful but in the long term very beneficial if we want to compete with the aussies and kiwis at international level. We should limit the overseas quota to two players per club and develop our own talent. I know that we will suffer for a few years at international level but I am sure that we will reap the benefits and eventually become number one in the world again. Another thing is to scrap the stupid dual registration system that the top teams are starting to abuse. By all means have a system where players from a lower division can step up and have a trial of sorts with a team from a higher division but no player should be allowed to drop divisions just to get them match fit for their own club. Now because the game over here has gone stagnant there is talk of major shake ups on the way which may benefit the game. But be aware they could also kill the game.
Posted 12:28 9th May 2013