While I may have watched from afar as England took on the Exiles (the opportunity of a few days off saw me take the family to Portugal), I was still interested to see what happened.
The fourth edition of the concept saw England come out on top in Warrington, but perhaps a crowd of just under 8,000 wasn't quite what was hoped for. It was, as it happens, up on the figure for game two of the series in Huddersfield last season, but the numbers have dwindled considerably since its inception in 2011.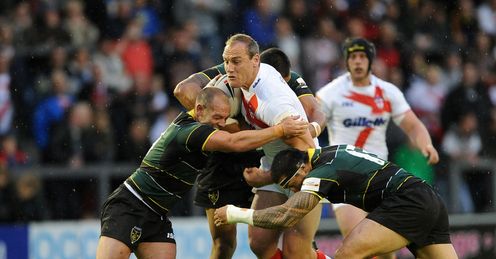 So what else can England do to give themselves some meaningful opponents midway through a campaign? Personally, I think the concept is still good. The key to it, though, is making it popular with the fans, and that perhaps means changes are needed.
Having empty stadiums is not good for the game, especially if they are televised. Obviously some matches are well attended and some clubs attract sizeable attendances, but the numbers coming through the turnstiles has to be a concern for the game moving forward.
England need some sort of hit-out - Yorkshire v Lancashire tried and failed in the not so distant past, while there's no point playing France or Wales at the moment. None of the sides involved got any real benefit from those matches.
Luke Dorn
Quotes of the week
It's a bit concerning when it's the pride of a nation against the best from overseas, a Barbarians team if you like, and we can't sell it out. It's disappointing, particularly for the players as they would love to be appearing in front of packed houses.
However I don't feel scrapping the game is an option. I think it's vital for England to play someone like the Exiles. And the players who take part for the Exiles say it is a great honour to be selected in a representative team, giving them a chance to play against a national team in a one-off fixture.
Perhaps it's about finding the right time of year, or the right venue. I suggested on Twitter, tongue-in-cheek of course, about playing the match at a pop-up stadium in Shepherd's Bush to attract some away support.
But seriously, perhaps playing it in London isn't a bad idea? I know some people may mock that suggestions because Broncos games aren't strongly attended, but maybe a game like that would attract those from Down Under who have heard of the likes of Steve Menzies and Brett Hodgson and want to come along and see them play.England need some sort of hit-out - Yorkshire v Lancashire tried and failed in the not so distant past, while there's no point playing France or Wales at the moment. None of the sides involved got any real benefit from those matches.
Away days
So what about this - rather than taking on the Exiles here, England instead travelled for a tour of Down Under, though not to face Australia.
A mid-season break in Super League (and they are talking about cutting down the number of games anyway, so that shouldn't be hard to organise) would allow the national team a three-week period to travel to Australia and play opponents during the time State of Origin is on.
New Zealand would have players available during that time, while Samoa and Tonga could be possible opponents too. I know they are trying to put a lot into the island nations and something like this would surely aid their development in both the short and long term.
By doing this, national boss Steve McNamara could also have his NRL players in camp and although not all of them might be able to play due to their club commitments, it would at least allow the entire squad to get together.
They currently manipulate the NRL fixtures around the Origin games, giving byes in those weeks to the teams that are most affected by absentees, so it wouldn't seem impossible to adapt it further.
The break would also allow those not involved with England to re-charge their batteries for the second half of the season (though could that then bring in club v country issues?). Like any walk of life, rugby league players work hard at their jobs and it can be as mentally draining as it is physically.
Obviously a lot of things would have to coincide for this to happen. The RFL and the NRL would have to come to some agreements over their schedules to make space.
But even if England only get to play two games, against say a New Zealand XIII and Samoa, then that would surely be of benefit to both them and also the international game as a whole. It could be Australia 'A' are selected from those that aren't taking part in the Origin Series to take on McNamara's men.
Like I said, I'm not saying the Exiles game should be buried in a hurry. But perhaps the international game could do with a boost, and a mid-season tour might be just the shot-in-the-arm it needs.
Comments (13)
John Griffiths says...
The Yorkshire v Lancashire "origin" if developed would have been a sensible step up from club to Country. Magic weekends and Exiles will be tried and abandoned and the game goes nowhere fast. To me the way forward is obvious but it would take a lot of vision. A partnership with the ERFU. It sounds far fetched, but just give it a thought.
Posted 16:01 29th June 2013
Jo Ed says...
The exiles is a training game full stop, no matter the potential of the exile players. Hence your asking hard pressed fans to pay out money for a training game - remember money is needed to attend the world cup games. Plus the RFL force us fans to have to travel to Wembley or Cardiff to see the bigger England games, hence more cost - hopefully England get to final and then I can attend without the addition cost of travel and hotel. Yeah I know expansion but need to consolidate the home base first and then push expansion from position of strength. Using the Exiles as in union barbarians is a good idea, i.e. a tour training run out. Should bring in a Yorkshire & East v Lancashire & West type game and work at that as a step up from normal super league games. Don't give up so quickly. The game of orgin was not big in the beginning.
Posted 21:30 22nd June 2013
Frank Hood says...
bring back the yorkshire/lancashire games if it publicized and marketed properly they could be a big draw The RFl need to work on marketing etc Thats whats letting our game down the fact that they dont push it enough.
Posted 16:51 21st June 2013
Graham Cox says...
Whilst I am up for whatever suggestions may be thrown into the melting pot we need to look at the game as a whole. If we can't manage to get decent attendances for challenge cup matches (matches that involve clashes between top Super League clubs) then what chance do we have of attracting supporters to such games as the Exiles or Yorkshire v Lancashire. Super League has been marketed and hyped to such a degree that no other matches seem to be of any significance. Isn't this a result of following the NRL who, other than State of Origin, are not interested in anything beyond their own competition. No sponsors for Super League and no sponsor for the World Cup demonstrates that the game needs to be re-thought, re-structured and re-marketed before it implodes completely. What is needed is a revolution in thinking if Rugby League is to survive at all.
Posted 16:35 21st June 2013
Michael Wheeler says...
Great idea, though if it were a sanctioned International tour, NRL clubs would have to release their English players, and i cant see the NRL clubs being keen on that, especially at Origin time. England Versus New Zealand, Samoa and Tonga in a three week period would be awesome for every team involved.. though looking forward, maybe not so awesome for Australia...
Posted 14:54 21st June 2013
Alan Venables says...
Your right Mark the RFL are poor at marketing i work in Dartford and live in Warrington while driving home last Friday was listening to Talk Sport for 5 hours and not 1 mention of the England v Exlies!!!
Posted 10:38 21st June 2013
Joshua Baldwin says...
i think this is a great idea we could play the exiles game either strt of season or the back end, the mid season tour would be great building up to world cups and tri nations aswell.
Posted 08:55 21st June 2013
Chris Talbot says...
It is an interesting idea and could work depending on the level of fixtures in the Super League in future. Playing Samoa, Tonga or New Zealand in a Mid Season Test Match would be good however England could host the sides in alternative years. A note for London, have the club ever thought of handing out flyers to the passengers of the Australian airlines of when they are playing. Might rouse a couple of Aussies to go and watch their national sport whilst they are over here.
Posted 01:00 21st June 2013
Ian Mulrooney says...
What a great idea, they could also play Papua New Guinea, take a large squad and play 4 or more games to give younger players experience. The Exiles could be the opener in the Middle East then on to Papua New Guinea, then 2 or 3 games in Australia over 2 weeks. Friday v Exiles, Tuesday, Papua New Guinea, Friday New Zealand, Tuesday Pacific Islands then home. Excellent idea!
Posted 21:46 20th June 2013
Ben Gittins says...
Luke, surely the answer to the Exiles attendance problem lies in the location that the matches are being played in. Without being disrespectful to Warrington the game should not be played in a town that is obscure to most outside of the heartlands. It is time England Rugby League makes it's home in Leeds. It is by far the largest prominent city to play Rugby League (let's face it pulses are hardly racing in London). The attractions are numerous; Two Large stadiums that can meet demand (Elland Road & Headingley). Great transport links. An attractive location to fans who wish to go into the cities bars and clubs after the match (something which is undoubtedly a draw for many especially those coming from further afield) and finally guaranteed attendance via the locals alone (That includes the Bradfordians). Further to this, International Rugby League in this country lacks an identity. For instance an international stadium that is the focal point for the nation. A Twickenham or Wembley. Whilst I'm not advocating the construction of a new stadium I do believe that a commercial partnership needs to be struck with one or both of the Leeds clubs in order to provide ERL a home. Feel free to pass this onto Phil Clarke too as I would love to hear both your thoughts on this.
Posted 20:38 20th June 2013
Thomas Mulholland says...
Well said Luke Dorn, The RFL & the NRL need to hold meetings during the 2013 Rugby League World Cup to discuss the idea but I firmly believe, that any series or tour whether it be in mid season or whatever should be contested by Great Britain & not England, It's no coincidence that our best performances against Australia & New Zealand, With the exception of the 2009 & 2011 Four Nations Wins' against New Zealand as England, Have happened under the name of Great Britain, Great Britain is our true international Rugby League identity & must be restored to the international game as soon as possible, In order to restore the credibility of international Rugby League on the world stage.
Posted 18:45 20th June 2013
Duncan Mcfarlane says...
Great thinking there things need to change and this option would see a benefit to the international game as a whole and to the super league! And I actually think the Aussie clubs would be hard pushed not to let their English national team players off for the games seen as they already do the same for their players in the state of origin matches!
Posted 18:33 20th June 2013
Mark Chadwick says...
Sounds like a good idea. Personally, I'd have another go at Lancs v Yorks. It was poorly marketed previously & let's be honest, the Origin Series wasn't an immediate success & needed quite a few years to get to where it is now. Or "probables" v "possibles" could be a good idea, as mooted by Phil Clarke I think..
Posted 17:01 20th June 2013