It is fair to say that the punishment doesn't always fit the crime in rugby league. There is a leniency and not all offences seem to be treated equally in what is already an extremely physical and at times brutal sport.
I don't think there is a big enough deterrent to stop players committing some offences, either. Whether it is a deliberate act or not we need to stamp certain things out of our game.
Perhaps the first thing that would help is more sentences to be dished out on the field. But referees are human after all, and it is a super hard job that they undertake each week. It is certainly one I do not envy - I have absolutely no interest in being a ref! They don't, though, always get a huge amount of help.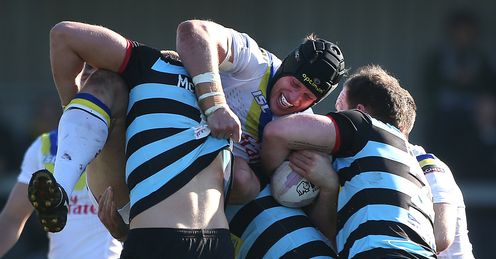 When you are five minutes into a game and there are 10,000 people watching inside the ground, it is an intimidating situation in which to ask a referee to make a big call if there has been an act of gross misconduct.
Video help
In my opinion, we need a video referee at all Super League games. Either that, or don't have them at any.
It is no good there being an incident at a ground on a Sunday afternoon and there being no video official there to help when had the same situation occurred on a Friday night in a televised fixture, something could have been done about it.
Luke Dorn
Quotes of the week
It is no good there being an incident at a ground on a Sunday afternoon and there being no video official there to help when had the same situation occurred on a Friday night in a televised fixture, something could have been done about it.
That can be the difference between a penalty being awarded, or a try being given. It could also be the difference between winning or losing an important fixture in the grand scheme of things.
We are in a results-based business, so why not have the consistency across the board?
There is no point a try being given at one game that would have been chalked off at another. It is frustrating for players, fans and coaches. And it is not as if I am looking to blame the referees here, they have a tough enough job as it is. If they had a colleague with the ability to watch incidents back again and again, it would give them more help to call upon.
There have been a number of charges this year already for high or reckless tackles. I think that is somewhat down to the speed of the modern game.
I know the NRL has certainly quickened things up by officials clamping down on three men going into the tackle, stopping the game being slowed down to a standstill and becoming a 'wrestle-a-thon'.They have made a conscious effort to increase the speed, but that leads to players pushing themselves even harder and then mistakes can creep in when it comes to technique.
I don't think it is an overly big issue to be honest - players just need to take more responsibility, or be a little more conservative at least.
18th man
In this blog I have spoken before about how I feel the introduction of an 18th man could also help to make sure that those who are the victims are not hurt even further by losing a player to injury from an incident that is illegal.
Should someone be ruled out in such circumstances, then the referee could deem it a foul by gross misconduct and allow that team to activate their extra player, meaning they remain at 17 for the rest of the match. They should be allowed to be at their full complement because they have done nothing wrong.
To stop that being open to abuse, for instance someone feigning injury to allow the spare player to be utilised in the match instead, it would have to be down to the referee to deem if the offence is serious enough.
In such a case, the video official (that I would have at every match) would then also be able to review footage and offer help to their colleagues on the field.
The concussion rules are good. Player safety is paramount and I don't think in this modern game a player would risk sacrificing himself for 10 minutes, or perhaps the rest of the game, to purposely try and knock an opposing player out.
You could even take this a step further and allow the on-field referee to review footage himself, as the NFL have done when their lead official goes 'under the hood' to see television pictures of what just unfolded on the last play. A ref involved in the game has an instinct live of what has gone on, but then if he could have a second look he could confirm, or rule out, his initial verdict.
And what if the benefit of the doubt in terms of using footage was wiped out, and instead it became down to what the on-field official thinks. If he thought it was a try or no-try in the first place and pictures prove inconclusive, and then stick with that original decision.
Who would be a referee, eh? Certainly not me, that is for sure.
Comments (5)
Adam Talbot says...
Well done Luke! It's took nearly 20 years of super league for someone within the game to actually acknowledge this! Even if its not on a big screen get someone in the gantry with a monitor!!! Not rocket science but the RFL are poor!
Posted 12:58 26th March 2014
Graham Smith says...
In my opinion we only need to look at the NRL model it will fix a lot of things on the field and could be quickly implemented
Posted 21:14 25th March 2014
Andrew Steward says...
I agree with luke,there should be video offical at all the super league matches,its unfair that teams have been undone,when its not an live match,yet the rfl are good with lousy review match offical that spot players that have been charge,but again fans like me cannot understand others are not been charge,the gradeing is an farce,there were some bad calls against the team i follow,while the players from other teams get off scot
Posted 15:46 25th March 2014
Mick Rooney says...
We must be careful not to over-sanatise the games. Bad enough having to listen to statistics during game.
Posted 15:22 25th March 2014
Paul Webb says...
I could not agree more with Luke. Video refs should be at every game. Castleford v Wigan this year - 4 contentious decisions went all in Wigans favour and after watching SL Full time , 3 of them , in my opinion, would have been reversed. I wish RFL would make this game for all RL clubs and not just the favoured few
Posted 10:37 25th March 2014