I cannot see Table Mountain from my bedroom window for the mist. Cape Town is immersed in cloud and, as I write these thoughts down on Monday morning, the same applies to the Test series. South Africa is one nil up but the burning issue of whether the Lions have it in them to level the series (against substantial odds in Pretoria) is not an easy one to resolve.
There are two clear as a sunny African afternoon schools of thought. The first is from the South African perspective. It goes like this. Before Pieter de Villiers overplayed his substitution policy the match was never in doubt and the Lions were in tatters. The home scrum decimated the visitors against the Lions' expectations.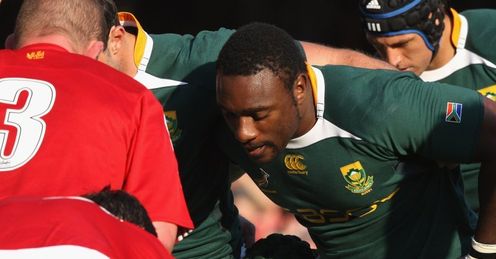 The line out was also controlled - as the Lions feared - and the inability not to concede penalties cost them dear as it has too often on tour. Given a match under their belt the Springboks should improve considerably for the game - in which case....rugby oblivion. There is plenty to the argument.
The alternative version of rugby reality has the Lions eradicating the problems at the scrum by playing the stockier and more compact Adam Jones on the tight head (or switching Gethin Jenkins across and targeting captain John Smit with Andrew Sheridan, a less likely option especially given his fitness doubts but a worthwhile thought at the very least) and stabilising the scrum the source of so many problems in Durban.
Shoring up the scrum
This combined with a bit more bulk to help rumble the mighty rumbling of the Springboks' tight driving game enables the Lions to play on more equal footing up front and allows the back row to target Ruan Pienaar who performed with consummate skills from the armchair of his ride at fly half throughout the game.
If the Lions can sort out these issues the 26-7 score line of the first hour is a margin of supremacy nothing like as daunting as it does appear on paper. On the front foot the Lions can argue that their back line has the penetration to do even further damage to a Springbok midfield that was porous.
Stuart Barnes
Quotes of the week
LIONS IN SOUTH AFRICA
Follow the British and Irish Lions tour of South Africa on Sky Sports throughout Grand Slam Summer.
For more on the Grand Slam Summer click here
If the Lions can sort out these issues the 26-7 score line of the first hour is a margin of supremacy nothing like as daunting as it does appear on paper. On the front foot the Lions can argue that their back line has the penetration to do even further damage to a Springbok midfield that was porous. A special mention here for two men, Jamie Roberts and Brian O' Driscoll. The latter confirmed his world class and the former established his self as one of the most exciting backs in world rugby.
Each and every time he received possession he surged across the Springbok gain line. He looked like the kid at school who matures early and terrorises opposition until they catch him up in their latter teens. He stomped through, around and over South Africans and he read and off loaded quite brilliantly. The Beast was an understandable man of the match but the claims of the Cardiff Blues centre were strong.
If he and his fellow backs receive enough chances they could square the series. It is a school of thought that cannot be dismissed and it is to the credit of the Lions that we are finally talking about a British and Irish back line with bated breath. It has been some time.
That is the rosier vision of the near future that Ian McGeechan and his Lions see, a vision that cuts gloriously through the craggy gloom of Cape Town and its brooding half hidden back drop on this Monday morning.
Loftus factor
Of the two the South African viewpoint would appear to be touched with enough grim realism to dent the daring and dreaming of O'Driscoll and friends. There is also the Loftus factor. The Blue Bulls quintet are going home and the crowd will lift the levels of players like Pierre Spies and Fourie du Preez who were fine but far from their world class best in Durban. The atmosphere was not in the slightest intimidating in Durban.
It was dazzling and noisy but nothing compared to the roar of support that will bellow around the most passionate of South African venues. The task is as intimidating as the mountain looks in this gloom but we have been here before. The odds are on the Springboks; the balance of all factors suggests they will win but the Lions showed in that last twenty minutes especially but throughout the game behind the scrum that this is far from a forlorn match.
Before that there is the small matter of the Emerging Springboks in Newlands on Tuesday. The result itself has little bearing on the more significant events to come on the High Veldt but this game retains plenty of interest. Morale would be given a shot if they beat this exciting young South African combination. I think they will. The fact that the Emerging Springboks are all uncapped players is an immense advantage in terms of experience. The Emerging back row will cause worries in abundance but the Lions should be bitterly disappointed not to head inland with a seventh win from eight matches.
That sounds impressive enough but the opposition has not been of the finest quality. The Lions will have to make it eight from nine in Pretoria if the rugby historians are not about to damn the tour as a failure. A heavy defeat would change the entire perspective of the trip, a win, no matter how infinitely small the margin would set us up for an epic finale in Johannesburg. Neutrals and Lions live in hope.
Stuart answers your emails...
Got a question for Stuart? Email him at skysportsclub@bskyb.com or use the feedback form below...
Pressuring Pienaar?
Stuart, I was really surprised that the Lions did not put Ruan Pienaar under more pressure. For a player who has not played that much in the last few times we certainly gave him plenty of time to settle in. He just seemed to have so much time on the ball - is that because we let him off the hook or he is just one of those players who makes it look effortless?
Luke Sberski
STUART REPLIES: Luke, Pienaar is a class act who seems to control time itself when he's in the mood but the main problem on Saturday was the complete dominance of the Springbok pack which kept the Lions back row and press defence from scrum half on its heels. Going backwards at the rate the Lions did makes it impossible to get near someone of Pienaar's undoubted ability.
Changes to be made
Stuart, The fact of the matter is that in the first 20 minutes of the match the Lions were destroyed in all facets of the game! There was a lack of aggression from some of the lads particularly Jones and Heaslip. What changes do you think need to be made to give us a fighting chance in the second Test? I think the possibility of an all Welsh front row is looking more and more likely! No disrespect to Vickery - the guy's had a huge career and been a stalwart for English Rugby - but both he and the management have to recognise the fact that that he was schooled and mentally and physically I don't believe he's got it in the tank. I think the Lions will win the second Test though. The same aggression appetite and willingness to die for the guy beside him for 80 solid minutes is key. Easy for me to say but if these guys want to create history its what's needed!!
Brian Flint
STUART REPLIES: Brian, An all Welsh front row looks likely but expect another Welshman, Alun-Wyn Jones, to lose out to Simon Shaw in order to scrum better and handle that driving maul. Were he not captain Paul O' Connell's place would have to be questioned but it will not be. Behind the scrum Ugo Monye will miss out. It's tough because he has played well on tour but the failure to finish the chances created (and utilise a 3-2) could have cost the team the test; that is certainly Ian McGeechan's interpretation. Fitzgerald is favourite but one razzle-dazzle from Shane Williams could change all that. At full back Byrne looks to be a doubt which will mean a start for Rob Kearney, leaving the back four of the Lions - if Fitzgerald fizzes as a quartet of Grand Slam team mates which is no bad thing. Keep the fingers crossed.
Obstructing the law
Morning Stuart, I am not sure if you and Miles mentioned it in your commentary or if was Will and the boys in the studio. Who ever it was said that Brian O'Driscoll picks a great line and that not many people can pick it out - there was even a yellow squiggle to drawn on the screen. On closer inspection it looks like BOD hides behind Roberts and uses him as a blocker then peels off his shoulder and runs into the so called hole. Isn't that called obstruction?
Jon, Aussie in London
STUART REPLIES: Jon,The poor man's Jackson Pollock stuff on the screen is my artwork and so were those words. But weren't those great lines off Roberts, who, by unloading the pass at the perfect time places the great Irishman into space? Coming from the land of Mark Ella I am stunned you query the lines instead of revere them...I thought that centre pairing was magnificent, truly heroic with Roberts coming of age and O' Driscoll reminding the world how great he is and has long been.
Anyway those are my thoughts, let me know yours after Pretoria. The Lions are not marching on it but they are heading there with plenty of belief, will it be justified? Can't wait to find out,
Stuart
Comments (28)
Keith O says...
Bullying?? What is Gatland on about? This is international rugby - hopefully at its best. Would he expect anything different from a good All-Blacks team? If the Boks can get the edge through intimidation or aggression - they will do it. It is simply the case that such tactics are not available to the Lions. The Lions have a good chance of winning this game simply because they have a better tacticians and management team and will work out what needs to be done. Their problem will only be if the players can execute. 5000ft+, 5 changes, hostile venue, corrected Bok strategy - they know where the threats are now, will mitigate against. But if they can maintain parity through 60mins, use their subs well - the last 20 will decide. Personally I would like to see it all to be decided at Ellis Park - in the Boks favour of course.
Posted 07:32 27th June 2009
Les Calderwood says...
I reckon know that the team represents a good Irish and a slightly less Welsh quota that the Lions will win this test. I said in an earlier post if Vickery was played they would lose. Off he went and hey presto..a different side. He gave away penalties. Unforgivable actually. I think a scoreline 27-21 is about accurate. Lions to win. Bowe to score twice. Lets go do it right. Teach the Boksa lesson in humility!
Posted 21:43 26th June 2009
Les Calderwood says...
I reckon know that the team represents a good Irish and a slightly less Welsh quota that the Lions will win this test. I said in an earlier post if Vickery was played they would lose. Off he went and hey presto..a different side. He gave away penalties. Unforgivable actually. I think a scoreline 27-21 is about accurate. Lions to win. Bowe to score twice. Lets go do it right. Teach the Boksa lesson in humility!
Posted 21:43 26th June 2009
John Fitzgerald says...
Stuart - On a skill or flair level, the Boks are very disappointing. However, on a physical level they are phenomenal. In a utopian world, the Lions would avoid contact ( Jamie Roberts the exception) not make mistakes, not kick to touch and run the Boks off the park with the ball in hand. However, rugby is a physical game and South Africa will win the war of attrition in this 2nd test, probably without playing too much rugby in the process.
Posted 19:20 26th June 2009
Eugen Roth says...
Every time a SA player kicks downfield and attempts to follow-up his kick he is obstructed or interfered with. Anybody else noticed this?? I guess the Lions are playing a bit of American Footbal.
Posted 10:21 26th June 2009
Kevin Thomas says...
After their amazing escape last week I just don't see the boks surviving this one. Their bullying tactics will be negated this time and their flimsy backline will be made a fool of by O'Driscoll and co. again. Their fitness is also a major weakness and I envisage a 30 point win at least to the Lions.
Posted 19:36 25th June 2009
Adrian Jones says...
DAVE HOWARD ...... looks like you want to play the blame game towards the ref like the british press always do if you don't get it all your way, firstly i dont think it was even the south african board who cited that dirty excuse of a player, and secondly if your talking about how poor powell got taken into touch how about u watch the first test and note croft using his shoulder to take a man out of play...deff should have been sin bin'd or the punch fatty rees threw ? or the sliding tackle (legs first) or the high tackle straight after that ? or the fact vickery was commiting the same foul over and over but not sent to the bin ? no? guess you must have missed those ?
Posted 07:03 25th June 2009
Jezza Jezza says...
Befoere I write this I must just say I am not a bok supporter....lot of talk since last saturday about how Moyne missed 3 scoring chance...true but I have not seen one post saying what great last ditch defending by the boks.....I think that if Moyne was dropped it would send out the wrong signal...saying we dropping you because you missed those chances and his confidence would go out the window and he would be no use for the deciding game no 3....leave back line alone but have impact players like S Williams to come on in last 20 mins when boks tiring...think enough has been said about scrum..lions to win by 10
Posted 06:37 25th June 2009
William Black says...
POC pathetic attempt to blame ref after game proves he is not the man to be Lions captain, BOD should be captain.Shame Hines cited and banned, as a Shaw/Hines 2nd row would be best bet with POC coming of the bench. Backline was superb and I would leave Monye in situ with Williams on bench. Hook for bench to come on for Jones would give options. Blair to be on bench, his faster hands and practice of playing behind a retreating Scottish pack could actually be a big plus putting jones/hook into more space to release centres. Come on Lions
Posted 22:03 24th June 2009
David Allan says...
Stuart - My question is the 1st Moyne effort, how can that be a 22 restart. The only options were a) try (I don't think it was) b) held up over the line which is an attacking scrum, c) knock on over the line (defensive scrum) d) or if you slow it right down you can see the Bok defender rip the ball and throw the ball dead (penalty 5m out). What it wasn't was a 22. Just another poor decision by an out of depth referee who made a series of crass decisions. I'll be interested in your thoughts.
Posted 19:52 24th June 2009
Dan Donnelly says...
In response to Higgs Boson's comments on the Lions front row. Do you actually know anything about the front row play Higgs? It is not the hookers responsibility to stuff the opposing front row. The scrum is an 8 man job and technically every piece of the jigsaw has to fit, otherwise it will fall apart. A tightheads job is to attack his opposing hooker which Vickery could not do because the beast did not let him, so much so that the beast even had the audacity to attack like a second tighthead and there was Mears stuck in the middle of the carnage, the rest is history. Many have accused the South African's of not scrummaging straight but this did not affect the Lions ability to scrummage when Vickery departed. Vickery is an excellent prop, but sometimes against some players the maths just won't add up.
Posted 15:43 24th June 2009
Etienne Groenewald says...
To Carl Pohl - I am absolutely delighted that Ricky isn't currently in the team. Look, no mistake, Ricky was a very good scrum half a year and a bit ago but he is over weight and unfit at the moment and that is the only reason he shouldn't be playing. I believe that Burger will assist a lot with the defense on Saturday as his cover defense is probably the best in the world but I am still not convinced that Adi is the right man for the job. He is suffering a shoulder injury and needs surgery. How can he confidently tackle with an injured shoulder?
Posted 14:59 24th June 2009
Colm O'c says...
After watching last nights game i am very worried for the lions on sat. the one point of goon note was that O'Callaghan and Hines played well and should both be included in the 22 on sat. O'Gara showed that he is a better choice than Hooke and in my view would be better than jones in the conditions on sat. Vickery is a lost cause and for his own sake shouldnt be included in the 22 which leaves either Payne or Hayes to come on to the bench, a big ask for either, both did well last night considering that they had just arrived. Williams did ok on the wing but im not convinced, i would like to see Earls at least on the bench, he has his game back and is looking more confident. its still a huge task to try beat this boks side and i have a feeling the lions will get a roasting on sat but "for the brave and the faithful nothing is impossible"
Posted 13:52 24th June 2009
Matt A says...
im quite suprised about how quick people have been to suggest Monye should be dropped. along with Bow he is the form winger on tour, he is solid defensively and was only some superb defending that stopped him scoring twice on saturday. the one where he was ripped, after just side stepping and with 2 men hitting on him it can be forgiven, and given how much stronger he is than williams or fitzgerald i doubt they would have held it. i also dont think either has played that well on tour, both looked average at best so far, and too lightweight if not on form. the other chanegs suggested here i agree, the front row needs to be changed, i think on paper the selection of vickery, mears was right, but if its not working, like it wasnt, change it, dont hesitate. the 2nd row is fiercly contested, all are on good form, could be anyones really. Kearney at fullback as he is solid. For the most part majority of the lineup against the emerging boks looks considerably below the standard of the test team, i dont think many changes are needed. perhaps at 8 aswell.
Posted 13:07 24th June 2009
Dave Howard says...
Sorry Mr Barnes, not actually about your article, but.... How on earth, after the Emerging 'Boks game, can the SA Rugby board cite Hines for a dangerous tackle, when twenty minutes earlier, 3 of the Emerging Springboks dragged Andy Powell out of play by his neck/chin/hair respectively? Come on boys, play the flipping game!
Posted 12:38 24th June 2009
Etienne Groenewald says...
The Lions couldn't even beat an Emerging Boks side and I can only imagine that the excuse will be the weather. Both sides had to play in the poor conditions but you would think that a Lions team would be more accustomed to this sort of conditions. Most of the guys in the Emerging Boks side play on the Highveld and don't experience conditions like this often and yet they held you to a draw. Every player in the Lions team last night were international players, playing for either England, Wales, Ireland or Scotland and yet you couldn't beat a team with not one player having played an international rugby match before. How on God's green earth do they expect to beat the Boks on Saturday? I can assure you the Boks won't be rusty again. It's gonna be so much fun on Saturday!!!!
Posted 06:54 24th June 2009
Rory Dempsey says...
Regardless of public opinion, POC is not going to be dropped from the starting side, it would undermine McGeechan and the tour in general. It's not as if anyone else has played better than POC and AWJ either, so their continued selection is merited. The back-row suffered from being on the back foot at scrum time, negating the pace and athleticism of all 3, particularly opportunities for an No.8 break. Williams should come in at 7 for Wallace, who would be more of an impact from the bench than the other way round. Phillips had his first bad game, try aside. His passing was too slow to allow Jones to work the line quickly, which makes him look pretty poor as any suffering 5-8 will tell you. Still, the option of ROG at 10 would be something to look at very hard, especially for his place-kicking, despite his howler last night, only his 2nd or 3rd miss. Injury doubts to Sheridan will see Jones in, Vickery will be lucky to see the bench, Mears should stay, despite his awful throwing, but only just as Rees was good, but DeVilliers meddling helped his cause in the Boks weakened 2nd half pack. Monye can be directly blamed for at least one of the wasted scoring chances, but desperate defense did it's part. He made mistakes in the game that he wouldn't normally, and Luke Fitz's performance last night has him close to that wing berth instead. Kearney should come in at 15 if Byrne stays injured, and it could be argued he would be there anyway after his solid performance last Sat as a sub. Bowe suffered from ball deprivation, he's a footballing winger, not a pure speed man, and from the build-up games, he's very dangerous coming into the line and should hold position. No need to talk about the midfield!
Posted 01:59 24th June 2009
William Maclean says...
As a Bok supporter, I am horrified that Jacobs is still in the camp. However, the match against the Emerging Boks, must provide major headaches for the Lions. If Rose had not played and De Waal had kicked, the Lions would have lost. Series 3-0 to the Boks!
Posted 20:25 23rd June 2009
Sean O'connell says...
I think it is vital that ROG comes in for Jones at 10. For place kicking alone we need him. The 2nd test is going to be as close as the 1st test so it is going to come down to who has the better kicker. I dont think Jones controls the backline any better than O'Gara, he just uses it more. O'Gara has been sending his backs into huge space all season with Munster and Ireland and looked far better in Ireland V Wales this year. Although he kicks alot more from hand that Jones this is not a bad thing. With the BOKs inability to break the Lions defence last week surely we should see that we keep them as pushed back into their own half and play smart rugby. Jones has had his chance and failed, lets throw caution to the wind and put the grand slam winning fly half on for the crucial game
Posted 16:41 23rd June 2009
Brian Mc says...
The Lions set piece was frankly shambolic at times and they were correctly penalised but they were also regularly penalised incorrectly in the loose. However, apart from the two embarrassing tries, SA didn't really threaten the line. So, with a couple of player changes, particularly to compete at the set piece and a less whistle-happy ref, they should level it on Saturday, despite the altitude. Yes, O'Connell does need to stand up this week and no, O'Gara should not play and if Hook is fit, he shouldn't be on the bench either, regardless of how he performs tonight.
Posted 15:22 23rd June 2009