There's an old saying in Cape Town at this time of the year. Apparently, if you can see the top of Table Mountain it's going to rain, and if you can't see the top of Table Mountain it's already raining.
Talking about the weather, while we were at the match against the Emerging Springboks it seemed as though the world was about to end. I'm not sure whether it came across clearly on TV, but the torrential rain and gale-force winds, which came and went throughout the eighty minutes with alarming regularity, made it almost impossible to play a decent game of rugby. I felt sorry for those players hoping to give the selectors pause for thought ahead of the second test. I also felt sorry for the thousands of Lions supporters getting rained on from a great height.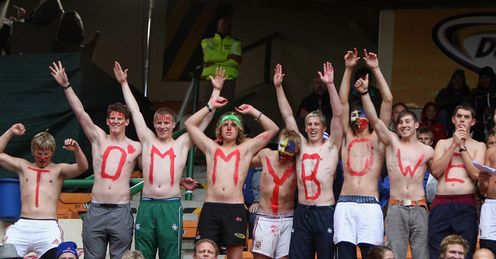 Mind you it didn't stop them showing their support. Special mention must go to Dan Shaw and his mates. I'm sure you will have seen pictures of them in papers and magazines back home. They each paint a letter on their chests then stand in the correct order to spell out the name of the player they most admire at any particular stage of the tour. Earlier in the campaign it was Tommy Bowe, last night at Newlands it was John Hayes. I think you can guess where they come from. I'd just like to see them honour Donncha O'Callaghan one day. Now that would be a challenge!
Counterproductive
All the talk in the camp this week has been about the possible changes ahead of the second test. Some people you talk to want to rip up the script and start again making changes all over the place. Personally I think this could be counterproductive. Sure, there are cases for changes to be made at 2, 3, 4, 7, 8, 10, 11 and there is an injury concern at 15, but let's not get too carried away.
All the talk in the camp this week has been about the possible changes ahead of the second test. Personally I think this could be counterproductive. Sure, there are cases for changes to be made but let's not get too carried away.
Phil Edwards
Quotes of the week
LIVE ON SKY SPORTS
South Africa v Lions, 2nd Test
1.30pm, Sat, Sky Sports 1 & HD1
Lee Byrne has been seen limping around the team hotel, so you'd imagine that his place might have to be taken by Rob Kearney. Having said that, he might have been play-acting just to confuse the press, which I can assure you is far easier than most people think. I reckon the other changes will come (understandably) at hooker and tight-head prop, and maybe left wing as well; Luke Fitzgerald might have done just enough to dislodge Ugo Monye, whose finishing at Kings Park came in for a bit of criticism.
While we're on the subject, most of the Irish journalists on the tour believe Ronan O'Gara ought to take over at fly-half from Stephen Jones, while their English counterparts are a little concerned that just one of their countrymen looks like making it into the starting XV in Pretoria. As you can imagine the Welsh boys are feeling pretty smug, while the Scottish hacks keep steering the conversation towards Wimbledon and some bloke called Murray.
Veteran XV
As I write these words, none other than Willie John McBride is having coffee at the next table. In fact, were you to chuck a rock in the hotel bar most nights it would probably hit several ex-internationals and half a dozen former Lions. We were trying to see whether we could make up an entire team of veterans, but we can't quite manage it. There are backs here aplenty, which means bags of competition for places. So far the half-backs are Gareth Edwards and Jonathan Davies, with a midfield of Jeremy Guscott and David Irwin. The back three are Jason Robinson, Gavin Hastings and Ieuan Evans.
In the pack, John Fiddler and McBride are your engine room; Gareth Chilcott and Jason Leonard are the props, while Roger Uttley and John Taylor and David Pickering are the back-rowers. Unfortunately, it seems the tour is short of hookers. Which, on reflection, is a sentence I never thought I'd write.
Phil's Second Test XV: Lee Byrne/Rob Kearney, Tommy Bowe, Brian O'Driscoll, Jamie Roberts, Luke Fitzgerald, Stephen Jones, Mike Philips; Gethin Jenkins, Matthew Rees, Adam Jones, Alun-Wyn Jones, Paul O'Connell, Tom Croft, David Wallace, Jamie Heaslip.
Comments (4)
Suzanne Goddard says...
Johan, I spotted those idiots in the very first game and I, like you was initially appalled as my family were put in concentration camps and many died there at the hands of the British. However, I think locals will accept the fact that these fans are ignorant morons who have probably never even heard of the Boer war. They don't teach this history in British schools as they are at least ashamed of their past, which is of some condolence. Just let it go and try to laugh at them they aren't worth your agrevation and with any luck might get what is due to them, hopefully from a GROOT oom who has had enough of them!!
Posted 20:16 30th June 2009
Andy Kidd says...
Oh ,and another thing ,Seamus , you would still be digging peat from a little hillside overlooking the most beautiful views in the world if it hadn't been for Imperialism. I am actually south African and Imperialism affected us also , but to complain about it now during a Lions tour is out of order . Oh i get it BOD took your place because you objected to go on moral grounds.you should get real ,raw paddy
Posted 21:14 25th June 2009
Andy Kidd says...
Seamus Kelly If you are reading this . Shame on you! the only reason we let you leave the farm was to pursue a good job in the industry.You have let the family down by saying the British and Irish Lions have not been wearing red for years. And were there not welshmen at Isandlandwana. we're dissappointed ,son. Love mum. Oh just bying the way,Seamus ,enjoy the rugby. x x x x
Posted 21:03 25th June 2009
Carl Robberts says...
Yes Johan i dare them to wear that in the Bull ring with all those afrikaaners in that stadium as i keep telling people they have not forgotten the boer war, and they must be careful as the boers would love one of those helmets with a bullet hole in to parade around or for the trophy room.My parents are British born but i am South African born and bred and my parents support the bokke.
Posted 21:41 24th June 2009