Will Greenwood said that the Lions did themselves proud despite their heart breaking loss at Loftus Versveld.
Morne Steyn was South Africa's hero at Loftus Versveld as his last second penalty clinched the Springboks a 28-25 victory over the British and Irish Lions.
The replacement fly-half held his nerve at his home ground to boot the Springboks to a second Test victory that secures them the series.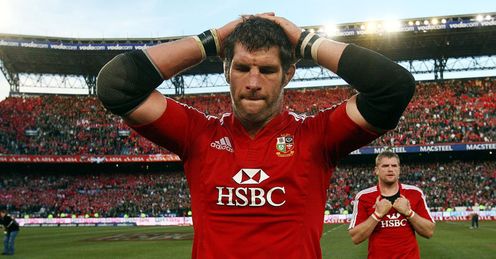 The Lions had looked set to take the battle right down to the wire after Rob Kearney's early try helped give them an 18-6 advantage.
However, the Boks battled back in the manner expected of world champions, crossing in the second half through Bryan Habana and Jaque Fourie and set up a nail-biting final quarter for both sets of fans. It was the Springbok fans who were rejoicing at the end though and Greenwood - along with the rest of the Lions players and fans - were left devastated.
The Springboks had been so under the cosh and yet stayed in the game. They did what they had to do to stay in the game and gave their fly half the chance to win it for them. That is what great teams do.
Will Greenwood
Quotes of the week
LIONS IN SOUTH AFRICA
Follow the British and Irish Lions tour of South Africa on Sky Sports throughout Grand Slam Summer.
For more on the Grand Slam Summer click here
That was heartbreaking for the Lions because there were players out there today who had such immense performances," said Greenwood.
"It is so difficult in a team effort like that to pick names out but Simon Shaw was just sensational. He is a spectacular rugby player and the loss does not detract from his performance - he was unbelievable. When they needed to go to him in the lineout he was there; he was strong in the restarts; he carried, was superb in the turnovers too. We competed at every stage and at the heart of it were Simon Shaw and Tom Croft."
Greatness beckons
Greenwood did have high praise for the Springboks and said that they showed character to fight back from the deficit to clinch the series.
"What do you have to do to beat a Tri-Nations team?" asked Greenwood.
"You actually have to nail them down. We had so much possession, so many chances and ran them ragged in the first half. You use the word great too often in rugby but it is a great rugby team that can come back and do what they have done today. The Springboks had been so under the cosh and yet stayed in the game. They did what they had to do to stay in the game and gave their fly half the chance to win it for them. That is what great teams do.
"It came down to the wire though and it all came down to two guys. Jaque Fourie is just a master finisher - he is often a reserve but his try scoring record is unbelievable against the very best. And Morne Steyn - well the end was written for him."
Ellis Park redemption
With injuries taking their toll the Lions have a week to pick themselves up for the final Test at Ellis Park. And while the series maybe lost, Greenwood says that pride and the desire to win a Test game in South Africa will drive the Lions on.
"This Lions side deserves to come away with a win in a Test, said Greenwood.
"People may say that the Lions brand has been damaged but even at 2-0 down I think the brand has recovered enormously - the stadium was packed with supporters, we were in there fighting for a chance and we took it to the wire. The Lions is an entity that must exist. It is a sensational organisation that comes together once every four years.
"How do they bounce back for the third test? They have four key men in key positions in the treatment room. If they cannot get them right for the final test then the guys who take their positions - the Gordon D'Arcy's the Riki Flutey's - these guys have to step up and it will now be their honour to wear the shirt.
"|t is till the ultimate honour to wear the jersey and even if you are 2-0 down you have your own mini-series. The next team have the chance of winning a Test match in South Africa. So you pick yourself up, you attack training on Monday to get ready. There is plenty to build on today and there are still enough players who played this afternoon who you can stick and work around."
Comments (64)
Jezza Jezza says...
Etienne Groenewald...get your facts right...have not won any thing for 40 years...rugby worldcup i believe...leave it to Southern hempishere.....scratch side beat the world champions...put that it your bok pipe and smoke it....tri nations wooden spoon beckoning for the boks
Posted 08:11 7th July 2009
Andy Hill says...
Well said Marius Botha, as a brit there is a huge feeling of 'if only' but in the end the boks proved why they are the world champs and on reflection they did shade the series. However the lions did themselves and the four nations they represented proud and we have so much respect for how they battled and how they performed, they showed the spirit of the NH but also showed the world we can play as we scored some great trys and pulled of some brilliant plays. The likes of Bowe, Roberts, Mike Phillips, BOD, Heaslip and of corse Kearney and many many more were fantastic. Rugby as a sport will really benifit from this tour with the exeption of Burgers stupidity and De Villiers embarassing himself with his comments its been a fantastic few weeks and a great advert for the game. Well done SA, but well done and thanks to the lions, you did us proud.
Posted 19:48 6th July 2009
Jonny Boy says...
the main reason we won the final test, apart from playing a boks 2nd XV was that key players performed. best game POC and heaslip played all tour, simon shaw awesome again and it was obvious that martyn williams should have started all 3 tests, i didn't see any other back rower getting the 'off the ball' attention that he did, he was world class and a good old fashioned pain in the preverbial for the boks. well done to them all, great series.I thought that, with the exception of Powell all the welsh lads did well, the scots underperformed, some of the irish and english showed up and the majority of penalties were given away by, not supriseingly, english forwards. By the way bakkis botha was hard done by, i didn't see heaslip get penalised for exactly the same offence, well not exactly the same, heaslip came in from the side. law needs sorting.
Posted 19:25 6th July 2009
Mike G says...
Marius B, great comments. Just returned from day trip to Jo'burg from London to see the final test. Superb atmosphere where we were, lots of banter with Bok supporters and mutual handshakes/respect at end of the match. Three amazing tests, shame about the warm-up games, hopefully can be looked at for future. Well done to the Boks this time, it was agonisingly close at times but you pulled out the class when required. The biggest shame - ticket price setters. My package was £250 and included the match ticket, a voucher for 2 cans of lager and a hotdog. Shame on England Rugby travel and the profiteers who are ripping off genuine rugby fans, a disgusting by-product of a wonderful concept..
Posted 15:09 6th July 2009
Colin Brown says...
mike swanepoel seems to be suffering from southern hemisphere selective memory. The Lions you're talking about fought fire with fire. Two hard teams playing hard rugby. I've just watched the third test which had one hard team playing hard glorious rugby and it wasnt the boks. What a bunch of handbaggers ! Please dont talk about weakened teams. The Lions have been savaged player wise and still came out and played beautiful rugby. You were lucky... til next time. ps are there any southern hemishere refs who know how to referee a scrum ?
Posted 23:04 4th July 2009
Sam Coates says...
Amazing how many SA supporters feel the need to post comments here which insult the B&IL. The main strength of SA rugby is their physical power ....and it just won the day over the talent and inspiration of the B&IL ...plus a bit of SA thuggery thrown in to take out key players. At the end of the day the Lions are a bunch of guys who get together every 4 years ( for a couple of months.)..to play every match away from home ....and the opposition goes out of its way to cheat ....so not surprising they don't get the wins they should.
Posted 13:00 4th July 2009
Del Du toit says...
I am really looking forward to the reaction of the British Journalist you claims that with the "TEN" changes made to the Bok side are now understrength. Careful what you say Dear Sir, it could come back and bite you if you loose to under strength side. ie: Emerging Boks (Draw) Springbok "A" (1- 0) Springbok (2 - 0)
Posted 13:23 3rd July 2009
Etienne Groenewald says...
Can the British and Irish Lions just please stop moaning like little babies? Move on, you lost - End of story. You can't play rugby, cricket and let's not even go into football. Haven't won anything for over 40 years. At least be gracious in defeat and stop moaning about everything. 2007 World Cup Final. Clearly foot in touch - you still moaning. Go watch Murray play tennis or something and leave the real sport to the Southern Hemisphere.
Posted 07:05 2nd July 2009
Paul Eveleigh says...
Lions Fan - 2 World Cup wins and a third place from 4 appearances - Can't argue with that.
Posted 14:25 1st July 2009
Kenny Phillips says...
....far too much talking. The real issue is how can the SA coach bring the game into disrepute and be so disrespectful. Apology or not he has actually created more media attention and for all the wrong reasons.
Posted 07:58 1st July 2009
Dean Lewis says...
Why the Burger bashing? We are quick to forget how this man has saved us so many times before. Yes what he did was wrong but i do no believe it was intentional at all,there was definitly no "gouging " just contact with eye area,Luke was not hurt in no way and Burger has been punished for it - so please lets stop hyping it up. Its no different to Alan Quinlins or Sergio Parisse. The reason why its seems so bad is because its Burger and his "reputation" as hes always been a hard player and pushed the boundaries thats why when he first came on the scene he got so many yellow cards, refs didn't know quite how to take his physicality so it must be illeagle,and remember when Jake White said he gets picked on by refs, we all stood behind him... i wont be surprised if brussow gets the same treatment once the top refs get a closer look at him they will find a way to penalise him somehow especially northern hemisphere refs..I still rate Burger as a class act even in his current form i would pick him above any of the lions flankers....Burger will come back stronger and better and no matter what is said he will go down in history as one of the best No 6 out there.
Posted 10:20 30th June 2009
Tawanda Pari says...
I confess, the Lions were a credit to rugby union. if you are a British & Lions fan, then there should be not a minute longer spent feeling gutted. Absolutely no quarter was given and on balance the Lions played some scintillating stuff. That being said, i am a Springbok fan and the match was not a comfy ride. Whether that was because the Lions played out of their skins for the first half, or because the Boks were strangely subdued is for the partisans to argue. One thing is clear, the better Test match performance was rewarded. ruthless finishing- 3 tries to one cannot be argued. in addition the Boks conceded 10 points when they were 14 against the Lions 15 men. A subjective but fair analysis also points tot he Boks missed 3 very kickable goals which would have opened up some daylight between the teams. But my two questions, Stuart, is why or why did Peter de Villiers keep Adi Jacobs on the pitch? Jaques Fourie is world class. So is Wynand Olivier. I hope these two centres start the next match, or i have even less respect for the coach than i had last week, which is hard to admit. B&I Lions fans are rightly or wrongly calling Burger's incident an eye-gouge. Call me old-fashioned, but I would disagree. but it was definitely a penalty. My final question is therefore WHY ARE WE NOT HEARING ABOUT THE APPALLING SWINGING ARM HIGH TACKLE FROM O'DRISCOLL. Even if he wasn't injured, he should be cited along with Burger. That's always the problem with Lions commentary. If it's the Lions, they are "committed" and "heroic". if its the Boks, they are "thugs". World Cup. Super 14. Lions series. These are not accidents.
Posted 09:24 30th June 2009
Jezza Jezza says...
Rouen De villiers you have made quite a few posts about whinning and whinging...some thing has definitely got under you skin...probably the fact that what is being said is true...arrogant....you just have to l.ook at your coach has said about the burger incident (even though he is trying pathetically to back track)...the players follow the coach....condoning thuggery....you will be found out in the tri nations....most pundits state this SA side is the weakest world champions since started...loook what happened at last years tri nations
Posted 08:02 30th June 2009
John Ludgate says...
You are some hypocrite Bart Farrell. "I don't agree with the mud slinging " you say but instead you see fit to call ROG "yellow". That's rich. Ever played rugby yourself...ever missed a tackle? Were you yellow when you did? It is ultimately cowardly to insult someone's integrity and corage from the safety of your computer when you have never even been remotely close to what these players face. Protect us all from arm chair heroes like you..
Posted 04:31 30th June 2009
Rob Cherry says...
What a pity this match will be remembered for the wrong reasons. There was wrong doing on both sides, BOD is lucky not to be cited for his challenge it was stupid. The referee is to blame for a lot of the problems that occured on saturday. If he'd listened to his assistant and sent Burger off( as required in the games laws for the offence) he would have sent the message to players that going over the top wouldn't be tolerated. He bottled it again when the "handbags" came out between VM & BOD etc a little while later, had he binned players then the game would have changed for the better. What baffles me is how the TMO could award the try if he could not be certain that Fourie did step in touch, he disallowed a similar try by Cueto in the world cup final 2007. With regard to the comments about the Lions not being good enough, we're 4 small rugby playing countries who join forces every 4 years to tour. Would any of the southern hemisphere teams be able to compete with us if we played in the world cup and on tour as a British team playing together for more than a few weeks? We will never know as politics will never let it happen.
Posted 21:11 29th June 2009
Pete Healing says...
Bryan Habana should be told that opposition players have the right to tackle him. For such a fantastic player he behaves like a spoilt brat on every contact. He should be grateful that God gave him his talent for running fast and keep his mouth shut and his fists down before someone takes him seriously and floors him. There didn't look like to much 'thuggery' going on in that match - I would say that the Lions were unlucky with the amount of injuries incurred which disrupted the game for them. BOD, especially, didn't deserve to be on the losing side. I am not looking forward to the third Test.
Posted 16:40 29th June 2009
George Wilson says...
I think some of the comments here are quite childish to say the least. From SA and the UK it is important to remember that ultimately it was a spectacular game and it is unfortunate that so many negative comments can come out of this great game. There are laws to enforce rules and the IRB should be critisized for the manner in which this is handled, not the players. Burger did eye-gouge and he should be banned for 2 years or longer and not just receive the minimum sentence. This was a very poor decision and should be re-visited. The Lions players and management have every right to be upset that they did not get to play against SA's best in the provincial games, this surely did not allow them to prepare themselves against better opposition. I am sure there are many Lions supporters that are upset, but every team on the pitch has the right to win and the luck was not with the Lions this time. Personally I would be much happier if we were going into this weekend's game with the series at 1-1. What a game this would've been. May rugby be the winner. I can assure all the Lions supporters that there is immense respect for this team in SA, your players have done themselves and their countries proud. Please ignore all the childish comments.
Posted 14:10 29th June 2009
Jezza Jezza says...
I would just like to answer vanis point about next world cup semis being All Blacks, Aussies, SA and argentina....I seem to remember before the last world cup all southern hemisphere countries were bigging themselves up because of the super 14.....what happened to ABs, and the aussies..beaten by northern hemisphere sides, and it will happen next world cup...the SA side is the weakest world champions since the world cup first started...and this years tri nations will prove it
Posted 13:34 29th June 2009
Shaun Hunter says...
All this talk over "off the ball incedents" dont mean a thing. The reason the lions lost is because the northen hemis doesnt know how to "put the hammer down" when it counts. When the boks tourd Wales , the welsh should have won but you guys cant finish. STOP blaming every one else esp your managment. Take it on the chin you lost to a better team.
Posted 13:31 29th June 2009
Dave Howard says...
Andy G, not sure if you noticed but O'Gara's offence on FDP was what won the saffa's the match...? Once again there was bad play on both sides, I think what was the worst thing about this match was the relaxed attitude of PDV. Saying gouging is coming into the sport. Why oh why doesn't Both or Burg gouge him and see if he thinks its acceptable. And none of this B/C side crap Saffa's, it's not like you've played the Lions A side, having let the Emerging Boks loose on them the other week and them having players suspended etc etc. Playing against Ryan Jones would have made for an awesome conflict that we won't see this year either. So lets not imagine that the Lions are playing their ideal A side either shall we, and sound a little less childish if possible. And it doesn't really bode well for the sport in general if the 'best ' northern hemisphere team and the 'best' team in the world (Boks and Lions) are playing this much bad game any way, does it.? Just cos the All Blacks do it isn't an excuse for the rest of us to lower ourselves....
Posted 13:23 29th June 2009