It's been a strange and understandably subdued week here since the Lions lost the Second Test.
While the Lions took themselves off on a Safari either to "find themselves or lose themselves" - whichever helped ease the pain more - journalists have been wandering around like spare parts, trying to kill some time and come up with ways to make the final week drag less when the Series result has already been decided.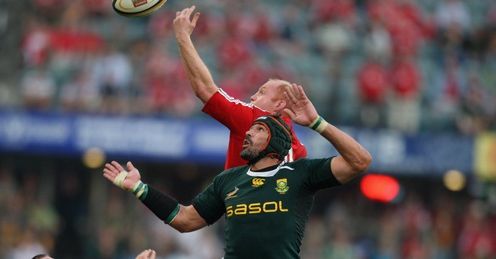 Cricket was the order of the day on Monday - a Sky Sports team taking on a combined media team. It's safe to say that even after the most genteel 35 overs of cricket ever likely to be seen, the majority of us now resemble geriatrics having discovered, and pulled, muscles we'd forgotten existed.
The Springboks had no such problems in their training session on Tuesday - it was actually rather worrying to see just how sharp, energetic and enthusiastic they were. The effect of winning I suppose - it looked like they could play another three Tests without breaking sweat. But perhaps more unnerving was the ferocity with which they were hitting the tackle bags, despite the fact that the series has long since been decided.
Bakkies is a farm boy, I'm more of a city boy, but we're great mates and really understand each other after playing together for eight or nine years. I think we compliment each other so well because we're so different.
Victor Matfield
Quotes of the week
LIVE ON SKY SPORTS
South Africa v Lions
1.30pm, Sat, Sky Sports 1 & HD1
And there in the middle of the storm, always a sea of calm, Victor Matfield stood taller than most. A grin as wide as his arm span, and a lolloping stride which makes you wonder how he ever gets anywhere on time.
His team-mates sometimes cruelly call him the Grand Carli after the wrestler, but it's hardly a flattering nickname for one used to adorning the billboards in his younger years. He refuses to accept he was ever a pin up as that's not the done thing for one of the tight 5. When there's 6ft 7 of him bearing down on 5ft 3 and a half of me, I felt it wise to move swiftly on.
Recognised
In reality there's very little intimidating about Matfield. Alun-Wyn Jones referred to him and his second row partner, Bakkies Botha, as "sweet and sour" the other week, and while off the pitch Bakkies is equally as charming company, there's no mistaking Matfield as the sweeter part of the combo. While these days he has to share billboards with the up and coming Springbok stars like The Beast, as well as the old favourites of Habana and Smit, Matfield remains one of the most recognised faces of South African rugby.
Within two minutes of walking out of the hotel he was surrounded by workmen who'd temporarily laid down their drills to race over to the towering legend, South African flag in hand, awaiting signatures. In one fleeting moment you saw how this delicately balanced country is beginning to unite, particularly where rugby is concerned. In previous tours blacks often supported the Lions, as they felt the Springbok represented everything they were fighting against. Now there is little doubt as to who the people on the street support. From youngsters in Townships, to this gentleman taking a break from paving the roads - there was only one team he wanted to win.
Laid back
Now 32, Matfield is completely at ease with or without attention. One minute he was enjoying anonymity under a baseball cap with his tiny baby under one arm and buggy under the other, the next he was engulfed in group of Bok supporters asking for photos. As laid back as they come, we soon discovered there was a lot more to this engaging character than line-outs.
"I'm just a quiet family guy really," said the giant second row. "I like to spend time with my wife and kids; they follow me everywhere. They've been staying with me during the whole series. I just like to relax with them, take them to the beach, normal dad things really.
"Sometimes it can be hard to enjoy privacy with your family but it's all about timing. It was crazy around the Super 14 semi-final and final, then it calmed down a bit, until the Lions series started of course."
Lions lure
By clinching the Lions series in Pretoria last weekend, Matfield has ticked the final box on his to-do list in rugby. It was the main reason behind his decision to end his short stint in France with Toulon and move back to the Bulls; the lure was too great.
An opportunity actually arose for Matfield move to the Guinness Premiership, but once he received an offer from a South African side his mind was made up. It proved to be a sensible decision, with the Bulls defeating the Chiefs in the Super 14 final.
"It was fantastic to win the Super 14 and be back with the Bulls," he said. "They are a bunch of awesome guys and are such a close unit so it was fantastic to be a part of that again, as well as to win.
"I was one day away from signing for Northampton Saints, but pulled out the night before signing because luckily I got an offer to come back home. The Bulls were able to sort out a few problems which initially made it difficult for me to come back. It was always my first choice to come back to South Africa."
Reunited
The move back home also meant Matfield reuniting with Botha at club as well as international level. Indeed it's hard to say one name without mentioning the other; they're almost like a married couple. In fact it looks like their lives have mirrored each other to the extent of getting married one day apart and their first child just months apart. But they are very different characters.
"Bakkies is a farm boy, I'm more of a city boy, but we're great mates and really understand each other after playing together for eight or nine years. He's the guy who bullies on the pitch and I'm the guy who follows him. He can get the whole pack on the front foot.
"I think we compliment each other so well because we're so different. I do all the video analysis work, whereas Bakkies says 'go away I'm not doing that'. But I'm happy to spend hours in the video room. Then I tell Baks what he needs to do and he believes in me. He trusts what I say and does it.
"Sometimes Bakkies says he doesn't even need to listen. He can read body language and know what I'm going to do or call because we've played alongside each other so long. Bakkies weighs around 118kgs whereas I only weigh 110kgs so me flying into a ruck is not as effective as him. I get a lot of abuse for that at the moment as I'm the oldest and also the lightest forward; there's lots of teasing going on."
Hairy situation
While Botha is more renowned at making headlines for the wrong reasons, Matfield has also encountered a few scrapes himself. His most famous run-in was with former Springbok coach Jake White, who was none too impressed with Matfield's hairstyle, and was quick to let him know.
"It was a long time ago when I was a youngster, a bit of rebel," he recalled. "I liked flashy looks and flashy cars. Jake just wanted what was best for me. We worked through it and won a World Cup together. I reckon as long as the image doesn't bother your playing style, you look how you want to look."
The man actually responsible for the long hair was his on-field partner Botha, who bet Matfield he would cut his hair first if they had a competition. As Victor's wife began to like the long locks on her lock, he stuck with it, whereas as Bakkies got annoyed and gave in to the barber.
In theory the loser would buy the winner an expensive dinner, but Matfield's still waiting. Not that he's really in a rush to call in the bet - after all he eats for free in his home town of Pretoria anyway.
"Yes I have 2 restaurants in Pretoria so fans are welcome to down after games, no matter what side they support. You'll never find me in kitchen. I'll just be out the front telling people to enjoy themselves!"
Comments (5)
Will Nunn says...
JW - Disappointed with your attitude, get behind the lions! Ian McGeechan isn't there as a 'token scot' as you say, but because he's a lions legend and one of the best coaches in world rugby. Most of the Scottish players on tour have played very well and have been kept out only by injury or suspension (namely murray and hines). The fact is that the scots who are on tour are the only ones who deserve to be there bar maybe thom evans. So instead of complaining about poor representation, Scottish rugby need to develop its game and then you'll see the amount of players you'd like on the tour. The lions is about 4 nations as one, drop the prejudice and get behind the boys
Posted 11:01 3rd July 2009
Eddie Trick says...
I think on Saturday we watched the two best 2nd Rows in world rugby play in Matfield and Shaw. On saturday Simon Shaw was immense and put in one of the greatest performances from a lock I have ever seen. For all you who want to squabble like kids, I bet Victor and Simon will belt hell out of each other again on saturday and then shake hands and have a beer like true Rugby players. Apart from one incident Rugby was the winner and all real rugby fans will accept the result and move on. I cant wait for Sarurday "Come on the Lions" and congratulations to the Boks.
Posted 22:13 2nd July 2009
Brian Tompkins says...
LK...i dnt no what South African's you have met (if any) but i am in the travel industry and send a few 1000 british people out to South Africa every year on holiday and they all say that it is the friendliest place that they have ever been to!! and its not arrogence when its true!
Posted 14:43 2nd July 2009
James Cox says...
L K - It's not nice losing, I know - but you will get over it,the pain will subside and then you will see clearly that all is not that bad.Keep the faith bro.
Posted 13:54 2nd July 2009
Brian Tompkins says...
Skep, i completely agree with you...a better example of this is my partner who used to work at the Cullinan Hotel in Cape Town where all of the boks used to stay while playing in Cape Town said the Burger is one of the nicest guys she has ever met, very timid. but on the field he is the complete opposite. people saying that Victor is one of the few guys that they like after watching tv is just stupid.
Posted 11:13 2nd July 2009