Magnificent, absolutely magnificent.
England have looked fit and strong since they arrived in the West Indies and have been ultra impressive throughout this ICC World Twenty20.
I put it down to a number of factors. The selection has been good; the fitness is as good as any team here (if not better) and the fielding has been terrific.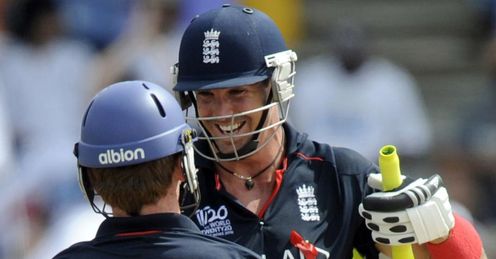 No longer do England lag behind in that department. The new fielding coach Richard Halsall (who was brought on board by Peter Moores by the way) has done terrific work with the team for about two years now.
Fitness, fielding and skills. They work bloody hard at everything and all of that hard work is paying dividends.
Eoin Morgan has been terrific, Kevin Pietersen has got his strut back and Paul Collingwood looks relaxed in the captaincy.
Would you believe Sky Sports News (Adam Leventhal and company) were in a five-star complex, while Hussain and Lloyd were stuck in the Biff and Bash down the road?
Bumble
Quotes of the week
They work to a plan, but they can change that plan when they need to. Certain other teams, South Africa most notably, don't seem able to do that.
Overall, I felt South Africa were off the pace and were not in form collectively. One or two big names were just passengers and didn't perform.
They aren't the only team who have been found out here. Despite the fact they have supposedly been honed on IPL, Inida didn't look committed or fit enough either.
As for Sri Lanka, they definitely made the wrong decision to bat first against England. But that's easy to say with hindsight.
Clearly Kumar Sangakkara wanted to have his spinners bowling last, but they didn't get enough runs to give themselves a chance.
But now I'm feeling very bullish about England's chances in the final. The other finalist has not been decided at the time of writing, but it will be a cracking match whatever happens.
How the other half live...
We've just travelled to Barbados, where conditions are very dull, overcast and sultry. There's no sunshine at the moment and I wouldn't be surprised if we saw some rain ahead of the final.
I hope the rain doesn't spoil the Viv Richards Golf Day on Saturday as several of us are looking forward to it. There'll be plenty of cricket legends turning up for that one.
We've been in St Lucia for the last few days and we found out how the other half live. Would you believe Sky Sports News (Adam Leventhal and company) were in a five-star complex, while Hussain and Lloyd were stuck in the Biff and Bash down the road?
It was an all-inclusive hotel that we were in. The idea seemed to be that the more you drink, the more you save.
Not us, I must point out. We're here to work.
Bumble answers your questions...
Send your questions to Bumble by filling in the feedback form below. Or you can mail them in by e-mailing skysportsclub@bskyb.com
Bumble, Why are we making such a fuss over Kieswetter when we already have a born and bred Englishman who is a better gloveman and just as good a batsman in Phil Mustard? Surely we should be giving chances to Englishmen instead of playing all these South Africans? Dean Mciver
BUMBLE SAYS: This is a good point Dean, and the debate has been rumbling along on my Twitter page all week. I appreciate what you're saying but you must remember Pietersen, Lumb and Kieswetter all have at least one English parent. They have dual nationality and I don't see a problem with them playing for England.
Even though the team is doing well, there's no doubt that this situation is causing unease among England supporters. From what I can see, they are 99.9% in favour of a full English team and furthermore, we are draining South Africa of talent. My own view is that there should be a cut-off point. If you choose to play for a representative Under-19 team, South Africa for example, then that's your team. By that age you're old enough to leave home and you're old enough to make that decision. I think that's a simple solution, perhaps too simple.
The anomaly is the Irishman Morgan as Ireland are associate members. He has taken the decision to qualify for a full member team in the same way that Ed Joyce did. Now in my opinion, Joyce should be able to go back and play for Ireland now he's no longer needed by England. But that's only because Ireland are not a major team.
Start the Car!
Finally, a reminder that my new book called Start the Car: The World According to Bumble - is available in hardback on May 27.
If you've got a couple of minutes you can listen to an exclusive extract from the audiobook version right here on skysports.com.
We were always hungry for success during my playing days at Lancashire - but it's fair to say (mentioning no names Mr Jack Simmons) that some were more famished than others!
Click above to listen to this week's portion and don't forget there are five signed copies of my book up for grabs in skysports.com's competition. Click here for details...
Comments (22)
Russ Broom says...
Having read all the above comments about Citizenship and being able to play for England having been born outside the Uk. Fact; There are many Bonifide British Citizens born outside of the UK for an array of reason, such as work, military postings etc. Fact; The Armed forces have many British Citizens who were born outside the UK who are on the frontlines fighting for their Country, so what are people saying, that you are welcome to die for your Country but by God, dont play Cricket for it. It is nice to see that a Team has been chosen for the Players talent and not because of the geographical location of their birth. As long as someone holds a British Passport and has Right of Abode, nothing else should matter.
Posted 09:43 18th May 2010
Steve Wright says...
the leading wicket taker in the tournament previously played for holland,and could so easily won the tournament for the aussies.so our teams in the clear.i bet south africa wished theyed picked pieterson and kieswetter now though.taking nothing away from the team,i think that if the bottom order was got out,we'd most certainly struggle beyond luke wright.ps i watched a brilliant innings from my countries robert key yesterday,brilliant coverage as always from sky sports
Posted 07:35 18th May 2010
Philip Hubbard says...
I think this whole issue over nationality is just a waste of time. These people have decided to represent the country that they have direct heritage links to. I believe the South African players have a English Mother! The reason write this is that my son born here in Thailand to a Filipina mother who i have been with for several years holds a British passport. he also has Dual nationality. I represented my country as an International Rower and it is quite possible that my son may inherit some of my sporting prowess. I would hate to think that one day he might be an international athlete of some stature and people are questioning his right to represent the country he CHOOSES to represent with pride an honor. The world has become a small place and races have mixed. I do not blame any athlete wishing to take advantage of their Heritage and compete within the RULES clearly set out by sports governing bodies. England played the best Cricket in this 20/20 World Cup, they beat the best teams in the World to do it in fine fashion. If people here believe that it is just the presence of these players that have made the difference then something is wrong. The bowling line up in the team which has restricted every team they have played is "English" they have set the platform for the batters to do their thing. There are eleven people on the field all of which have to play their part. if Matt prior was behind the stumps would that have made such a HUGE batting difference, and he is a better wicket keeper. Kevin Peterson has being playing his Cricket in the UK for 10 years and first represented the team in 2004, which is 6 years ago. He was selected through the system..."Not Drafted In". Well done England you have worked hard as a team and some of us have seen this building for a while, it is over due and we are happy:)
Posted 04:25 18th May 2010
J E says...
I totally agree with Dave Raverson, if we applied this sytem across the board no foreigners would be able to play, work or do anything in England. Times change, people move on, and so should the opinion of whether people are, or are not 'full English.' Any chance of filling this space with an article about say............................. the win?
Posted 21:13 17th May 2010
Jimmy David says...
you are having a laugh,every time we get beat no matter in what sport everyone loves it...when we finally win something every comes out we excuses why we won....football is the same......just look at the irish football teams over the years....they have been having our castoffs for years...
Posted 17:48 17th May 2010
Jean Green says...
I agree with some of the comments which i have just been reading and why cant we all just enjoy the fact we have beaten the aussies in such great style showing them we are not just a flash in the pan and we really can play cricket. There will be plenty of time to reflect on how they played through out the tornament and where we can get better but for now lets all jusr enjoy the moment.
Posted 17:18 17th May 2010
S m Jafri says...
For how long will the purists pick who is English and who is not ? In a world that is becoming increasingly mixed both in race and nationality, isn't the whole argument whether a certain player is English or not rather frivilous ? Is Obama Kenyan or American ? I think anyone who holds a British passport today is as English as it gets. Let them all enjoy their win as a cohesive unit. Well done England and I wish them similar successes in the future. They deserve it.
Posted 15:34 17th May 2010
Mark H says...
It happens all over the game. Who is the highest wicket taker of the tourny? A dutchman born and breed. Why cant people be happy that we finally won something at one day level. Idiots over here just lovr to put their national teams down. Your saw how much it meant to the players if you were watchin it. P.S. Bumble your a LEGEND!
Posted 15:16 17th May 2010
Adam Beresford says...
To Ray H My daughter was born in Germany and moved back to england when she was 6 months old (on posting with the army) , so if she wants to play a sport , does that mean she has to play for germany???? NO!! she has a british passsport, and so do those guys, plus they have one english parent , so dual nationality!!! cant we just enjoy the win and stop trying to nip and pick over silly matters
Posted 11:46 17th May 2010
Dave Raverson says...
The England team represents our multi cultural society. Fact. Nasser Hussain wasn't born in this country, neither of his parents are English, yet because he speaks with and English accent nobody mentions the fact he played for England as well as captained them. This biggotted talk about "foreigners" playing for England has to stop.
Posted 09:31 17th May 2010
Mark Mc crea says...
I agree with Bumble - an England victory with a team full of ............eh.non-english! Come on here, wats the story, South Africans, Irish, what next draft in a few spinners from India? Enough said!
Posted 09:01 17th May 2010
Bill Maclean says...
I think everyone is missing the point with regards to the foreign players. No problem if people qualify to play for any country by taking citizenship. The question is: What does it say about the standard of cricket in England if so many "foreign" players are teh stars in the team?
Posted 05:42 17th May 2010
J E says...
Why will we never just be happy with the win? Who cares about cut-off points, and whether people are 'full English' or not. We just won a major tournament.
Posted 03:43 17th May 2010
Ray H says...
I thought England were playing South Africa its a joke you should only play for thr Country of your Birth
Posted 22:05 16th May 2010
Nigel Johnson says...
for god sake no wonder were called whinging poms keiswater and peterson both live in england qualify for england play for england its southafricas loss for not spotting talent englands gain well done england team effort world champions say no more
Posted 21:35 16th May 2010
Jim Tailor says...
Now that England are T20 World KINGS,the ICC should consider bringing in new rules, those teams which did not qualify for the last four places of the semifinals, should be asked to qualify for the next T20 world cup by playing in the qualifying stages the same as minor countries, so that we don't see a lot of RUBBISH coming through in to the T20 world Tournament
Posted 20:56 16th May 2010
Jim Tailor says...
FANTASTIC, bring the baggage home,Best team in the tournament, Best coach in the tournament, well worth every penny and tons more in GOLD than the second best Aussis
Posted 20:39 16th May 2010
N Smith says...
Bumble, having been brought up near you, my problem with the England cricket team is that so few are English or Welsh. I find myself watching in the hope that they get beat. I see the side that goes out essentially a cheating representation of this country whereas all the other nations stick to the moral rules whereas the ECB seems to change their's whenever it suits...
Posted 16:45 16th May 2010
Alan Simpson says...
do u think its right england should have so many overseas players playing 4 them
Posted 13:41 16th May 2010
G Howe says...
AS a South African/Englishman living in England , I cannot blame the likes of Pietersen , Lumb , Kieswetter for playing for England . Its not only a sporting decision as I am sure these guys would have had dreams of playing for South Africa whilst at school . South Africans love South Africa dearly (just look at how many South African supporters you get at matches against Proteas (cricket) or Springboks (rugby) . I love South Africa too although I moved out in 2005 , solely because I couldnt afford to stay there . I couldn't get a job there that was affording me the opportunity to pay my bills . I feel that a huge drawcard for these guys is not their desire to play for England , but rather their desire to earn better money whilst playing . The same with lots of these rugby players that play for English clubs . Why is it that lots of South Africans come over to play for England , but not vice versa . The answer is not cricket related , but rather , money related . Drastically cut their salaries and then see how willing these guys are to play for England
Posted 08:37 16th May 2010