Barbados became a 'little England' as Paul Collingwood's side eased their way to the ICC World Twenty20 title on Sunday and few who were there will forget it.
I always thought that if England got back to the Kensington Oval for the final they would win it because the players not only love the pitch and surroundings but thrive on the support they receive there.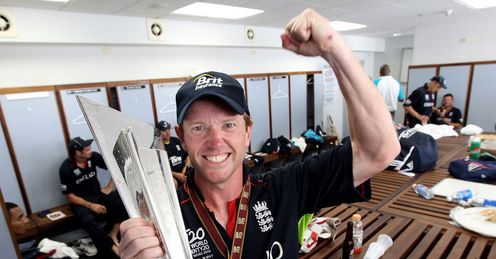 Walking around Bridgetown beforehand it was clear all of the locals wanted England to win and, combined with the fantastic travelling support, that made for a very one-sided crowd.
And when England did win, no-one could say it wasn't deserved; once they had successfully negotiated the rainy early stages in Guyana, they hammered everyone.
This victory is no fluke. England deserved to win because they were the best team in the tournament and to see them end the country's lengthy wait for a global one-day title in such style was great, it really was.
Ruthless
Now England have realised what is required to play a modern brand of cricket there is no reason why they can't transfer that form and mind-set into the 50-over game.
Collingwood's captaincy and fielding have been exceptional, but Flower is the actual driving force - the one who has given the side direction and purpose.
Nasser Hussain
Quotes of the week
LIVE ON SKY SPORTS
Durham v Kent
11am, Tue, Sky Sports HD1 & SS1
Under Andy Flower they have clicked as a unit and prospered from the confidence and momentum that comes from winning.
Collingwood's captaincy and fielding have been exceptional, but Flower is the actual driving force - the one who has given the side direction and purpose.
He, and the selectors, have been ruthless and it has paid off. The likes of James Anderson and Matt Prior, who was doing very well in the Test side, are casualties of the new philosophy but the end has justified the means and those at the helm should be given credit for making those calls.
This is a squad that is not scared of hard work. The players are fitter and stronger than any other side before them and they aren't carrying anyone.
While Kevin Pietersen is a superstar there aren't any prima donnas in the side; there's no-one who doesn't buy into the team ethic of training and fielding and enjoying each other's company.
Occasionally they do go over the line in terms of having a go at each other on the field and that's something I'd like to see eradicated because they don't need it.
When I was captain, the side needed it because we were underperforming. This team isn't so it doesn't look good when a player is trying as hard as he can. But that's a small point. Overall, they are an exceptional unit.
Savour
As things stand with the one-day side now I wouldn't change a lot going forward.
Given how Craig Kieswetter and Michael Lumb have performed at the top of the order that means the selectors may face a difficult choice if Andrew Strauss wants to play 50-over cricket.
Strauss, like Alastair Cook and Ian Bell, is a great international player but I'd think long and hard before dismantling this England side after what they've achieved.
Imagine, if you will, what the media and commentators like me might say if Strauss and Cook did return for the 50-over and England lost a couple of games!
But decisions like that are for another day - for now we should savour this moment.
For me, this is almost as sweet as winning the 2005 Ashes because we invented Twenty20 and, after waiting for one-day success for so long, we've won our first title by walloping the best sides in the world.
My abiding memory will be of Pietersen taking on the South African quicks in the Super Eights and coming out on top because it represented such a turnaround from when the same sides met in the 50-over World Cup in 2007.
Back then England tottered to 28-1 off 10 overs while South Africa smashed 85-1. Fast forward to 2010 and it was a complete role reversal and as Collingwood lifted the trophy on Sunday night no-one could say England were not worthy champions.
Comments (26)
Laurent Seale says...
Well, I wonder how far England would go in international cricket if only English players were chosen. The only strengh England has at the moment, is the bowling department and full credit to Paul for his captincy. But the constent hype of players that should not even be there is ridicilous,. im not even going to mention names, basically the top four
Posted 14:43 31st May 2010
Tom Buck says...
I have just listened to nas on sky and whilst i agree with all you say about the batting and pieterson was superb, the best in the tournament you did not mention the bowling. Our bowlers with the exception of one or two overs during the whole tournament were magnificent. Every bowler showed great discipline and particularly against south africa and australia were outstanding. They bowled sides out and restricted the scoring taking the pressure off our batsmen.
Posted 20:02 21st May 2010
Shaik Mohsin says...
hi n hello nasser hussain sir, m a indian national cricketer i think u knows but i all credeit two players one of opener batsman kiewetter and midill order batsman peterson,,,, keiwestter his has a become a good batsman so sir can i ask u question i like to play there so u can tel me ,,,,,,,,,,,,,,,,,,,,,,,,,,,,,,how ,,,,,,,,,,,,,,,,,,,,ok sir bbye m huge fan of us sorry anything wrong hav these though
Posted 17:30 21st May 2010
Laurence Bickers says...
Well said Nas. As an England supporter I was thrilled although I kept thinking the wheel was going to come off the trolley. You are never quite sure about England! Seen so many false dawns, let's keep our feet firmly planted. Looking at the comments here though, the most interesting thing is the number of sub-continenters turning up - could it be we've got them worried? Before the game, all I read about was how good India and Pakistan were. Well, We've got the trophy and that's enough said. Well Done England!!
Posted 09:14 19th May 2010
Suresh Kanagala says...
England deserved to win, they were the best in the tournament. But the question is can they replicate this performance going ahead? They might do well in a one off tournament but keeping that form going is the toughest task in cricket which was only acheived by AUS and WI. When you talk about cricket as a whole England are still at No. 5 according to me behind AUS, IND, SA, SL. They simply can't win in the sub continent except in Bangladesh.
Posted 23:53 18th May 2010
John Jones says...
nick royall and myself have obviously touched a few raw nerves with our earlier posts.even the chairman of selectors has acknowledged that careful thought has to be given to the make up of future england teams because of the increasing number of foreign born players becoming eligible for selection.this is a situation unique to england simply because the financial rewards available at county and test level are greater than elsewhere,.on the basis of some of the comments why not do away with qualification criteria altogether and make international teams franchises as i the ipl and allow players to go to the highest bidder.
Posted 21:04 18th May 2010
John Smith says...
Who cares about 20/20 cricket. It's just a beer match for pros. The real cricket will take place in Australia this winter with the ashes.
Posted 17:03 18th May 2010
Carl Davies says...
Comment 2. You ask any England fan and this is most definetly not a hallow victory, it felt amazing!! And every South African who has played for England has a British parent. Let them play for the country they are proud to play for. We are living in a multicultural society. We could say that all black Brazilians shouldnt be allowed to play because of there African ancestry... The world is a mish mash of nationalities but morons like you who havent caught up with the rest of the world still bang on about 'Foreigners'. Idiot.
Posted 16:50 18th May 2010
Billy Storer says...
go engaland you guys rule woop woop keep up the good work
Posted 15:06 18th May 2010
Neyba Hood says...
Well done England - but pay heed to Flower's warning... it's only T20... the way you celebrate this win makes me laugh - is it that long since you won silverware that you make the most of it as it may be the last. LOL
Posted 14:43 18th May 2010
Mark Chalcraft says...
All I learn from such ignorant comments is which newspaper the commenter likes to read...
Posted 14:00 18th May 2010
Ellie Reynolds says...
wow what an acheivement for our boys, could'nt quite belive it when Colly scored the final runs, then leaped of my sofa in pure joy! so proud of them :) hears to the future :) it's lovley to see how well they gel together as a team and i love how KP said that they support each other and enjoy each others sucesses, just goes to show how unselfish they are as cricketers and a team, good to know they have each others best interests at heart cricket wise, was just watching on sky sports the press conference with Andy Fower and Paul Collingwood (when they just arrived home from west indies) one question got asked about Morgan & Kieswetter maybe being considerded for the test team for the upcoming test matches against Bangladesh next week, what are your thoughts on the possibilties of this happening?
Posted 13:35 18th May 2010
Kelly Sherwood says...
The comments above are ,in my opinon, are wrong, The English sporting public are never happy, forget where the players where born, Pietersen and the so called"Foreign Players" all have United Kingdom Passports so they qualify end of argument, John Barnes and Terry Butcher were not born in the UK so do they fall into the same catergory, Ithink not! I was born in 1977 so I missed Bothams Ashes and had to watch the poor England teams of the late 80's and early 90's so lets appreciate this moment in the Sun while we have it!!!
Posted 07:54 18th May 2010
Manohar bhogal Kala says...
This was a dream for me which comes true whe eng beat aus in T20 w'cup final. I m proud on england players which play for final T20 . lov nd sucess 4 feature cricket any format. england will top of the ICC RANKING. LOV ENGLAND
Posted 05:41 18th May 2010
Mike Macdowell says...
Why do people keep banging on about the "South Africans" in the English side? Michael Lumb - son of a Yorkshire opening batsman, pretty much as English as they came back then, not his fault he was born in South Africa and lived there whilst growing up. Kieswetter and Pietersen made choices to move to England because they could, they took an adopted nation of which they had history and parentage, why do people have issues with that? Lets look at other England players that no-one seems to have a problem with... Strauss - born in SA, lived there until he was 6 G. Jones - born in Papa New Guinea, lived in Australia until he was 22 Prior - born in SA, lived there until he was 11 People move around in the world, it happens, every player that pulls on the shirt has a link to our country, they chose to play for us because of it. They can't help where they were born/grew up etc... but they can chose who they want to represent.
Posted 00:32 18th May 2010
Oliver Lauria says...
I feel sorry for the morons who have to degrade our success by complaining about the amount of "foreigners" in our team. We live in a multi cultural society and not everyone is going to be born and bred in England. As long as they genuinely feel British i have no problem with them playing, long may this success continue!
Posted 23:25 17th May 2010
Mr Heskey says...
I don't agree with the posters so far. England have not "cherry picked whoever they want" and to claim they have is simply inaccurate. Both Pietersen & Kieswetter opted to come to England and play county cricket for 4 years and qualify. They served their due and both are committed to playing for England. If some of the other England born players showed the same level of application then maybe we truly would be world beaters......... I agree that there is a bit of moral ambiguity but that is the system. It exists in many sports, including cricket where the leading Aussie bowler was a Dutchman! No particular criticism has been labelled there, so why here?
Posted 22:10 17th May 2010
Stuart Dinsdale says...
Typical doom and gloom muppets, England won best team in tournney deal with it dead beats.
Posted 21:47 17th May 2010
Iain Walker says...
nick royall i think you're totally right, why should we let people who are foreign come here and naturalise as brits and then help us win sporting trophys - clearly what we need is a team full of blonde haired blue eyes nick griffin voting born and bred brits who have never even been abroad, never mind being born there. Pieterson, Lumb, Kieswetter etc are English, they have british passports, british parents and play with pride for their country - its ridiculous to suggest that just because someone is born in south africa they shouldnt be allowed to play for england if they hold a british passport. while we're on about it should we not get rid of nasser hussein, alan lamb, andrew strauss, , denis compton and any other of the foreign born but english as fish n chips and pie n peas cricketers who have served our country brilliantly and with great passion in the past. we live in a country and in a world where multiculteralism is a fact of life, immigration rules allow for people to naturalise and become british, they therefore are as british in the eyes of the law as someone born and bred in the UK so may i suggest that you keep your mouth shut and enjoy the victory. lets not let this typical english behaviour of souring a victory and finding the bad in the good spoil a great achievement
Posted 20:21 17th May 2010
Marky Marc says...
sorry this is rediculous, if you have dual nationality, it means you can play for either team, both KP and CW have british parents so why cant they play for england? This happens in all sports and michael lumbs dad played cricket for england, so why on earth should he not be allowed to play for england??. other teams do this as well, andrew symnonds was born and bread england but no one seems to be moaning about that fact. after all the tournaments hes helped austrailia win. then theres Morgan, well Ireland arnt a professional team, so as he has ambitions as he wants to play test cricket and make a career out of a sport hes evidently good at hes decdied to qualify for england, again just like kirk nannes has done since hes dutch but is playing for austaila and even ricky ponting is from tazmania which is an island off austraila should he not be aloud to play for them then? How about backing england for once for a job well done.
Posted 20:06 17th May 2010