What a win against Pakistan! We certainly needed it after Friday's defeat to the Netherlands and fortunately we managed to put in a brilliant performance that saw us thought to the Super 8's stage of this T20 World Cup.
All eleven players stuck their hands up and delivered, which means we have now headed up to Nottingham for another massive game versus South Africa on Thursday.
I guess the loss against Holland was one of those things that happen in T20 cricket - and I see they have just crumbled against Pakistan. In this shortened version of the game you are just inches from being a hero or a villain depending which side of the rope the balls lands.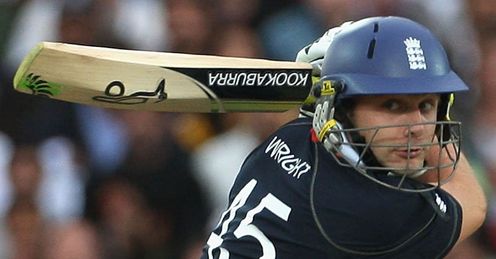 Everything Holland tried against us paid off last Friday, but you have to take your hats off to them for a brilliant win.
I'm really enjoying opening up with Ravi Bopara and I think our contrasting styles make us a difficult prospect to bowl at. Ravi is technically superb which generates runs at a decent rate whereas my role is to take more chances and try to take the bowlers on any way I can.
Confidence
It does take a bit of courage to play like this but it's made easier knowing the dressing room and coaching staff are backing you and willing for your innings to come off.
In a way getting through to the next stage of the competition the hard way has made us stronger as a team because of the pressure involved.
Luke Wright
Quotes of the week
LIVE ON SKY SPORTS
England v South Africa
5pm, Thu, Sky Sports 1 & HD1
I got a lot of confidence from our warm up games, particularly my innings of 70 odd versus the West Indies. That has set me up and I was delighted to get some more runs on Sunday along with a wicket, and to receive the man of the match award was the icing on the cake.
As a team we take a lot of confidence from Sunday's win and in a way getting through to the next stage of the competition the hard way - by losing to Holland and having to beat Pakistan who were in the last T20 World Cup Final - has made us stronger as a team because of the pressure involved.
We played some good cricket before this World Cup, and confidence remains high in the dressing room.
I really enjoy playing at Trent Bridge, where we will take on South Africa, and have celebrated a few trophies on the ground with Sussex after wins over Notts. It's a popular ground with the England team as well and tomorrow we will be practising there and fine tuning our skills to ensure we're ready come Thursday evening.
I reckon the atmosphere at the Oval was the best I've ever played in. Although there was a lot of Pakistani support, the England support drowned it out and that sort of thing gives you a massive boost on the field. We are hoping Trent Bridge will be the same, so come on England fans, get behind your team!
Until next time, take care.
Luke
Comments (2)
Jonathan Bussey says...
Well done Luke, we are all loving you and Ravi opening the batting, your are bowling well aswell which is nice to see, keep up the good work and im sure you will have a full house behind you on thursday night !!
Posted 08:54 10th June 2009
Matt Gleeson says...
Not really a direct point on this story. I am wondering why England have been drawn to play the other 3 group winners (India, West Indies, South Africa). According to the BBC sport website a few days ago, it should have been the winners of group 2 and 4 against the runners up in groups 1 and 3. Which would have meant England playing Ireland, Sri Lanka, and New Zealand. In fact how can these fixtures even be drawn before the final fixtures have been completed, and the group placings decided? Even if the BBC sport website was wrong and it was initially intended to be the 4 group winners versus each other. Should they not been rewarded for winning their respective groups and be drawn against at least two 2nd placed teams...
Posted 17:32 9th June 2009