It was a case of mixed emotions at Edgbaston in the third Ashes Test.
We went into the last day with high hopes of bowling Australia out to take a two nil series lead. In the first innings, we took seven wickets in a session and knew if the ball swung we would have a chance on that last day.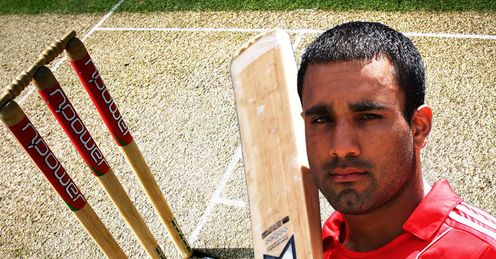 We aimed to take three wickets in the first session but the pitch got flatter and flatter. With the ball not swinging, it was probably the best time in the game to bat and Australia safely negotiated their way to a draw.
It was a frustrating game for me personally as I got a good start again, making 23 before dragging the ball onto my stumps. I know my job is to go out there and get big hundreds for England and it has just not happened yet in this series, but there is a long way to go.
I know my job is to go out there and get big hundreds for England and it has just not happened yet in this series, but there is a long way to go.
Ravi Bopara
Quotes of the week
I'm hitting them sweet in the nets and have felt pretty fluent when I've been in the middle and can't wait to get out their again and make some big runs.
Tough
It's tough playing back to back Test matches. You don't really get time to wind down and before you know it, it's time to wind yourself up and go again.
To be honest, you don't tend to feel that tired at the end of a Test match - it's the next couple of days when it really hits you. But we've got a lot of cricket to fit in and have to get on with it. By the time the toss goes up, you can guarantee that both sets of players will be champing at the bit to get out there and perform.
I've not played that much at Headingley in recent years but I do remember the last championship match I played here for Essex, Andy Flower (now England coach) made 188, so he's got some good memories of this ground! If the sun comes out, it can be a great wicket to bat on but if the cloud rolls in, it can do a bit - which should make for another enthralling Test match.
Debate
There has been a lot of debate on the starting eleven for both sides. As a batsman, I just focus on what I do well. You have an idea of the different bowlers you are likely to face, no matter which attack Australia pick. It will be a case of preparing well and getting ready for action.
On the morning of the game, I normally do some fielding and wait for the toss to go up. If we are batting, I'll get a ten minute hit in, to get my arms going and eye in, before getting ready for the days play.
Australia will take some heart from saving the game at Edgbaston, where they displayed the fighting qualities they are renowned for. The top sides never lie down and I'm sure this Test match will not be any different.
When I played in the West Indies earlier this year, I thought the noise generated by the Barmy Army was amazing. But it was nothing compared to playing at home. It's a fantastic atmosphere to play in and really gets you going. Headingley will be no different and I know the lads can't wait to get out there. Bring it on.
Cheers, Ravi
Comments (4)
Daniel Zwick says...
Why was Bopara not dropped for this test, considering that he's flopped in all his tests so far? He's not exactly great in the field either. Jonathan Trott could then have been selected as well as Harmison and Bell could have moved up to three. Australia dropped Phillip Hughes because he wasn't performing. Seems like England enjoy handicapping themselves. I haven't any sympathy with their abject failure in this innings. It was completely self-inflicted, starting with the team selection.
Posted 17:09 7th August 2009
Khalid Saleem says...
'Can't wait to get out there'....what you really meant is get out there, face 6 balls, score 1 run and then tundle back into the pavillion about 5 minutes later. good job ravi. england selectors wake up, this guy is a club cricketer who tries to play like sachin tendulkar - only problem is there is a distinct lack of talent there to get bat on ball against a decent side.
Posted 12:48 7th August 2009
Jim Tailor says...
Ravi talks smart but cant deliver, every time he has been at the wicket ,it seems his trousers are filled with concrete, i think he should be put out his misery by droping him for the last test and give some one who has more brians and guts
Posted 12:43 7th August 2009
Tom Bowden says...
Glad to see Bopara's fired up for this one. Great. Out for 1. Bring back Robert Key.
Posted 11:40 7th August 2009