It was a frustrating time for both teams up at Old Trafford as we attempted to play the two Twenty20 Internationals.
In the first match we were very upbeat when we came off the field having bowled and fielded pretty well, restricting Australia to what we felt was an achievable total. Unfortunately the weather then intervened and the match was called off.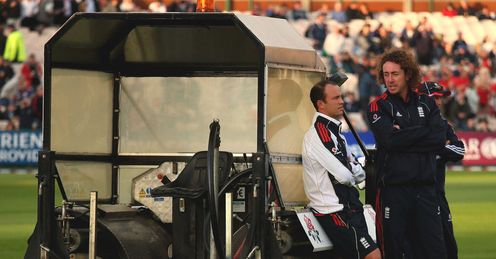 We were desperate to get a result in the second match but the game was called off without a ball being bowled. This must have been terribly disappointing to the fans, as well as us players in the dressing room, but I guess you can't help the weather.
At least I got the chance to get back on the park in an England shirt in that first T20 game. I've been really pleased with my bowling for Notts this summer and managed to force my way back into the squad during the Ashes.
Frustrating
It was nice to be a part of it all but frustrating because, from a selfish perspective, you just want to get out there and play. But I've got some really good friends in the team and was chuffed to pieces for the likes of Graeme Swann and Jimmy Anderson - in fact the whole team. It was a top effort at the Oval and sets us up brilliantly for this one-day series.
The first couple of games in this series will be crucial and if we can get the upper hand, it will give us some great momentum as we travel around the country.
Ryan Sidebottom
Quotes of the week
LIVE ON SKY SPORTS
England v Australia
12.30pm, Fri, Sky Sports 1 & HD1
We play seven one-day internationals now in the space of 16 days so its going to be a full-on series! There are a few new faces in the squad and it feels fresh and new to be around. Andrew Strauss said in an interview today that guys have a fantastic opportunity to stake their claim for tour parties this winter and I know they will be busting a gut to do well for England.
I really feel for Joe Denly, who injured a knee during warm ups today. We were having a game of football when he went down and while it's very unfortunate for him - these things do happen from time to time. He's going for a scan and, fingers crossed he will make a swift recovery and play a part in the series.
Mentally ready
We practised hard at the Oval today, preparing for tomorrow's opening game. It was very much back to basics, with us working hard on our game and getting mentally ready for tomorrow's fixture. Having had a quick look at the pitch, it looks quite similar to the one we played the final Ashes Test match on. It's straw coloured and quite dry so we may even end up playing a couple of spinners.
The first couple of games in this series will be crucial and if we can get the upper hand, it will give us some great momentum as we travel around the country. Winning the Ashes was superb and it would be brilliant if we can take the one-day series as well and send the Australians home without winning anything. I know that would please the fans as well as the players and we'll be doing everything we can to ensure the fans get plenty to cheer about.
Cheers, Ryan.
Comments (2)
David Neale says...
Ryan, always good to have a fellow Yorkshireman in the side. You bowled well at the death, but I was frustrated that the tail had too much to do at the end. There were some great positives. Adil showed great maturity,Luke Wright was like Pietersen, but the impotus was given to the Aussies by Prior and Bopara's stand. For 2 fluent players they were subdued for a long period. Matt prior frustrates the life out of me, he is a class act with the bat but keeps pressing the self destruct button, just like Alec Stewart used to do. Yes we would have all cheered if his premeditatted shot went for 4, but I'd rather see him hole out on the long on boundary using his feet back over the bowlers head. As for Mr Bopara, he batted in a test match fashion, which is encouraging for the 5 day game when he gets a recall, but it was not what was needed yesterday. The trouble with these games are that they come thick and fast and the mistakes get quickly forgotton if England win a few games. Good luck for the rest of the series
Posted 21:08 5th September 2009
Chris Duckett says...
Hello Ryan go out there and show those aussies what you can do! I also feel for Joe Denley but lets face it what is the point of playing football when you are about to play in an International cricket match and the last thing you want are injuries that can be avoided. seems silly to me well good luck to the entire England side who have made a fantastic start what with thrashing the old enemy at the test eries keep up the good work.
Posted 14:09 4th September 2009