It's no secret that England didn't play well in their opening game against Finland.
In the first half in particular they just didn't get going. Finland caught them by surprise with the direct nature of their football and England found that hard to handle.
We scored against the run of play, then dropped off and Michael Mancienne made a bad mistake to give away a penalty and get himself sent off. That forced Stuart Pearce into a change at half time, with Fraizer Campbell replacing Theo Walcott, and the coach deserves a lot of credit for that positive move.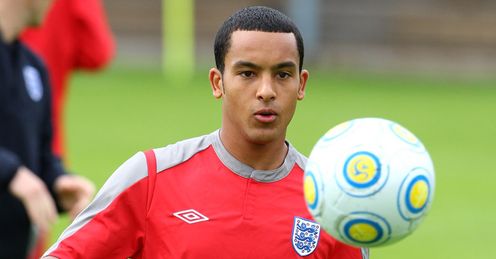 In many ways England looked better with 10 men than they did with 11 and they came away with a great result following Micah Richards' second-half winner. However, there is plenty of room for improvement. I'd like to see them move the ball about better, as Spain and Germany did in their match.
In an ideal world you would like to see them win the first game in style, but in tournament football it's important to get the win and then move on. Those three points are in the bag and they aren't fighting the tide going into the Spain game, they know a win in this game isn't totally vital.
Formation
It will be interesting to see what formation Stuart Pearce opts for against Spain. The lads have played 4-3-3 in many of the recent matches, but they didn't look comfortable in the first half on Monday.
If Pearce leaves him out after all of the furore over him going to Sweden then I don't think Arsene Wenger will be very happy.
Alan Smith
Quotes of the week
LIVE ON SKY SPORTS
Germany U21 v Finland U21
5pm, Thurs, Sky Sports 3
England U21 v Spain U21
7.30pm, Thurs, Sky Sports 2
Things improved when Campbell came on to play alongside Gabriel Agbonlahor. When it was James Milner and Theo Walcott supporting the lone striker, they didn't seem sure what to do with the ball in the middle of the park.
Campbell worked hard and looked a threat when he came on so I think Pearce will be loathed to leave him out. He certainly warrants a start after his second-half performance.
So it will be interesting to see what Pearce decides to do with Walcott. He had a very quiet first half against Finland, but if Pearce leaves him out after all of the furore over him going to Sweden then I don't think Arsene Wenger will be very happy.
It's a tricky decision because Theo's confidence looks low and he didn't contribute anything in the first match.
Lacking
In midfield, Lee Cattermole and Fabrice Muamba worked very hard, but I think we were lacking a bit of creativity. They didn't have many options when they did get hold of the ball in the first half and that was possibly down to a lack of movement up front.
In a tournament you have to be able to adapt your tactics and I'm sure the lads wouldn't have a problem if Pearce decided to play 4-4-2 against Spain. Perhaps that would get them into their stride.
There will definitely be at least one change in the back four due to Mancienne's suspension and Pearce has options there. I thought Martin Cranie did really well at centre-half, arguably man of the match against Finland, and he could cover in that position.
But Nedum Onuoha is back and seems most likely to slot in alongside Richards (as long as he is fit) with Cranie reverting to right back. The defence looked much better in the second half and I think they have enough experience to cope with Spain.
Force
Spain probably lost on points to Germany in their first game, but they came away with a draw. The Germans definitely edged the match and look like they will be a real force in this tournament.
Spain were not at their best but they did create one or two chances. They started with Bojan through the middle on his own and I don't think that worked - so we could see changes from then as well.
The captain, Raul Garcia, is a very good player, as is Gonzalez Sisi on the right who looked like a handful. They have a team full of small, technically gifted players and a bit like the senior team they will hurt you if you give them space.
It will be vital that England keep their shape against them. Having drawn their first game, Spain will be looking for a win so it should give us a good game.
A draw wouldn't be a bad result for England, but I think they are at their best when they go out with a positive attitude and try to win the game.
SMUDGER SAYS

Draw - If we play like we did against Finland I think we'll get beaten, but I think they will improve. England tend to play better against the better teams and I think we could see a draw. I'll go for 1-1.
SMUDGER'S STAR MAN

Fraizer Campbell - He takes up good positions and he loves to get in behind defenders. That could stretch the play out and give us a little bit more room in the middle of the park. He might not play, but I think he has a good chance and if he does he could be very important for us.
Comments (10)
Nihil Morjaria (Manchester United fan) says...
A Gooner, you mean Blackburn. I think Walcott reminds me abit of Rooney, in that he's not playing upfront but on the wing, so his performences as an individual suffer. If Pearce sticks to 4-3-3 you really want a target man at the head of the front three and the wingers to feed off him. Get in 4-4-2 Pearce!!!
Posted 21:00 18th June 2009
Dan Danaher (Arsenal fan) says...
a lot has been made about theo i think he blows too hot too cold for me at too many times he can be brilliant no doupt about that but he needs to find consistincy in his game i think thats his biggest downfall but saying that england need to look for a real playmaker in midfield.
Posted 16:22 18th June 2009
G Johns (Portsmouth fan) says...
"Kiron Lee" Typical Spuds fan. Bentley couldn't even buy a game for a relegation threatened Spurs. I still haven't seen Lennon put a cross in yet...but we live in hope! It is hard for Walcott to be with the full england side then drop back to U21s. He must be tired after a long season, shouldn't have been made to play for the U21s. I seem to remember Bentley pulling out of the U21s in the past, probably because he is not as classy or professional as Theo...no wonder Bentley has failed to live up to his hype.
Posted 14:48 18th June 2009
Rob Smith (arsenal fan) (Arsenal fan) says...
Theo is better than Lennon, otherwise Lennon would be playing in the Champions League. I mean Spurs not even in Europe. Spurs fans make me laugh. Theo should play tonight he has played for the senior team many times. He got no help on Monday. Massive game.
Posted 13:48 18th June 2009
Darren Hall (Arsenal fan) says...
Theo not as good as lennon or bentley you must be joking lennon's final ball is the standard of sunday league and bentley he aint good enough to wash Theo's boots. feed the theo and he will score!!!!!!
Posted 11:58 18th June 2009
Paul Clarke (Liverpool fan) says...
How can anybody expect walcott to just start being a prolfiic striker again as hes been playing out on the wing for arsenal and england seniors all season.This kid is class,hes a striker not a winger so play him as one at every level everytime.
Posted 09:34 18th June 2009
Nick Johnston (Crystal Palace fan) says...
" the 3 midfielders were all destructive ones in cattermole, muamba and noble and none of those have a particularly good passing range or ability to create something. " erm how on earth can you say that those three dont have have good ability?!?! Mark Noble is by far the best prospect in central midfield for the U-21s and the only player that has any hope of stepping up to the national team in a couple of years and you say he has no ability!! I'd say maybe you should get off your high horse and take a look at theo for what he really is..... sure he had a good game for the full England team a couple of months back but so has heskey so it doesnt really say much! theo played badly because he's rubbish compared to bentley or even lennon.....end of
Posted 09:12 18th June 2009
Tom Lee (Arsenal fan) says...
Bentley and Beckham? Are you kiddin?! And he's also better than lennon
Posted 09:01 18th June 2009
Kiron Lee (Tottenham Hotspur fan) says...
Theo is no where near as good as Aaron lennon, Bentley or beckham.
Posted 21:19 17th June 2009
Chris Mooorin (Arsenal fan) says...
i just dont think theo got the service from any of the midfielders against finland. the 3 midfielders were all destructive ones in cattermole, muamba and noble and none of those have a particularly good passing range or ability to create something. he just did not get the ball enough to allow him to run at the defenders.
Posted 20:08 17th June 2009