It has to be an encouraging sign ahead of the semi-finals that England's so-called second team competed so well against Germany on Monday.
A lot of us were surprised when we saw the team sheet in Halmstad - I thought Stuart Pearce might go half-and-half on his selection but I didn't expect him to make 10 changes.
It was a gamble, but we're becoming used to Stuart gambling and winning at this tournament. His decision to be bold when England were down to 10 men against Finland proved inspired, and his introduction of Theo Walcott from the bench was the key against Spain.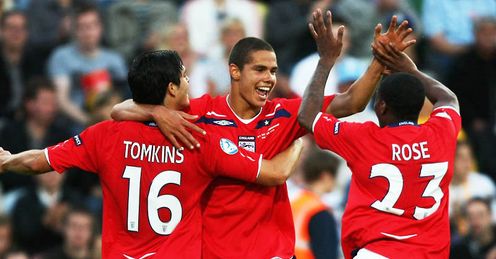 Another one has paid off, and Stuart is now in the enviable position of knowing that whoever he calls on from here on in will not be coming in cold.
Maturity
The manager has given everyone a chance to impress, and no one took that chance against the Germans as hungrily as Jack Rodwell, who I'm happy to say lived up to my pre-match billing!
We're becoming used to Stuart gambling and winning at this tournament. Another one has paid off, and the manager is now in the enviable position of knowing that whoever he calls on from here on in will not be coming in cold.
Alan Smith
Quotes of the week
ITALY U21 v GERMANY U21
ENGLAND U21 v SWEDEN U21
Euro Championship semi-finals
4.30pm, Friday, Sky Sports 1 & HD1
Rodwell is the youngest member of the squad, but he certainly doesn't play like a kid. His maturity has been evident since he broke into Everton's team, constantly demanding the ball in tight midfield situations.
That is no mean feat for a teenager in the Premier League and - much like Arsenal's Kieran Gibbs - he's a player you suspect would look equally at home wherever he was asked to play.
Having said that, he's up against defensive midfielders with more experience in Fabrice Muamba and Lee Cattermole, and it would be a surprise if he edged either out for a place in Friday's semi-final against Sweden.
The same goes for Andrew Driver, whose directness from out wide against Germany impressed me even if his decision-making could be criticised on occasion. A lot of English supporters wouldn't have known much about Hearts' Andrew before Monday, but they and he will have been encouraged by what they saw.
Competition
The competition for forward places is fierce, and it will be interesting to see what Stuart does against the Swedes. Adam Johnson did well on Monday and you suspect he will be competing for one of two places along with James Milner and Walcott, who has looked at his most menacing appearing from the bench.
I expect Fraizer Campbell to start in the middle with Gabriel Agbonlahor still troubled by tight calves, and to my eyes he's worth his place whether Agbonlahor is fit or not. The 4-3-3 system favoured by Stuart has worked more effectively when Campbell has been in the side.
As far as the rest of the side goes, I'm anticipating the players who started against Spain being recalled, which means Micah RIchards and Nedum Onuoha starting at centre-half.
We've looked shaky once or twice at the back, and the boys who play in there will have to make sure they get themselves sorted from the off - all the more so given they'll be up against the tournament's top scorer Marcus Berg.
Local support
Berg and Sweden will be full of confidence, and their solidity reminds me of senior Swedish sides from the past, many of whom produced their best when England were the opposition.
The people here love English football - a good number of the bumper crowds for England's final two group games were locals - and maybe that inspires the players to raise their game.
SMUDGER SAYS
England win - I think this could be an entertaining game with a few goals, and Sweden will not be a pushover, but we are the better team and the spirit in the camp is good. This one could finish 2-1 or 3-2 in our favour.
SMUDGER'S STAR MAN
Fraizer Campbell - He's in good form, he's looking confident and he'll be a real handful. On the ability he's shown in Sweden it's easy to see why he's a man in demand at club level.
Comments (7)
Warren Francey (Blackburn Rovers fan) says...
England don't stand a chance of beating the Swedes. This youth team they have is about as good as any youth team in the world. Definitely a lot of guys to watch out for in the future.
Posted 17:59 25th June 2009
Rhys Jaggar (Arsenal fan) says...
If Bjorn Borg didn't lose 5 times in a row in London, I'm sure England can do likewise in Sweden..........
Posted 11:40 25th June 2009
Matt j(birmingham fan) Edgington says...
Come on u young lions i know u can do it I'll b getting in from work early 2 watch as im sure many others will!Lead the way 4 the first team 2 win the world cup next year and show em how it's done!we shuda been in the final last time afta that dramatic shoot-out and I know we can make it this time!come on england!
Posted 22:16 24th June 2009
Daniel Ingram (Leeds United fan) says...
England are playing extremely well with all our key players fit as they have not played much this season, such as Fraizer Campbell, Gibbs and Walcott. I think we'll go on to win the tournament, it's a shame Fabian Delph didn't make the squad though.
Posted 16:01 24th June 2009
Ollie Underwood (Manchester United fan) says...
COME ON U YOUNG BOYS WELL PLAYED lets hope we do not get the DUTCH
Posted 14:58 24th June 2009
David Wilde (Manchester United fan) says...
How refreshing to watch the young lions hungry for sucess and by far the best team in the tournament.
Posted 13:44 24th June 2009
Jack D (Aston Villa fan) says...
Agree 100% with you smudger! shame we only really have 1 fit forward! should of picked a few more Forwards in the squad
Posted 13:14 24th June 2009