Seeing England get knocked out in the fashion that they did was heartbreaking.
We haven't exactly been full of goals this tournament but we were persistent against Czech Republic and got our rewards with Danny Welbeck's excellent header.
The second-half saw us doing all the pushing and when we got that goal I thought that would be enough because defensively we have been excellent. Unfortunately we just couldn't see it out, so it was really disappointing.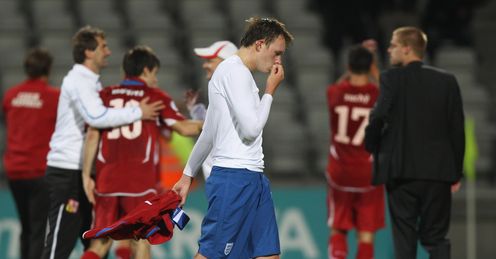 We haven't played particularly well in this tournament or put together what you would call decent football. Spain were clearly the best team in the competition and we couldn't get the ball off them so a point was a good result.
But the game against Ukraine was the big disappointment. We really should have played better and we should have beaten them and in the end it came back to haunt us.
Stuart Pearce and Fabio Capello will also have come away from Denmark knowing they have two quality centre-halves in Phil Jones and Chris Smalling who are comfortable at international level and that is a real bonus for England.
Alan Smith
Quotes of the week
LIVE ON SKY SPORTS

UEFA UNDER 21 CHAMPIONSHIP SEMI-FINALS
Spain v Belarus
4.30pm, Wed, Sky Sports HD1
Switzerland v Cezch Republic
7.30pm, Wed, Sky Sports HD1

I said at the start of these Championships that the performances were more important than winning. But I also believe it's about development and getting players the experience for when they step up to the senior team, so from that point of view the last couple of weeks have been valuable.

The players have had to deal with a tournament situation and have discovered what you need to do to get through, so it is good for them and hopefully they will benefit.
Bonus
Stuart Pearce and Fabio Capello will also have come away from Denmark knowing they have two quality centre-halves in Phil Jones and Chris Smalling who are comfortable at international level and that is a real bonus for England.
They are both excellent on the ball and happy to step into midfield and create an extra man, which has so many advantages. I'm sure they will be England's first choice partnership for years to come and that is the biggest plus point to come out of over the last week-and-a-half.
In fact, I was really impressed with the whole back four. Ryan Bertrand was excellent in all three games and I hope he gets a chance at Chelsea next season. Ashley Cole can't go on forever and I think Bertrand could really make his name in that team.
Kyle Walker, meanwhile, was outstanding against Spain and the pick of the England players in their opening match. Having watched that game Ukraine and Czech Republic went out to stop him from making those marauding runs down the right-hand side and to a certain extent they did.
But that is part of the learning curve for him - sometimes you have to mix up your game if the opposition are stopping you from what you're used to doing.
He had a fantastic season on-loan with Aston Villa last year, but I'd be surprised if Harry Redknapp and Tottenham feed him out to another club this season.
Further up the pitch and I thought Henry Lansbury did really well every time he got on the pitch, too. He was one of the few players that could see a pass and pick a pass in the same way that Jack Wilshere - who we really missed - does.
Suffered
We also suffered because there were a few lads, who we know have quality, that didn't enjoy a good tournament.
What you have to compete with at this level can hit you like a bus sometimes. Jordan Henderson and Michael Mancienne are two players that have been picked out and I just don't think we had enough variation in midfield or people playing well.
It was a tough group as well; let's make no mistakes about that. And if your own game isn't exactly where you want it to be, it is difficult.
There's no denying that there is still a huge gap between us and most other sides in the world.
We're a good decade into the academy system and you would have thought that we would be further ahead in terms of our technique than we are at the moment.
There are some good kids that have come through but nowhere near as many as we would have hoped for, and that is the disappointing fact.
Comments (3)
Tom Fletcher (Doncaster Rovers fan) says...
the current under 21's are poor because they are used to the english style of youth coaching, where as alot of the under 19's and 17's that look alot more technically capable are more used to foreign youth coaches especially the young liverpool players with ex barca youth coaches rodolfo borell and pep segura molding them as players. I also believe the selection is pro money, before man u offered £10 million for smalling he had not been selected at all for england youth and suddenly he's in what is considered englands B team, the under 21 scouts obviously dont do their jobs or talents like smalling would be spotted before they're reported in the papers, spearing is the same he had no youth appearances for england but as soon as he has a couple of appearances for liverpool due to injuries he was selected asif somehow he's become an international standard player overnight, i wonder if england under 21's send any scouts to watch reserve football or not because there are alot of good young players at the big clubs such as liverpool, arsenal and man u that would walk into the starting line ups of mid/low table prem sides.
Posted 12:44 21st June 2011
John Earwaker (Liverpool fan) says...
I watched the England U21 games, not because am an England fan (I actually support Wales), and one thing kept going threw my mind, which I feel I have to raise. It focuses on the question of coaching, particularly of young players and the actual training of coaches themselves. This is where I feel not just England, but also the other UK national sides are let down. Compared to other National sides throughout Europe we have not moved forward from the mid-80's. Consistently we see young home talent coming through both at club and national level who's only ability is to play like pre-programmed robots with no level of flair and intuitive creativity. Admitted there a few exceptions, but it seems to be purely by accident than design through the coaching that they are given. These are the players such as Wilshire, Bale, Defoe, Ramsey, Adam, Lampard, Gerrard, Rooney, Giggs, etc, who have the ability and skill to produce moments of shear magic, audacity and delight to grace the game. I have watched football as an avid fan of Liverpool since the early 60's and am sad to say that the overall quality of home-grown talent has declined markedly. And I don't think it is all the players fault. I lay the blame firmly at the feet of the coaches and those that train them in their methods. England in particular are suffering from the staid methods introduced by Howard Wilkinson, they still hold sway at all levels. Until a new way forward is established there will be no progress. Typical of this attitude ws hearing Stuart Pearce remark that we play the way we do because of national/cultural inherited characteristics. Well, OK maybe. But, doesn't the continual failure and lack of wherewithal to step outside of this and produce something better tell us that it has to change? The German national side is a point in obvious case, they play to systems, very technical and from
Posted 10:48 21st June 2011
Josh Tann (Tottenham Hotspur fan) says...
We are over-rated,its very simple.It can be summed up in one situation....Jordan Henderson is not a £20million football player, especially when you look at the value Chelsea have placed on Luka Modric. It is simply because he is an English footballer.Too many people in the media are too quick to put these players in the 'could be world class' bracket when they have not proven themselves yet.If Jordan Henderson is a £20million footballer then Spain's Thiago is what you would call a mastercard footballer. You would not be able to put a price on him...he made Hendseron and the rest of the England team look POOR to say the least. I think it is also improtant to point out that Spain have two world cup winners and a champions league winner in their U21's team this year. Yet we thought Andy Carroll, Jack Wiltshere and Theo Walcott were all too tired and too good to be letting themselves compete at such a level...People need to realise quickly that England are not good enough to be a team that wins a Euro or World Cup...so can we all move on and just enjoy what we do ACTUALLY have, and that is the best league in the world! Nothing will ever change with the same old faces and everybodys 'Friends' running every department at the FA...
Posted 10:07 21st June 2011