Sky Sports commentator Alan Smith has described the late Gary Speed as one of football's good guys.
Smith played against Speed on many occasions and said the news of his death at the age of 42, which was confirmed by the Football Association of Wales on Sunday morning, will devastate the football community.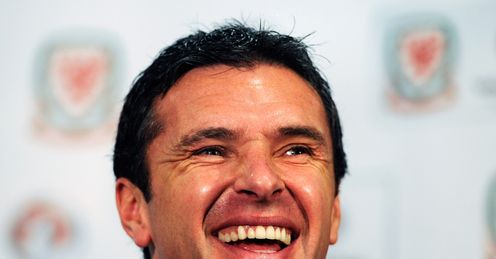 And he told Sky Sports News HD that despite all of his success, Speed was never changed by fame or fortune.
"I'm absolutely devastated and stunned.
"I didn't profess to know him very closely as a friend, but I met him many times and played against him many times down the years.
"I remember early on when he was at Leeds and we won the title in 1991 and they took it off us the year after under Howard Wilkinson when they had a great team with Gary McAllister alongside Speedo and Gordon Strachan.
"He was a good friend of Gary Mac, who was an old team mate of mine at Leicester, and as a result we met each other socially a few times as well. He was an ordinary lad. He had no ego to him. Fame and fortune never changed him, his career never changed him and he was one of the good guys.
"When you get into your mid-thirties, football gets harder and harder, but he never seemed to lose the desire to get up in the morning and go training. He absolutely loved the game and he was never in danger of going out of it once he finished playing.
"He always wanted to manage and what he was doing with Wales was a testament to his ability. That's a difficult country to manage, but some of the results that he got in the last couple of games and the football they were playing suggests he was really taking the country places.
"The longevity of his career, the success that he had, the dedication that he showed and the fact that he went into management shows that football was his life, along with his family obviously.
"He was a true football person. We've lost a few over the last few years and 42-years-of age is no age at all."
Comments (3)
Paul James (Cardiff City fan) says...
Im a proud welshman who has lived in the capitol city for 46yrs,and I"m totaly devastated to hear of the tragic death of our Gary Speed.A model pro,who played at the highest level in the top english league,for two decades.He was a gentleman off the pitch and I"m sure every manager who he has played under would say that he was one of the first to be put down on the team sheet.His work with the Welsh national team over the past handfull of games has been nothing short of a minor miracle,and I hope these lads can carry on the hard work and do us and Gary"s memory proud,by qualifying for the next major tournament.The whole nation is in mourning and our hearts and thoughts are with his family,over what will be a very difficult time for them.....
Posted 14:45 28th November 2011
John Carrarini says...
I have just heard the devastating news of Gary Speed's passing. As a Stoke City football fan of more than 50 years standing, nothing seems to shock, surprise or dismay anymore, but the sad news of Gary Speed's untimely death has really shook me to the core. He was one of footballs TRUE professionals who, in this modern era of massive salaries and even bigger ego's, showed both character, leadership & proper people skills, most of these qualities seem sadly lacking in todays game. 42 years old is no age, and I feel I speak for a vast majority of real football fans who admire his love & enthusiasm for the game, and his passion to play in the true spirit of the sport. He shone like a beacon in these dark times, and always looked fit and sharp enough to pull on his kit and put in a shift over 90 minutes. A real gentleman. Wales as a nation mourns, but the rest of the UK shares their pain. May I express my condolences to his family at this distressing, tragic and difficult time. God bless you Gary. Rest in peace.
Posted 15:36 27th November 2011
Dennis Frankland (Newcastle United fan) says...
I am very sadand shocked at the new of gary speed's death. I have fond memories when he played at newcastle utd, he was a key player to the team, scoring several exercent goals. my heart and condolences goes out to his family , he will be sadly missed. may he rest in peace.He may be gone, but he will always be fonding remembered, from a toon army supporter
Posted 15:19 27th November 2011