Mark Cavendish's stage win on Wednesday capped a successful first few days of the 2011 Tour de France for the five-strong British contingent.
David Millar's Garmin team won the team time trial, Bradley Wiggins is sitting pretty in the top ten, Ben Swift has made a solid debut, and Cavendish has proved his mettle - as if anyone doubted him - by winning a tough fifth stage.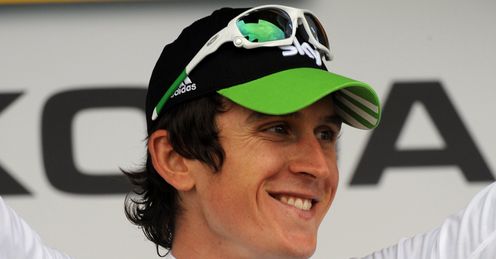 But I want to talk about the other member of the quintet: Geraint Thomas.
Thomas has had a blitzkrieg of a week, perhaps even eclipsing his first week last year, when he sat second overall, and wore the white jersey of best young rider. At the time of writing, he is seventh overall, 12 seconds down on the leader, Thor Hushovd.
The Welshman has shown even greater consistency this time: 6th on stage one; 3rd in the stage two team time trial, in which he was, with Wiggins, the strongest member of Team Sky; 15th on stage three; 29th on stage four.
Although he is in the form of his life, Thomas is still the ultimate team player, always prepared to sacrifice himself for the greater good.
Richard Moore
Quotes of the week
But his fifth place on Wednesday's fifth stage, won by Cavendish, is the standout performance. This was a tough finish: one for hardmen. Thomas doesn't have Cavendish's kick, but he was up there in the thick of it, proving, beyond doubt, that he is one of the strongest riders in the race.
Yet earlier in the day he had been off the back, pacing his team leader, Wiggins, back to the bunch. Although he is in the form of his life, Thomas is still the ultimate team player, always prepared to sacrifice himself for the greater good.
Who knows what that effort cost him in the finale, though. As Shane Sutton told me last year: "A road race is like starting a journey with a full tank of petrol and distributing it evenly over the race, making sure you're empty at the end of it. If you keep trying to kick your turbo in, you're going to use it a lot quicker."
When Thomas contested the finish in Cap Fréhel, he had already used some fuel - maybe even kicking his turbo in - helping Wiggins.
I remember during last year's Tour, when there was talk of Thomas, who was second on general classification to Fabian Cancellara for most of the week, taking yellow on the first hilly day.
Cancellara was dropped, but so was Thomas, so the dream evaporated in the Jura Mountains. And the next day, he moved seamlessly into the role of team helper, leading Wiggins on to the Tour's first proper Alpine climb. He seemed happier as team man, rather than main man; more interested in the honour than the glory.
Similarly, in June this year, at the Critérium du Dauphiné, Thomas positively relished assuming the role of team worker. When Wiggins inherited the yellow jersey, en route to overall victory, Thomas 'tweeted': "Great day all round!! Definitely looking forward to a bit of riding on the front!!"
Thomas is 25, still young, but he is approaching a crossroads in his career. He has the talent to win major races, as he hinted at when, aged 17, he won Junior Paris-Roubaix. But does he realise it? And is he ready to accept the responsibility of leading?
Cavendish, in his book, Boy Racer, was mildly critical of his old British Academy colleagues, including Thomas and his fellow Olympic team pursuit gold medallist, Ed Clancy. Cavendish wondered whether they had found a comfort zone; he questioned whether they had the same drive as him to win.
He was paying a back-handed compliment, of sorts. Cavendish acknowledged their talent; he just couldn't understand why they seemed content to be riding at a high level, but not winning big races, as Cavendish has done pretty much since he turned professional in 2006.
It's an unfair criticism, in a way. Very few riders - make that none - have Cavendish's sprinting ability, or sheer desire. Nevertheless, Thomas has provided conclusive evidence this week that he possesses one of the most powerful engines in professional cycling, not to mention the ability to scrap, fight and be at the sharp end of the racing.
It is likely that, when the race hits the mountains, he will revert to domestique extraordinaire. His willingness to do so makes him extremely valuable to his team. But many believe he is capable of more as an individual. The question is, does Thomas? In the long term, does he want honour, or glory?
Richard Moore is the author of Sky's the Limit: British Cycling's Quest to Conquer the Tour de France, and Slaying the Badger: LeMond, Hinault and the Greatest Ever Tour de France
Follow me on Twitter: twitter.com/rbmoore73