Chris Froome has, quite rightly, been the toast of Team Sky and British cycling with his second-place finish at the Vuelta a Espana on Sunday.
For Froome, it is a career-changing result. There are very few Grand Tour contenders out there - perhaps fewer than there are top-level teams - but he will now be considered one. And his market value will be reflected accordingly.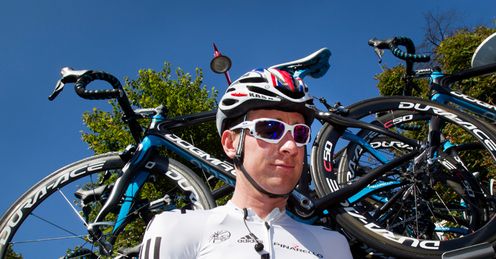 But let's not overlook the performance of Bradley Wiggins. I thought some of his comments after finishing third, a place behind his teammate Froome, were a little sour. He seemed disappointed, and said that owed to the fact he'd gone to the Vuelta to try and win it.
Yet I struggle to comprehend why Wiggins should be anything other than elated to record his first Grand Tour podium finish - especially when you consider that he was returning from a broken collarbone.
Wiggins' third-place at the Vuelta builds on his 2009 Tour, shows progress, and offers conclusive evidence that he does have the qualities required of an overall contender.
Richard Moore
Quotes of the week
Prior to the Vuelta he - and we - only had his fourth-place finish at the 2009 Tour de France to suggest he could manage the consistency and climbing ability required to contend for victory in a three-week stage race.
But Wiggins' third-place at the Vuelta proves that performance wasn't a one-off; it thus builds on his 2009 Tour; it shows progress; it offers conclusive evidence that he does have the qualities required of an overall contender.
In fact, Wiggins became only the second British cyclist ever to finish in the top four of two Grand Tours, after Robert Millar in the mid-1980s.
Indeed, Wiggins and Froome are the only British riders other than Robert Millar ever to finish on the podium of one of the big three national tours, full stop.
Wiggins' comments devalued his podium finish, I thought. It is a phenomenal and historic achievement and deserves to be recognised as such.
Eclectic
Speaking of legendary British cyclists, I attended the Intelligence Squared Cycling Festival in London last week.
It was an evening of cycling-related discussion and debate with an eclectic panel, which included the esteemed writers Will Self and Geoff Dyer, and the former world champion and hour record holder, Graeme Obree.
Obree was in dazzling form. He addressed the 400-strong audience on the subject of innovation, explaining the thought processes and experimentation - but mainly the thought processes - that went into re-inventing the bike, not once, but twice.
The audience was - to use Self's description - "enthralled." Later, the famously sardonic writer spoke for many when he said of Obree: "This man's a genius."
For Obree, as he told the audience, the important thing wasn't the answer - it was the question. "Tradition, convention and education," he said, "constrain us and inhibit innovation."
You have to forget all that, he said; clear your head of all the received wisdom - then you might reach the question. Then, and only then, can you can begin to think about possible answers.
Old Faithful
This, he said, was how he invented Old Faithful - the bike made with parts of a washing machine - on which he broke the world hour record and won the world pursuit title.
As Obree stressed, using washing machine parts didn't represent innovation - that was just a solution to a problem. The innovation came from fooling himself into thinking he didn't know what a bike looked like, then imagining how such a (fast) machine might look.
It made sense when he said it.
Obree finished his passionate, inspiring presentation by encouraging everyone to go home and apply similar techniques to interior design. Self said he felt inspired to "go home and innovate, with a couple of toilet rolls."
More seriously, Obree has written a training manual that will be published soon and available through his website (www.obree.com). Apparently it reads more like a novel than a guide to training.
It will certainly be worth getting, if only for the insight it will surely offer into Obree's incredible mind.