Philippe Gilbert has won the Vélo d'Or, arguably the pick of the end-of-year rider-of-the-year awards, beating Tour de France winner Cadel Evans and world champion Mark Cavendish.
There can be few quibbles with that, given the year Gilbert has enjoyed. But the riders overlooked in such awards - many of them currently looking for places on teams - are the domestiques.
It has always been one of cycling's great paradoxes - its status as an individual sport contested by teams. Or, if you prefer, an individual team sport.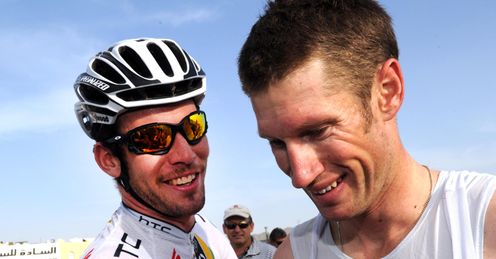 Yet it is also one of its great attractions, helping to make road racing such a complicated, mysterious, compelling spectacle.
And domestiques are an essential part of the mix. The self-sacrifice inherent in the role of a domestique - who can be as devoted to his leader as the Queen's butler - draws sympathy, admiration and respect. Everybody recognises that the sport would not be the same without them.
A domestique can be as devoted to his leader as the Queen's butler
Richard Moore
Quotes of the week
But cycling has yet to find an adequate way of recognising or rewarding these riders. On the contrary, they can be - as the French rider Geoffroy Lequatre noted last week in an interview with Cyclingnews.com - left high and dry by the current points system.
It goes without saying that, in the course of a season, a domestique will not pick up many world ranking points. If he does, he is not doing his job properly.
The problem is that teams depend on their riders' points for their World Tour ranking. The points accumulated by the top 15 riders on a team's roster are tallied with the team's overall standing to arrive at a 'sporting value'.
It means - especially in the current squeeze with so many teams disappearing - that riders with points are prized. And others, no matter how good a job they've done in a domestique role, are discarded.
Concern
This was the position Lequatre, a former winner of the Tour of Britain, found himself in after his team, RadioShack, merged with Leopard Trek to become RadioShack-Nissan-Trek for 2012.
Though the 30-year-old has found a place at the smaller Bretagne-Schuller team for next year, he expressed a concern that the "fabric" of the sport could change as "riders start to think differently" - for themselves rather than their teams.
"Everybody will be riding just to chase points, especially at the end of the season," said Lequatre. "It could really change the mentality in cycling."
His solution to the problem is to award domestiques points when their team leader wins. "Even if you help someone win the Tour de France, you don't get any points," he said.
Lequatre added: "I think if a leader wins a race, some of the points should go to the riders who rode for him. It's what already happens with prize money and we need some system like that for points. We need to find balance."
He is right. I'm not sure how it would work, but, according to a feature in this month's Cycle Sport, if a domestiques' ranking did exist, Lars Bak would top the list.
Adopting football's 'goal-assists' statistic, the magazine calculated that Bak, the HTC-Highroad rider, contributed to the most wins in the 2011 season - 20. Second in the 'assists' league was Jurgen Roelandts of Omega Pharma-Lotto, with 16.
Victims
Both are valuable team players, clearly. Yet, in the individual rankings, Bak finished the season 82nd, with Roelandts 73rd. Their team-mates would probably argue that they are more valuable than their lowly positions suggest.
An even more glaring, and certainly more visible, example is Mark Renshaw.
Anybody who has seen a Tour de France sprint finish in the last few seasons will have seen what Renshaw does, leading out Cavendish until about 200m to go, before he sits up and disappears down the field, out of the placings.
As Cavendish has often said, he wouldn't win as regularly without him. But what's in it for Renshaw? A world ranking of 203, that's what.
Two British riders could also be said to be victims of the system. One is Dan Lloyd, who spent the season working hard for his Garmin-Cervelo team-mates and is looking for a new contract.
And then there is Russell Downing, who has not been offered an extension by Team Sky despite a year of sterling service. "This year I've not had that many chances and had to work for others and that's what I've done," said Downing.
Road racing would be anarchy without domestiques - and it certainly wouldn't be as interesting. The UCI could do worse than at least consider Lequatre's proposal.
Follow me on Twitter: twitter.com/rbmoore73
Comments (1)
Jimmy Andreson says...
cycling on twitter - the latest cycling tweets from players, teams, journalists and fans all on one website
Posted 19:56 9th November 2011