The BBC Sports Personality of the Year programme is an institution, and, like all institutions, it is a magnet for criticism, the most damning of which might be professed indifference.
A lot of people now dismiss it as an irrelevance. They argue that it treats sport as a branch of the entertainment industry, with all the glitz of Strictly Come Dancing and none of the grit of the sports field. Or it is dismissed as a popularity contest, one that goes to embarrassing lengths to reveal the 'personalities' of its shortlisted sportsmen, while dwelling frustratingly (blink-and-you've-missed-it) briefly on what they actually do.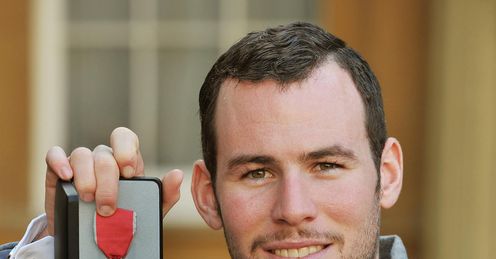 We all slag it off. But we talk about it. And then we sit down and watch it. That's another thing about institutions: once you're locked in, you can't get out.
The controversy this year over the ten-person shortlist is that there are no women. I almost wrote 'sportspeople' above, then realised there was no need. It's an all-male field, three of whom are golfers. In a year when we have several female world champions, it is inexcusable.
Favourite
This is a cycling blog, so I'll dwell on the shortlisted cyclist, future Team Sky supremo Mark Cavendish. At the time of writing, Cavendish is the odds-on favourite according to several bookmakers, though this can mean very little.
In 2008, the last time a cyclist won, Chris Hoy was the third in the betting before the programme, behind Rebecca Adlington (one of the snubbed world champions this year) and Lewis Hamilton. The bookies got the podium right, but the order wrong: Hoy was first, Hamilton second, Adlington third.
It was a huge moment for Hoy, and for cycling. But with it was the tacit understanding that it could only happen in an Olympic year. Only the Games could give Hoy, and cycling, the profile necessary to attract 290,000 telephone votes, 40% of the total, and 120,000 more than Hamilton.
Yet Cavendish really does have a good chance. It isn't a weak year, either (no mentions of Zara Phillips, please), which means either that something has changed, or that Cavendish has achieved something truly exceptional.
Or, perhaps, a bit of both. Something has changed in the sense that cycling in Britain has found an audience it didn't previously have -- which undoubtedly owes much to Hoy and his British team-mates in Beijing.
Deserved
Still, it is remarkable that Cavendish has caught the eye in a non-Olympic year. There are three contributing factors: his green jersey at the Tour de France, his world road race title in Copenhagen, and his personality. Quite simply: he has one.
In fact, his personality is evident in his undisguised - and rather endearing - relish for the whole Sports Personality of the Year jamboree. While some would be too cool to admit it, Cavendish makes no bones about it: he loves it.
Why else would he admit that in 2008, when he failed to make the shortlist, he was annoyed? Well, he doesn't admit that, exactly, but in his book, Boy Racer, he does recount the reaction of his Austrian team-mate, Bernie Eisel - which might be the same thing.
They were on a training camp in Majorca when Cavendish, checking his laptop, clocked that four cyclists - Hoy, Bradley Wiggins, Victoria Pendleton and Rebecca Romero - were on the ten-person SPOTY shortlist. But not Cavendish. "You won FOUR stages of the Tour de France!" Eisel yelled. "I can't, I can't understand it, I don't believe it...it's f****** ridiculous. It must be a British government conspiracy to kill road cycling!"
A few weeks later, when Cavendish watched the programme at home in the Isle of Man, he noted that his achievements were acknowledged: "I was given precisely four seconds -- as long as it took for Sue Barker to say the words '... and Mark Cavendish won a record-breaking four stages of the Tour de France'."
Cavendish added: "The nomination or lack of one hadn't fazed me. Those four seconds, however, were like four daggers through my heart."
Yet this passage of his book forms a tribute, of sorts, to the institution that is BBC Sports Personality of the Year. And the underlying message is clear: if you want the gong to go to someome to whom it would mean a great deal, and who will probably shed a tear or two in the event of winning, vote Cavendish.