Four years is a long time in sport. And it has been a long time in the life of British cycling, and some of the country's top cyclists.
When they prepared for the Beijing Olympics, most were - relatively speaking - nobodies. Now some of them are superstars. Which brings different challenges.
Take the last three weeks, for example. During this period the Manchester Velodrome has hosted a 'boot camp' for the men's team pursuit squad. Seven riders, including Geraint Thomas and Ed Clancy of the 2008 gold medal-winning team, have been working "harder than some of them have ever worked in their lives," according to their coach, Dan Hunt.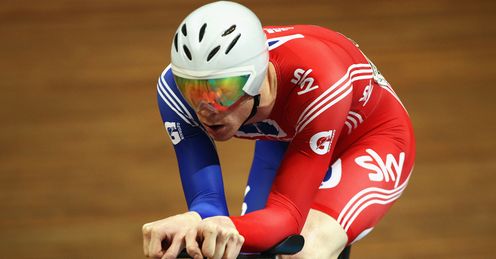 Signing up to the boot camp has meant, as well as double-sessions on the track, being billeted in a local no-frills hotel, and lots of hanging around in a room deep in the guts of the Velodrome.
But they had no choice: the boot camp is compulsory for anyone with dreams of team pursuit gold in London. And so while the road colleagues of Thomas, Ben Swift and Peter Kennaugh are enjoying their off-season holidays, the Team Sky trio have turned back the clock to when they were ambitious youngsters in the British Cycling Academy, which, under the iron rule of Rod Ellingworth, resembled a permanent boot camp.
But they had no choice: the boot camp is compulsory for anyone with dreams of team pursuit gold in London.
Richard Moore
Quotes of the week
The ambition now is to see off the teams likely to provide the competition at the London Olympics. Hunt thinks the top four will be separated by less than a second. The closeness of the looming battle marks another significant change from 2008.
"In 2008 we felt that as long as we got it right, we'd be okay," says Hunt. "The ante has been upped by some of the other teams since then. But you know what? Our attitude is: bring it on. When the two teams get to the Olympic final, it'll be a proper toe-to-toe; a real fight. And that's what you want: what a great thing to be involved with."
New challenges
Some have opted out, with Bradley Wiggins, another of the 2008 gold medallists, now focusing instead on the Tour de France and Olympic road events. There may have been some initial reluctance from others when they heard about the boot camp plan. "But", says Hunt, "we told them: 'If you don't want to be here, don't be here. But if you give 100 per cent, we'll give 110 back.' The seven guys who are here committed by walking in the door."
Yet, as Hunt says, there are other new challenges. "The riders are at different stages in their career; some have gone away and had success on the road, which brings a new dynamic. Agents, public appearances, sponsorship commitments, early trains for engagements in London: these are all things that weren't around four years ago, when they spent their down time watching DVDs or playing Xbox.
"It doesn't really affect training, but it can affect the rest a rider gets," continues Hunt. "It's not necessarily bad, it just needs managing. It's part of high performance coaching. But it does make it very different to the last Olympic cycle."
It's not all hard work in a deserted Velodrome. This week, the (not so) Secret Seven enjoyed a day of fast driving at a racetrack close to Manchester: a useful bonding exercise, says Hunt, as well as a reward for their commitment over the previous three-and-a-half weeks. On Monday they go to Majorca for nine days of endurance riding, but there will be more boot camps in the new year.
The first "pinch point" will be the London World Cup, in February, when one of the seven -- the others are Andy Tennant, Steven Burke and Sam Harrison -- will be told he will not be going to the Olympics. After the world championships in Melbourne in March the squad could be whittled down again to five.
The final four, whoever they are, will probably have to produce something even more exceptional than the three minute-53-second world record breaking ride in Beijing. "The goal's shifted," says Hunt. "We're aiming for 3.50. But going from 3.53 to 3.50 means looking at every nuance of it. You start to explore the limits of human performance."
There are at least three other teams, most notably the current world champions, Australia, who are engaged in similar exploratory work. What it undoubtedly means is that the men's team pursuit final in the London Velodrome, on Friday, 3 August, will be close - and utterly thrilling.