The issue of divided loyalties and split ambitions could be a hot topic during next year's Tour de France.
Andreas Kloden said this week that his new RadioShack-Nissan team-mates, Andy and Frank Schleck, rode this year's Tour "like brothers."
He didn't mean that in a good way. The Schleck siblings finished second and third, but Kloden clearly believes that one of them could have won if the other had been prepared to lose. "One brother needs to say next year, 'Ok, I will go on the attack and you go on the counter-attack' but this year, they rode like brothers."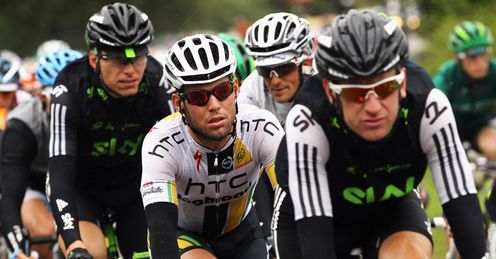 Over the years teams with a split-focus, who begin the Tour with an open mind about who is leader, generally come a cropper. Unless the co-leaders do happen to be brothers, it usually ends in tears, or worse.
Cyrille Guimard, the legendary directeur sportif of the late 1970s and 1980s, put it best, though perhaps with slight exaggeration, when comparing cyclists to deer: "You cannot put two bucks in the same herd. It can only end in one thing: mortal combat."
Teams with a split-focus, who begin the Tour with an open mind about who is leader, generally come a cropper
Richard Moore
Quotes of the week
It doesn't necessarily only refer to a team with two riders trying to win the Tour. Bradley Wiggins this week touched on the issue of leadership within Team Sky. At next year's Tour he and Mark Cavendish will have different ambitions, Cavendish aiming for the green jersey, Wiggins for yellow. But the same question will arise: can a team support two leaders?
Wiggins insists he hasn't given the matter much consideration. In fact, he seemed to be passing responsibility for this conundrum to the team management. Asked whether the "two-pronged attack" would work, he said: "I don't know. We'll find out at the end of July. I haven't really thought about it. The team have thought about it in some depth, and they'll have a strategy and a plan to make that happen."
Ambitious
Cavendish has been characteristically less ambivalent, saying that he wouldn't have joined Sky if he didn't believe they were capable of supporting both. "We've got the horsepower to do it, so we're going to try and get green and yellow," he said.
Speculation about how, precisely, they will achieve this is likely to continue, because Wiggins said it was likely he and Cavendish will not race together until the Tour.
They are following different programmes, with Wiggins existing on a diet of stage races: the Tour of Algarve, Paris-Nice, Tour of Catalonia, Tour de Romandie and Critérium du Dauphiné, which he won last year. Cavendish is riding the Classics and Giro d'Italia, though there is a chance he will ride Romandie. Both should also ride the British road race championship at the end of June, though that hardly counts as a dress rehearsal.
Naturally, it will be fascinating to see how Team Sky approach the Tour. But there's no question that the pursuit of yellow and green will represent an almighty test for the team and for two riders with very different personalities. Cavendish is the more natural leader, a role Wiggins has struggled with in the past. Cavendish is used to having an entire team at his disposal, and he will demand maximum support on the flat stages. Wiggins will have to be protected on those stages, and he will need lieutenants in the mountains.
Yet, between them, they will have just seven team-mates. It is asking a lot. In fact, it's exhausting just thinking about it. Can it be done, or will it end in 'mortal combat'? As Wiggins said, we'll find out at the end of July.
Follow me on Twitter: @richardmoore73