Nobody knows if a British rider will win the Tour de France this year or any other, but Dave Brailsford made a good point this week.
Brailsford, the Team Sky principal, was speaking as Mark Cavendish and Bradley Wiggins were presented to the media, with Cavendish appearing in his new kit for the first time.
The point Brailsford made reminded me of the old Bob Monkhouse joke. "They laughed at me when I said I was going to be a comedian," said Monkhouse. "They're not laughing now."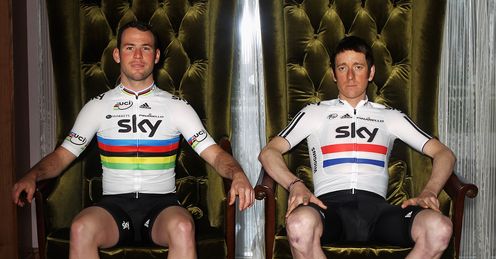 I'm not sure if anyone actually laughed when Brailsford said, two years ago, that he believed a British rider could win the Tour de France in the next five years - though he and Wiggins both suggested that he was widely mocked.
The point is that few are laughing now. Which doesn't amount to a prediction that a British rider will win the Tour, but, rather, an acknowledgment that it might be possible. It was last year's Vuelta that persuaded many, with Chris Froome and Wiggins both finishing on the podium, in second and third.
The point is that few are laughing now. Which doesn't amount to a prediction that a British rider will win the Tour, but, rather, an acknowledgment that it might be possible.
Richard Moore
Quotes of the week
Now, as he looks ahead to Team Sky's third year, Brailsford insisted he was "sticking to my guns" with regard to the original claim, made when the team was launched.
As he put it: "I really got shot down in flames for saying that I couldn't see any reason why, within five years of starting a pro team, you could not have a British rider win the Tour de France." Now he says: "It is definitely possible with the riders that we have."
Brailsford continued: "When our first year [2010] didn't work out I think people thought we were a long way off the mark, but going into this year I think people actually now think it is possible. No-one is questioning it as pie in the sky. Here we are with two British riders who can challenge and be in the mix this year. I am as convinced as ever that it is possible."
Perceptions
Whatever happens, this fact alone is a measure, surely, of how perceptions have changed, just as Cavendish being crowned BBC Sports Personality of the Year is an indication of how much progress cycling has made as a sport in this country.
But another change within Team Sky is that it is no longer all about Wiggins, who insisted, two years ago, that he didn't want it to become "the Brad show." Finally, with the signing of Cavendish, he has got his wish.
Wiggins has always appeared a little uncomfortable in the spotlight - unlike Cavendish. While Cavendish doesn't mind talking things up, and spoke bullishly this week of his "big July", with bids for the Tour de France green jersey and Olympic road race gold, Wiggins tends to talk things down.
He suggested the team might not go to the Tour and target yellow and green jerseys, as everyone is expecting. "It may become apparent in June that I'm not capable of going for yellow," Wiggins shrugged. "At this stage, it's just way too early to say: 'These are the goals, this is what we're going to do.'"
Then again, Wiggins could just be managing expectations. He pointed out that "Mark's probably the biggest name in cycling" and seemed quite happy that Cavendish is the man in the brightest spotlight, while he lurks in the shadows.
There is also the Froome factor, of course. Brailsford confirmed that he would ride the Tour, but that he expects Wiggins to be team leader, based on his experience. He might never have a better chance of winning the yellow jersey. Which isn't to say that he will, just that it could be possible.
Then, brace yourselves for the Brad show.
Comments (3)
Paul Tribe says...
As much as I have been in awe of Bradleys achievements over the last few years, I don't think he has that "je ne sais quoi" required to win a grand tour. He has got to where he has through unbelievably hard work and the application of the very best in sports science (as have most of today's top athletes), but he has his limits. I stll think he should be team leader in this years Tour, but Sky should be looking to Mr Froome to deliver in the next few years. That boy's got it in bucket loads!
Posted 15:05 19th January 2012
Phil Willoughby says...
It's great to have so many world-class british cyclists in Team Sky. I see Le Tour ending with Cav in Green, Froome in Yellow and Brad as the road captain who made it happen.
Posted 15:09 11th January 2012
Cameron Murray says...
another good article Richard - much as I want a brit to win the mailot jaune, I don't think it will be Brad who does it, not with statements like those in your article. If Brad has poor Dauphine drop him and concentrate on getting CF on the podium!
Posted 16:48 5th January 2012