On Thursday morning, on an unremarkable stretch of road in the north of Majorca, a finish line was painted on the road.
And here, in between passing trucks and ambling tractors, Mark Cavendish sprinted to his first 'win' as a Team Sky rider.
From their winter base in Port Alcudia, the team were practising their lead-outs, with Cavendish initially forming part of the 'train' for young Italian sprinter Davide Appollonio. The squat, powerful Appollonio thundered through the final 200 metres as though sprinting for a stage of the Giro.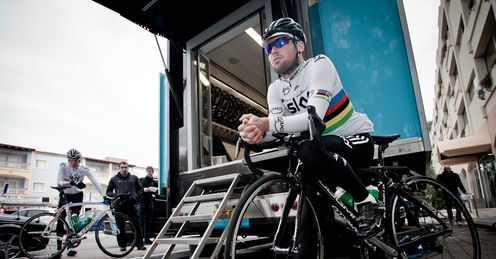 Then, one 10km lap later, it was the world champion's turn as the likes of Juan Antonio Flecha, Michael Barry, Ian Stannard, Bernie Eisel and Luke Rowe completed their turns at the front of the quickening line, then peeled off to set up Cavendish for the final sprint to the line, which he tackled with eagerness, if not quite the ferocity of Copenhagen, or the Champs-Elysées, or San Remo, or any of the many other places where he has crossed the line first.
The sprint was trademark Cavendish: elbows bent, head down, mouth wide open, bike swinging from side to side.
Richard Moore
Quotes of the week
There was no one to watch. Well, there was one member of staff by the roadside, along with a three-strong crew from Sky Sports, one photographer and this reporter. And there was no one to beat. But the sprint was trademark Cavendish: elbows bent, head down, mouth wide open, bike swinging from side to side.
These are what Shane Sutton calls "the hard yards." Sutton, the British cycling head coach, called in on the Alcudia camp earlier in the week, mainly to check in with the team pursuit squad, who have also been training on the perfect Majorcan roads in the perfect Majorcan climate - 17 degrees and unbroken sunshine.
Impression
But the coach in charge of Team Sky's training is Rod Ellingworth, who first encountered Cavendish seven years ago when he ran the British cycling academy. Cavendish was in the early intake of young riders, and Ellingworth made such an impression in that first year that he has turned to him for advice and coaching ever since.
It was also Ellingworth, now Team Sky's race coach, who masterminded the British team effort that led to Cavendish's world title in Copenhagen last year. And so there is a sense, now that Cavendish has joined Sky, of a circle being closed.
For Cavendish, there is familiarity in some of the drills and routines he is doing with his new team-mates, under the eye of the ever-enthusiastic Ellingworth. They take him back to his academy days. "Absolutely," said Cavendish after Thursday's ride. "Today was just a small glimpse of that, of Rod's passion for bike racing and training. I love this kind of training."
But it might not be for everyone. Until fairly recently, professional teams tended to adhere to the old school traditions - steady miles in the winter, interval training as the season approached, and then, from March, racing. Sprint training in January would be almost unheard of. It still meets with some scepticism.
"Some of the old pros on the team might raise their eyebrows a bit," said Cavendish. "A couple of times I've had to say to Bernie [Eisel, who has joined Sky from HTC]: 'Give it a chance.' There's structure to the training but there's a fun element. And the type of rider we have here, we love racing, so we love doing this stuff."
Lengths
For his part, Eisel said that he'd enjoyed the training, though he admitted he was taken aback at the lengths to which his new team had gone, painting a finish line on the road, and having 2km and 1km-to-go banners, on the designated circuit.
"When we saw the circuit," said Eisel, "Kanstantsin Siutsou said to me: 'This is bigger than our national championships!' We don't even have a finish line!'" Siutsou, a Belarusian, is another new recruit from HTC.
Cavendish says his preparation for 2012 is going well. "I have never been as strong as this in January, even in 2009." But he admitted that his team-mates are also strong, and that his first 'sprint' of 2012 was a struggle: "I almost lost to myself, actually. There were some strong guys in the train. I was swinging."
Comments (1)
Dennis Reynolds says...
Just love Kanstantin's comment. :-)
Posted 18:51 13th January 2012