The verdict in the Alberto Contador doping case will offend one core principle of the criminal justice system in any civilised country.
It was Benjamin Franklin who said "it is better that 100 guilty persons should escape than that one innocent person should suffer," and many others have said something similar.
Their point is that the burden of proof should lie with the accuser when it comes to determining whether someone is guilty of a crime.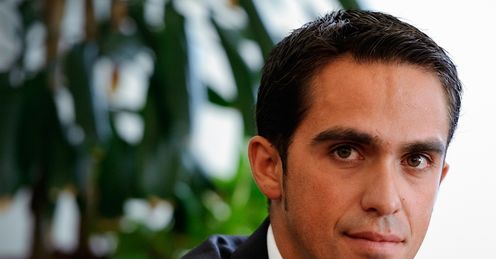 These systems have at their very centre the presumption of innocence. It is not enough to believe that someone has 'probably' committed an offence.
The prosecution must prove, beyond reasonable doubt, that the accused is guilty of the crime. And if that means, as Franklin suggested, that some guilty people walk free, so be it.
Explanation
But sport is different. In fact, it works the other way round. In cases of doping, there is a presumption of guilt. That is to say, if a banned substance is found in an athlete's body then it is not up to the sporting authorities to prove how it got there - it is up to the athlete to provide a (legal) explanation; to prove they did not cheat. It is called the strict liability clause: what is in the athlete's body is solely their responsibility, no-one else's.
Strict liability might be unfair on a few very unfortunate athletes, but the anti-doping movement is bigger than any individual.
Richard Moore
Quotes of the week
This system throws up some injustices. The case of the skier Alain Baxter, who was stripped of his Olympic bronze medal after using an American-made inhaler containing a banned substance, is an obvious example.
All the relevant authorities agreed that Baxter had not set out to cheat, and that he had unknowingly ingested the banned substance, but the strict liability rule meant that he was responsible for the fact that it was in his system.
Baxter was hugely unlucky, but the rule is nevertheless important. And in the Contador case, which saw the three-time (now two-time) Tour de France winner serve a two-year ban and stripped of his 2010 title, it was reiterated by the Court of Arbitration for Sport.
In their report, they acknowledge that the strict liability rule - the effective presumption of guilt - is contrary to most systems of justice, and in breach of the accused's ordinary rights. But: "this significant incursion into the rights of the accused is... justified by the need to protect sport and the difficulty faced by the regulatory authority to actively prove the method of ingestion and the athlete's degree of fault."
Proof
This is the point. If the rule were not in place, very few doping cases would be prosecuted. As it is, the presence of a banned substance is enough to sustain a guilty verdict. But imagine if the burden of proof lay with the sporting authorities; if, as well as finding EPO in a cyclist's blood, they also had to prove beyond reasonable doubt that they had knowingly injected the substance.
How on earth would they do that? Fit cameras in hotel rooms, or to cyclist's bodies? It would be impossible. The anti-doping effort would collapse in a morass of appeals, amid claims by the athlete that, "I didn't deliberately take EPO - I was stabbed by a syringe-wielding maniac." (This might be called the Francesco "I fell into the lifeboat" Schettino defence.) Nobody would ever be sanctioned.
So, yes, strict liability might be unfair on a few very unfortunate athletes. It may have resulted in some wrongful convictions. Perhaps even Contador; as the CAS said, there is a remote (very remote) possibility that his clenbuterol positive was caused by contaminated beef. If so, he is spectacularly unlucky. That would be unfortunate; but the anti-doping movement is bigger than any individual.
The strict liability rule is not something that you would want to see applied in any criminal justice system. So it is just as well that we are not talking about people losing their liberty. It is worth stressing: it is 'only' sport, in which many of the rules are arbitrary and, by some people's definitions, 'unfair'.
But the unfortunate conclusion: in sport, strict liability is a necessary evil.