Last week I wrote about Bradley Wiggins' prospects in Paris-Nice, since he started the race looking as though he meant business.
As we now know, he did mean business. He held the lead from stage two all the way to Nice, to become only the second Brit, after Tom Simpson in 1967, to win the 'Race to the Sun.' And now, understandably, the talk of Wiggins' prospects in the Tour de France has altered.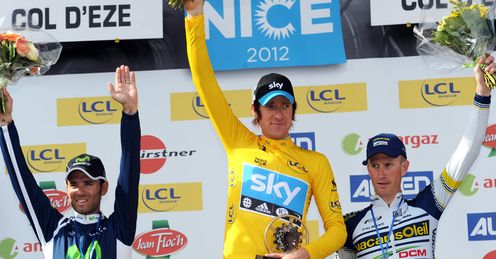 If he maintains his form then he should travel to Liège in late June not as an outsider - as he has been in the last two - but as a real contender. Or, according to no less an authority than Christian Prudhomme, the Tour director, as "one of the favourites."
So what might count for and against Wiggins? I can think of five points in his favour, and five against.
His performances over the past ten months have established him as the most consistent stage racer on current form
Richard Moore
Quotes of the week
For:
1. He will have a strong team, perhaps as strong as any at the Tour, with climbers like Rigoberto Uran and Chris Froome by his side in the mountains.
2. On paper, the route suits Wiggins, with 100km of time trialling. As Prudhomme noted, "Wiggins is a master in the discipline."
3. His performances over the past ten months have established him as the most consistent stage racer on current form. The sequence began with victory in the Critérium du Dauphiné last June, third in the Tour of Spain, and now first in Paris-Nice. Throw in a silver medal in the world time trial championship, not to mention his Herculean efforts to help Mark Cavendish win the road race, or the fact that, in between the Dauphiné and the Vuelta, he suffered a broken collarbone in a crash at the Tour de France, and it can be said that Wiggins has become one of the world's best road riders. It is quite a transformation from the pre-2009 rider who would turn up at the Tour without a clearly defined role.
4. Not many riders can perform consistently over three weeks, which is why fewer than ten in a field of close to 200 ever start the Tour thinking they can win. Wiggins has done it twice now, proving that 2009 wasn't "a fluke", as he wondered aloud a year later.
5. From his early success on the track, Wiggins' physical ability has never been in question. But you need more than that to win the Tour, and in Paris-Nice Wiggins showed tactical intelligence - he didn't miss a move all week - and impressive maturity when leading the race, coping admirably with the pressure of defending a slender advantage, then hammering home his superiority with a commanding win in the final time trial, up the Col d'Eze.
Against:
1. Team Sky could have split priorities, helping Cavendish on the flat stages and Wiggins in his bid for overall. Teams these days tend to focus on one or the other.
2. The Tour isn't won on paper.
3. He will miss Geraint Thomas, whose contribution he praised in Paris-Nice. Thomas is sitting out the Tour to focus on the Olympics.
4. Wiggins has worn the leader's jersey in the Tour of Spain but never in the Tour de France. At the Tour, you don't wear the yellow jersey; you become the yellow jersey. The pressure that comes with it can be multiplied by about 1,000.
5. He doesn't tend to like being in the spotlight, and he didn't like it in 2010, when trying to follow his 4th place in 2009. This will be the first Tour he has started as a favourite, and he will have to avoid the fate that befell Cadel Evans in 2008, when he found himself in a similar position, turned up with a bodyguard, crashed in the first week, and had a series of altercations with the media, including head-butting a TV camera and threatening to cut a journalist's head off if he stood on his pet dog. (It's on YouTube.)
However, to end on a positive note, the case of Evans, bar his 2008 meltdown, should offer encouragement. Evans was 31 in 2008; Wiggins will just have turned 32 in July. But after twice finishing second, and with his chances apparently disappearing, the Australian rider finally and deservedly won the Tour last year, aged 34.
Like Evans, Wiggins has been a late developer on the road, having switched from a different discipline - in Evans' case mountain biking, in Wiggins' case the track. If he doesn't do it this year, he can at least look at Evans, now 35 and again being talked about as a Tour favourite, and consider that he should have several more chances.