The renaissance of Tom Boonen has been one of the surprises of the season, and, if you happen to be Belgian, a cause for rampant celebration.
The only way to appreciate what a big star Boonen is in his native Belgium is to go to the Tour of Flanders. In cycling-mad Flanders, the Ronde van Vlaanderen is equivalent to Wimbledon, The Open, the FA Cup Final and the British Grand Prix, combined.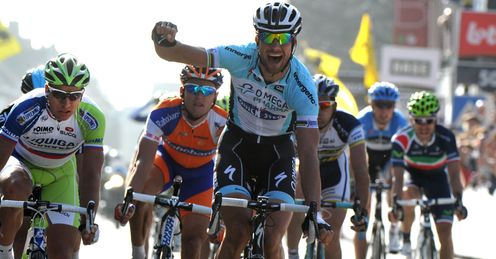 From early on Sunday morning Flandrians will pack Markt Square in Bruges, leaving over barriers, craning to see and acclaim their heroes. And the loudest cheers, by far, will be for Boonen, who followed victory in last Friday's E3 with another win in Sunday's Ghent-Wevelgem.
This is nothing new. Even in his fallow seasons, Boonen's popularity barely lagged, and, especially during the spring Classics, his mega star status - explained in part by his good looks and imposing physique - seemed unaffected. It may also have been his downfall.
He went from being 'the next Eddy Merckx' to the latest cautionary tale.
Richard Moore
Quotes of the week
Boonen was brilliant in the early part of his career, his peak coming in 2005 when, aged 24, he won the Tour of Flanders, Paris-Roubaix and the world road race title.
At the end of that remarkable season he moved from Belgium to Monaco, and, although he defended his Tour of Flanders title in 2006, and has managed a decent victory most seasons, he seemed to enter steady decline.
He went from being 'the next Eddy Merckx' to the latest cautionary tale. In November 2007 he failed an out-of-competition test for cocaine; then he failed another one in May 2008 after winning Paris-Roubaix. Twelve months later he did exactly the same for a third time, again after winning Roubaix.
That third Paris-Roubaix title, three years ago, stands as Boonen's last victory in one of the Monuments. Yet this year he has been re-born. Looking lean, and leading the revamped Omega Pharma-Quick Step team, he began winning at the Tour of Qatar, and he hasn't stopped.
And so he is many people's favourite for Sunday's Tour of Flanders - though an interesting statistic is that the Ghent-Wevelgem/Tour of Flanders double hasn't been achieved in 27 years, since Eric Vanderaerden in 1985, when the races were a few days, rather than a week, apart.
Boonen's bolstered team is an intriguing part of the story of his revival. Quick Step's collective underachievement in recent seasons mirrored its leader's decline, but the new co-sponsor, and the arrival of a host of riders and staff from the disbanded HTC-Highroad squad, appears to have administered something akin to an enormous boot up the backside. Or perhaps some of the old HTC magic has rubbed off.
And Boonen isn't his team's only option in Flanders. Their joker could be Sylvain Chavanel. Last year Chavanel was arguably the man of the race, attacking early, appearing to meet his match when Fabian Cancellara caught him and dished out some horrible punishment on the cobbled bergs, then miraculously coming back and managing a close second, ahead of Cancellara, at the finish.
But a rider who seems unlikely to challenge for the win is Philippe Gilbert. After being an unstoppable force last season, he looks a spent one in 2012. He has had dental problems - shades of Mark Cavendish in 2010 - but, what with the return of Boonen, the conclusion might be that Belgian cycling has a vacancy for just one cycling superstar at a time. And for the moment, that is, once more, Tom Boonen.