Fernando Torres scores the goal that conclusively dumps Barcelona out of the Champions League, Mark Cavendish finishes third ahead of Bradley Wiggins in the prologue time trial to the Tour de Romandie, then Wiggins wins the bunch sprint at the end of stage one, to claim the stage and race lead.
It has been a topsy-turvy week. Although, at least as far as the cycling results are concerned, they may not be as strange as they might seem.
Cavendish is a strong time triallist over these short distances: he won the equivalent stage at Romandie in 2008. And Wiggins, although he has never won a bunch gallop at this level, is no slouch when it comes to sprinting as his performances on the track have shown. Plus, he wasn't taking on the likes of Cavendish, but rather the survivors of a lumpy stage.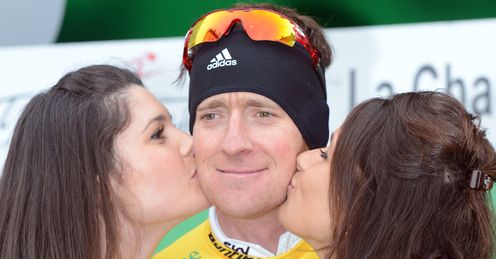 But what Wiggins' performance did demonstrate, in spades, was confidence. Whereas you fancied, even as he rounded the goalkeeper and glanced up to see an open goal, that Torres may yet manage to miss his chance on Tuesday, the opposite was true of Wiggins.
When he hit the front in Romandie, still around 400m from the line, there was no doubt, least of all in his own mind. He was his own lead-out man, yet nobody could get near him.
Enhancer
Confidence was something Graham Jones, the former professional who is commentating for Eurosport at the Tour de Romandie, had discussed during the stage. Jones was hugely talented, finishing 20th in the 1980 Tour de France, but he raced in a different era, which was less sympathetic to promising young riders, especially British ones on French teams.
When he hit the front in Romandie, still around 400m from the line, there was no doubt, least of all in his own mind. He was his own lead-out man, yet nobody could get near him.
Richard Moore
Quotes of the week
Riding for Peugeot, Jones was hardly the priority of the late, legendary directeur sportif, Maurice de Muer, and he became cannon fodder, ridden into the ground by the team. He raced 140 days in 1981 and perhaps never fully recovered.
The fatigue from over-racing was one thing that counted against Jones. But as he acknowledged during his commentary, the other was a lack of confidence. When asked, in fact, what held him back, that was the one word answer he offered: "Confidence."
It's been said so often that it's almost a cliche but confidence really is the most potent performance-enhancer. When good riders have it, they can be unbeatable.
Jonathan Vaughters, the Garmin-Barracuda manager, said as much on Twitter after Wiggins' victory, drawing a parallel with last year's Tour de France winner Cadel Evans: "Look at Cadel last year. Won Tirreno, won Romandie. When highly talented guys get a roll going, it's hard to stop."
Support
Wiggins is following his win at Paris-Nice with a tilt at the Tour de Romandie but you can sense the momentum building towards July, while his potential rivals - Evans, the Schleck brothers, Ivan Basso - have still to get going.
Then there is the other aspect Jones alluded to. Prior to Romandie, Wiggins had started only three events in 2012 and raced 15 days. By this stage of the season Jones would have been speeding towards three figures.
There appears to be no danger of Wiggins over-racing, or even, as Lance Armstrong apparently warned him during Paris-Nice, of "burning too many matches for July."
Jones might wonder what he might have been capable of had he been allowed such a measured, meticulously-planned build-up to a major target. The support of his team is a factor in Wiggins being in such good shape. The confidence part of the equation is more personal.
It should also be more fragile but, paradoxically, when it's there and growing, it can seem unshakeable, and turn a talented athlete into a formidable one, capable of feats even he didn't know he was capable of. Wiggins' bunch sprint on Wednesday was testament to that.