It has taken a couple of years, but one department of Team Sky seems to be clicking into place: the coaching set-up.
Even if Mark Cavendish's lead-out train can sometimes seem less slick than he is accustomed to, the backroom team appears to be firing on all cylinders.
It is an innovative model, at least for cycling teams, comprising conventional coaches like Rod Ellingworth, sports scientists like Tim Kerrison, with additional support from sports directors such as Sean Yates.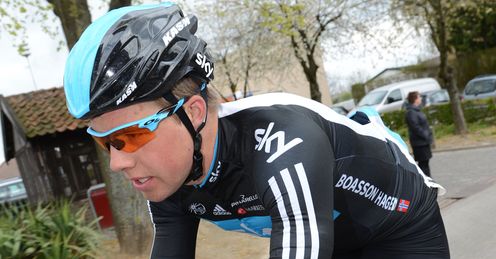 The coaching is being increasingly brought 'in-house', too. This is a change. When the team was established in 2010, riders were encouraged to carry on working with their own coaches. Going by the 'if it ain't broke, don't fix it' rule, this seemed to make sense.
After all, Edvald Boasson Hagen, the team's first star signing, had been doing pretty well with his long-time coach, Frederik Mohn, winning Ghent-Wevelgem and being spoken about as the most promising young talent in the sport.
Smile when you are winning
I met Mohn at the 2010 Tour de France. He was in his 50s, grey-haired, lean and fit-looking, and he was certainly not a conventional coach.
Having worked for 30 years as a goldsmith, Mohn admitted that he had never worked with such a gem as Boasson Hagen.
Richard Moore
Quotes of the week
He had been a goldsmith but gave that up to work with physically handicapped children in Bergen. "When you can teach a child to stand, and to move with a walking frame, the smile is the same as when Edvald wins," he said.
He began cycling when he was 30, but never raced. He got into coaching instead, and started working with Boasson Hagen in 2004, when he was 17.
"Edvald didn't have a trainer," said Mohn. "Everyone in Norway knew what a big talent he was, but he was doing what he liked, when he liked. I work very systematically and make plans for everything; when we started working together, we planned and organised everything."
On that 2010 Tour, Mohn followed the race in a motorhome with his wife and some Norwegian fans. Naturally, he was excited about what his star pupil might achieve, which seemed almost limitless. But it was also difficult to pin down exactly what kind of rider he could become. A Classics star, or sprinter, or general classification rider - anything and everything seemed possible.
"You have to become what you are," said Mohn. "But I think he can be what he wants to be." Having worked for 30 years as a goldsmith, Mohn admitted that he had never worked with such a gem as Boasson Hagen.
Boasson Hagen's continued association with Mohn was one of the most endearing things about the Norwegian, who can appear too unassuming and mild-mannered to thrive in the world of professional sport.
But, now more than two years into his Team Sky career, the time seems to have come to acknowledge that his progress has stalled. Other riders have emerged as the 'next big thing' - Peter Sagan, for example - but the more pertinent point is that Boasson Hagen, apart from his two stage wins at last year's Tour de France, has not become the rider most thought he would become.
Changes in the air
It comes as little surprise, then, to learn that changes are afoot. Sky confirmed this week that Boasson Hagen will no longer work with Mohn, with his training brought in-house and managed by Kerrison and race coach (and fellow Norwegian) Kurt Asle Arvesen. Mohn says he has "no problem" with the split, and graciously acknowledged that Sky have built "a great coaching and support team."
Next week is a big one for Boasson Hagen. He leads the team at the Tour of Norway, where - if the number of Norwegian flags at the Tour are anything to go by - the support will be comparable with the Beatles' 1965 tour of America. Stand by for Hagen-mania.
Longer-term, it will be interesting to see whether the new coaching set-up can help Boasson Hagen take the next step in his career. There will be many - including Frederik Mohn, who deserves much credit for taking him as far as he did - who will be hoping they can, and that Boasson Hagen can finally fulfil his great potential.