Ryder Hesjedal's win in the Giro d'Italia took many by surprise, not least in his own country, Canada. But the reaction there perhaps offered a glimpse of what we might expect if a British rider was to win a Grand Tour.
So frequent have been the recent successes, from Mark Cavendish's world title and other wins to Bradley Wiggins' haul of prestigious week-long stage races, that it can be easy to overlook the fact that this, the sport's ultimate feat, remains to be achieved.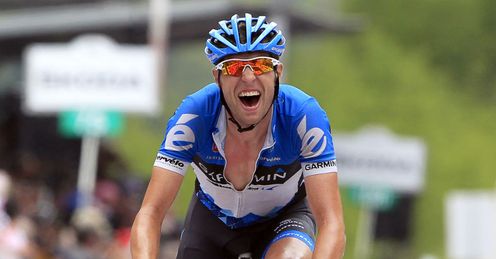 And so it is difficult to predict the scale of the response, especially if Wiggins does it this year, with the Olympics following less than a week later.
Praise for Hesjedal
In Canada, the reaction to Hesjedal's success, gleaned from newspaper reports, veered from bemused to awe-struck. But most had one thing in common: ice hockey as the reference point.
In Canada, the reaction to Hesjedal's success, gleaned from newspaper reports, veered from bemused to awe-struck.
Richard Moore
Quotes of the week
"Imagine in Canada being the player who scored the Stanley Cup-winning goal in overtime," said the Vancouver Sun.
"Europeans, for whom road racing is akin to hockey here, looked askance at Hesjedal's mountain biking roots," said the Toronto Star, adding: "Even the Italian spectators warmed to him - and that's saying something. Not having an Italian on the podium at the Giro is like not having a Canadian team in the Stanley Cup, only worse because they're far less used to it."
Ed Willes in The Province took a different tack. To convey the scale of Hesjedal's achievement, he offered a comparison with American football (and what they call soccer): "It's a little like a Canadian becoming a starting quarterback for an NFL team or a Canadian cracking the lineup of Manchester United or Barcelona. One supposes it's possible in the way it's possible we might colonize Mars one day."
And for Cathal Kelly, in the Star, Hesjedal's win "ranks among the most impressive individual accomplishments by a professional Canadian athlete. Ever.
"Cycling is a heritage sport," continued Kelly, "excelled at by men who've been raised with it. Almost always by men born in Europe, where the sport enjoys a cultish devotion. And unlike a Masters, say, you can't win a Grand Tour by having a great weekend."
A cautionary tale?
Amid the triumphalism, a cautionary - but entirely legitimate - note was struck by Bruce Dowbiggin in the Globe and Mail. Asked by one reader why the Canadian media had been "ignoring what Ryder Hesjedal from Victoria, B.C., is doing in the Giro d'Italia," he suggested that one reason was the "blowback from the repeated drug scandals and revelations... There is a fatigue in the media and population over discovering that cycling's heroes are juiced."
They are particularly sensitive to this in Canada, a country still haunted by Ben Johnson's positive test at the 1988 Seoul Olympics. After his victory over Carl Lewis in the 100m, the then-prime minister, Brian Mulroney, telephoned to tell Johnson: "There is an explosion of joy... You have made all of Canada proud."
History repeated in this regard on Sunday, with the current PM, Stephen Harper, offering his congratulations and thanks to Hesjedal "for this defining moment in Canadian sport."
But it is also an especially pertinent point when it comes to the Giro, whose recent roll call of (dis)honour has damaged the race. Alberto Contador dominated last year, then was stripped of the title after his positive test from the 2010 Tour de France was upheld; before him, there was Ivan Basso (who served a suspension to come back and win his second in 2010), 2007 winner Danilo Di Luca, and numerous other riders who have ignited the race, only to be subsequently discredited.
More than anything else - certainly more than it needed a Canadian winner - the Giro needed a winner it could believe in. And in Hesjedal, who rides for the team that has been at the forefront of the anti-doping effort, Garmin-Barracuda, most believe that it has one.