Have we been too hasty in writing off Andy Schleck?
David Millar thinks so, predicting Schleck will "wreak havoc" at the Tour. This despite the Luxembourger enduring a season that, so far, has been almost unspeakably bad.
His annus horribilis has continued this week at the Critérium du Dauphiné. It's a race that usually acts as a tune-up for Tour de France contenders, and Bradley Wiggins and Cadel Evans both appear ready for July.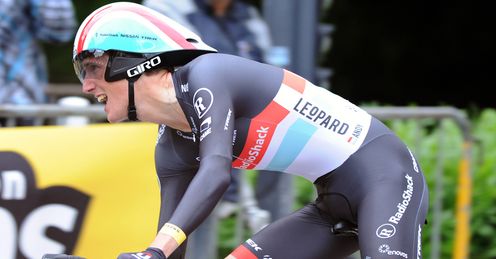 At the time of writing, Wiggins is in yellow and Evans is looking sharper than he has all season, winning the first stage with an aggressive display.
Schleck, meanwhile, has struggled. This specialist climber has been dropped in the mountains where, come July, he will need to take time on Wiggins and Evans. His stage placings so far: 102nd; 138th; 100th; 119th. These are not the performances of a Tour contender.
At the moment it seems unlikely that he will achieve an unprecedented feat - two Tour de France titles in one year. But, come July, he might be wreaking havoc.
Richard Moore
Quotes of the week
And yet... I wonder. Schleck said this week that he suffered a knee injury while recceing the Tour's Alpine stages last month. Before that, he was ill for five days following Paris-Nice.
When other riders are out of shape they are usually exactly that - out of shape and overweight. This is a problem Schleck - and his brother, Frank - does not have.
And so he doesn't have the race-against-the-clock that was Jan Ullrich's annual battle to shed the pounds before the Tour. Schleck looks in shape. So what's the problem?
Rumours
One suggestion is that the politics of his revamped team are unsettling him. It would be surprising if they weren't. His new boss, Johan Bruyneel, has publicly berated both Schlecks for their performances this season.
Indeed, so bad does the situation at RadioShack-Nissan-Trek appear to be that there are rumours, from an Italian website, that in 2013 the Schlecks could return to Bjarne Riis's Saxo Bank team, with Alberto Contador hooking up once again with Bruyneel.
This would seem unlikely, especially if we cast our minds back to 2010, when Schleck began the Tour against a not dissimilar backdrop of uncertainty and intra-team turmoil. There were rumours then that the brothers had agreed to join a new Luxembourg team, and would take a large contingent of Saxo Bank riders with them.
In his autobiography, "Stages of Light and Dark", published in the UK last week, Riis lifted the lid on what went on. As the 2010 Tour started, he learned that the Schlecks had indeed agreed to join the new team. "The Schleck brothers had been taking me for a fool for a long time," wrote Riis.
Yet, despite rancour on both sides, they presented a united front at the Tour. And, after his brother had crashed out on stage three, Andy put up an almighty fight. Given what Riis now says, that was quite an achievement.
Aggressive
Riis makes other criticisms of the Schlecks, especially Frank, who "always had a reason why we should wait until later in the stage." Riis describes him as "risk-averse." (Perhaps he was just Riis-averse, which makes a reconciliation all the more unlikely.) Riis commends Andy's more aggressive attitude; in fact, his portrait of Andy is far more sympathetic.
It makes you wonder whether Schleck is psychologically stronger than he is generally given credit for. It can't have been easy in 2010, yet that was his greatest performance to date, and he finally lost to Contador by only 39 seconds. He might have won had he not shipped his chain on the Port de Balès.
In fact, he did win. With Contador stripped of the title after testing positive for clenbuterol, Schleck was officially declared the winner of the 2010 Tour a few weeks ago.
At the moment it seems unlikely that he will achieve an unprecedented feat - two Tour de France titles in one year. But you never know. Come July, he might be wreaking havoc.