With each stage race he rides and wins Bradley Wiggins becomes a more convincing contender for the Tour de France.
That is actually an understatement. His successful defence of the Critérium du Dauphiné title on Sunday, added to his Paris-Nice and Tour of Romandy victories earlier this season, means Wiggins is now widely regarded as the outright favourite.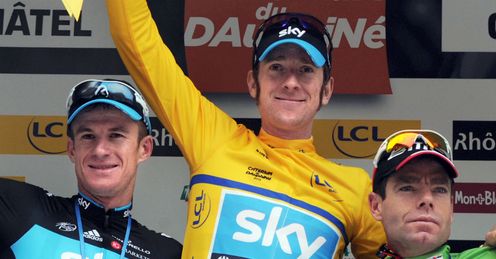 Even at this stage, though, it is possible to detect some of the ramifications, welcome and unwelcome, of reaching such a pinnacle. Wiggins is no longer seen as a challenger but a champion: not merely the most consistent stage racer, but the dominant force.
Reaction is divided, as it always is. From some, there is great excitement. From others, there is suspicion, it being the inevitable legacy of cycling's tainted past that outstanding performances attract rumours and innuendo.
Are Wiggins' performances credible? There are two things to note. One is that Wiggins has been a phenomenal talent since he was 17, when he won his first world title. The other is that, while he is now in the shape of his life, he is backed by an incredibly strong team.
Richard Moore
Quotes of the week
As a journalist, you have to try to steer a course through the middle, remaining detached from the sense of excited anticipation, even if you are British and would like to see a first British winner, and not paying too much attention to rumours and innuendo unless they are supported by facts. And if they are - and this is where some detachment is essential - then taking them very seriously indeed.
A very similar atmosphere prevailed in the run-up to the Beijing Olympics, when Britain's track cyclists began to dominate. It started in 2007 at the world championships in Palma, where rumours swirled, and there was a direct accusation, emanating from the Italian camp, that a systematic doping programme was behind the British success.
Dave Brailsford, the British performance director, was asked about this allegation at the time. "We create an environment in which athletes don't want to dope," he said. "We look at aspects of performance that have nothing to do with doping."
Certainly Brailsford's approach - first with the track team, now as team principal with Team Sky - is to analyse every small detail and look for "marginal gains" - to use his beloved phrase - in unexpected places.
But if there were whispers about the track team, there are bound to be rumours about Team Sky, given that the history of professional road racing, and the Tour de France, is about as dirty as it gets. And given, also, that, in the age of social media, there is a forum for gossip, whether informed or not, to reverberate and echo and gain traction.
Clearly it is something that needs to be addressed. And so it is interesting to learn that representatives from Team Sky recently made a visit to the Paris offices of ASO, the Tour organisers, to give a presentation.
The presentation was to explain Wiggins' performances. Using his medical data and the performance data accumulated by Tim Kerrison, the sports scientist who has been working with him since October 2010, they sought to reassure ASO that it has all been done legally, and that if Wiggins is in yellow, they won't get any nasty surprises, a la Floyd Landis in 2006, Michael Rasmussen in 2007, or Alberto Contador in 2010.
Are Wiggins' performances credible? There are two things to note. One is that Wiggins has been a phenomenal talent since he was 17, when he won his first world title. The other is that, while he is now in the shape of his life, he is backed by an incredibly strong team. As Tony Martin, the world time trial champion, has pointed out, several of his team-mates - Chris Froome, Richie Porte, Michael Rogers - would be leaders in their own right if they were on other teams.
Of course, there will always be rumours and innuendo, especially around whoever is the Tour favourite, or wearing the yellow jersey. But is this such a bad thing? Scepticism is healthier than blind faith. And, frankly, if the Tour winner was not asked about doping, journalists would not be doing their job.
Wiggins, to his credit, has never ducked such questions, even if they do sometimes irritate him. At the Tour he will just have to suck it up. Because it is when a rider is evasive or openly resentful of such questions that suspicion arises, and fertile ground is laid for rumours. Openness is essential. Those who have nothing to hide have nothing to fear.
Comments (2)
Stuart Storr says...
In Wiggin's case there are several factors that go towards explaining his form today: 1. He lost a lot of weight (up to 10kg) after Beijing in 2008. That makes a huge difference in the mountains. He's been maturing as a grand tour rider since then - gaining valuable experience along the way. 2. His form is not just a sudden spike this year. He's been improving on the road since 2008. And in 2011 he won the Dauphine, crashed out of the TDF but came back for 3rd in the Vuelta. 3. Team Sky has been building and growing stronger around him - he joined them in 2010. As the article says, they have several world class riders, but they have also been maturing as a team and improving their support for Wiggins. From the outside, I would also suggest that Wiggins has been maturing as a team leader and gaining the respect and support of the team - something that doesn't happen overnight. 4. And he's using performance-enhancing training techniques (no doping involved)! The team at Sky are nothing if not meticulous at squeezing every last marginal gain out of their riders - and of particular note is Wiggins' 2 long stints of training at altitude this year, specifically for the TDF. 5. He's in a regime at Team Sky and British Cycling, under Dave Brailsford, built on a foundation of clean sport. In that environment is it possible that there is doping going on? You can make up your own mind, but I think that's about as likely as Mark Cavendish failing to thank his team after they've led him out to a sprint finish. So in my view this has got to be the best chance for a British rider to win the TDF - and a clean rider at that. Can't wait for July!
Posted 15:15 13th June 2012
Stephen Connor says...
Wiggins is undoubtedly favorite for this year's TDF. My only doubt is that he cannot respond to explosive climbers' attacks, as we have seen over the last few years in grand tours when the grade goes above 10%. Wiggins continues to climb at a constant tempo and struggles to respond to such explosive attack which is what he'll be getting in the Alps and Pyrenees. During the Dauphine, Wiggins was able to contain all the opposition because Sky set the tempo and never left his side. Sky will have to ride for Wiggins if he wants yellow and Cavendish will have to win green with the help of Bernhard Eisel and maybe one other rider. Splitting the team equally between Cav and Wiggins will leave Wiggins short of lieutenants in the mountains. The Tour is not won by one man alone, a strong team working of the GC contender is a must. This is Wiggins' best chance to win the TDF because Contador will be back next year focusing on the TDF and no one in pro peleton can touch him when he's on form,
Posted 13:41 13th June 2012