The 2012 Tour de France starts ini Liège on Saturday and with the pretigious three-week Grand Tour about to get underway, here are my predictions...
Yellow Jersey
A colleague and I reflected last night that the circumstances of this Tour are unprecedented, and may not be repeated for another decade, if ever. A British rider, Bradley Wiggins, is the favourite, thanks to a combination of his tremendous form, a course that appears to suit him, and the absence of Alberto Contador and Andy Schleck.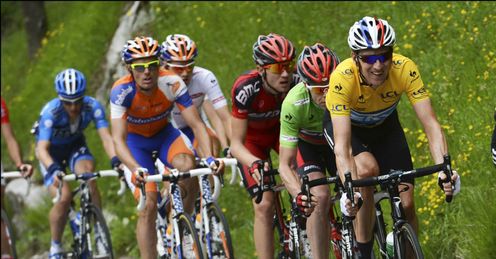 It is perhaps unfair to mention the absentees. Even if Contador and Schleck had been riding, I think Wiggins would be starting as a very strong contender, if not the outright favourite.
And that is due not just to the course, with its 100km of time trialling, but also his recent performances. He is currently the dominant stage racer. The question is whether he can hold that form over three weeks.
If the race comes down to a battle between Wiggins and the defending champion, Cadel Evans, then don't expect fireworks. They will grind it out in the mountains.
Richard Moore
Quotes of the week
It might not be pretty. If the race comes down to a battle between Wiggins and the defending champion, Cadel Evans, then don't expect fireworks. They will grind it out in the mountains - there will be none of the Andy Schleck-style heroics we saw in the Alps last year - and their teams, Sky for Wiggins, BMC for Evans, have a crucial part to play. But I think, on this basis, Wiggins can and should win.
Green Jersey
Great expectations surround Peter Sagan, the 22-year old Slovakian prodigy who rides for the Italian Liquigas team, and I make him my favourite for the green jersey.
Sagan can win on Sunday in Seraing and on Tuesday in Boulogne-sur-Mer, with both stages finishing on short climbs. The interesting question is whether he can also win on Monday in Tournai.
This is a flat stage designed for the sprinters. It should see Mark Cavendish take on the likes of Matt Goss and Andre Greipel, but I think Sagan will be up there, too.
Speaking this week, Cavendish pointed out that Sagan has never beaten him in a head-to-head sprint. Sagan's great asset is bull-like strength rather than razor-sharp speed. But here's the interesting thing: Sagan seems to have got quicker and Cavendish, by his own admission, is not quite as quick as he would usually be.
Cavendish has sacrificed a bit of 'top end' speed for his Olympic road race ambitions. He has lost some weight but gained some climbing ability, which presents an intriguing question: never mind Monday in Tournai, might we see Cavendish and Sagan go head-to-head on the uphill finish in Seraing on Sunday?
King of the Mountains
This is always difficult to predict, since it doesn't necessarily go to the best climber, but to the rider who has prioritised the competition. It could be last year's cult hero, Johnny Hoogerland, or Sammy Sanchez or David Moncoutié.
Or it could be a Tour debutant, Dan Martin.
Martin was born in Birmingham to a cycling family - his mother is Stephen Roche's sister, his father, Neil, was a professional in the 1980s - and rides for Garmin-Sharp. Internationally, he opted not to represent Britain, but Ireland.
Now 25, Martin has waited a few years for his first crack at the Tour, but a mountain stage win at last year's Tour of Spain, where he also finished 13th overall, hints at his ability. He is a great climber, and he could be capable of winning the King of the Mountains. The only question is whether commitments to his team - with Ryder Hesjedal, the Giro winner, targeting the podium - might get in the way.
There is every incentive for Martin, however, not least the honour of becoming the first English-speaking rider since Robert Millar to wear the polka-dot jersey into Paris. Millar achieved his historic feat in 1984.
Coincidentally, Millar had started his career at the elite ACBB club in Paris a few years earlier, where one of his teammates was Dan's father, Neil Martin. An omen?
Comments (1)
Nigel Moss says...
What if: Yellow Wiggins Green Cav Polka Martin White Froome (is he young enough) We could declare if that happened
Posted 18:06 29th June 2012