On the second rest day of the Tour de France, in Pau on Tuesday, a space was cleared outside the Hotel Beaumont for the Team Sky press conference.
Clearly nobody had foreseen how big an event this would be. Reporters and TV crews crammed into the designated area, in front of, behind, and spilling out to the side of the table and chairs that had been laid out for the eight riders, plus Dave Brailsford.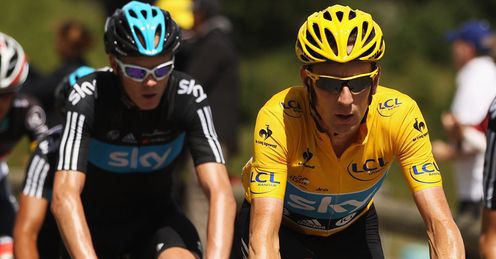 With five days of the Tour remaining, it was the only show in town. Few believe that Cadel Evans will successfully defend his title, or that Vincenzo Nibali can win in Paris on Sunday.
Instead, with Bradley Wiggins first and Chris Froome second, most of the interest and intrigue concerns Team Sky and relations between these two, and whether Froome will follow team orders to help Wiggins in the mountains on Wednesday and Thursday, or, as unlikely as it seems, rip up the script by going on the attack.
Riders become team players when they come to realise and accept their limitations. That's when they are willing to make the compromise and devote themselves to their team.
Richard Moore
Quotes of the week
Then there is Mark Cavendish. The world champion would ordinarily be a huge draw in his own right, yet here he has been cast as the Third Man. And, knowing Cavendish as we do, we cannot imagine that he will be happy about this, or about the fact that he has one stage win this year, after claiming 20 in the previous four Tours.
We in the media have been accused of whipping things up when we speculate about Cavendish's unhappiness, and the situation between Wiggins and Froome, and whether there is an uneasy truce between them. To which I say: of course, that is our job. But this doesn't mean that it's manufactured.
It is one of the most fascinating and paradoxical aspects of cycling that, at the professional level, it is a team sport, because cyclists tend not, by their nature, to be team players.
Bradley Wiggins did not dream, as a teenager, of one day being part of a successful team, or helping another rider to win. Neither did Cavendish, nor did Froome.
Team ethics
Riders become team players when they come to realise and accept their limitations.
That's when they are willing to make the compromise and devote themselves to their team; it is why Michael Rogers, Richie Porte and Christian Knees, for example, have been willing to do the leg work, because they know they cannot win the Tour - or not yet, in the case of Porte, who may return in the future as a team leader.
A tiny number of bike riders have the ability to win the Tour. Wiggins does. Froome might do - he would like to find out. And Cavendish could be winning more stages if he had the support of his team. But a team with the single aim of winning the Tour - as in the case of Sky - can satisfy only one leader. It follows that one man is happy and two are not.
Wiggins played down the notion that there was any tension between him and Froome. "Not at all. What we do well is we race as a team, and that's why we're in this position now.
"I'm surrounded by incredibly talented bike riders, including Chris Froome. The guy is capable of winning the Tour, for sure, otherwise he wouldn't be second overall in the Tour de France.
"And he will win this race one day," added Wiggins. "And I will be there to help him do that."
Loyal
This is remarkably reminiscent of 1985, when it seemed that Greg LeMond was capable of beating his teammate Bernard Hinault, who was in the yellow jersey but struggled through the final week with a broken nose and bronchitis.
The only way Hinault could get LeMond to go on playing the loyal teammate was to promise to help him the following year, though when it came to fulfilling that pledge, the 'Badger', as Hinault was known, found it difficult to keep his word.
That's cyclists for you: if they are capable of winning, they find it very hard, if not impossible, to make the compromises necessary to be team players.
I think Froome will follow orders and be an exemplary teammate over the next couple of days, helping Wiggins to a deserved victory. I also think that, if Froome did take on Wiggins, Wiggins would probably still win: he seems the strongest in the race.
Froome may suspect that too, but, as long as he is under orders not to attack, we will never know. And I suspect that he will be wondering whether his best chance to win the Tour might be slipping away.
The pity, for him and those who would like to see the two best riders battle each other in the Pyrenees, is that he is not on a different team.