You wait 109 years for a British rider to win the Tour de France and then two finish first and second.
Bradley Wiggins said on Saturday evening that he was having trouble digesting the fact. He is not the only one.
For those of us who began watching Robert Millar in the 1980s, even more for those who watched the Tour in the decades before, the spectacle late on Sunday afternoon of a British rider in yellow on the Champs-Élysées was enough to make you rub your eyes, pinch yourself, look away, then turn back to check it wasn't an illusion.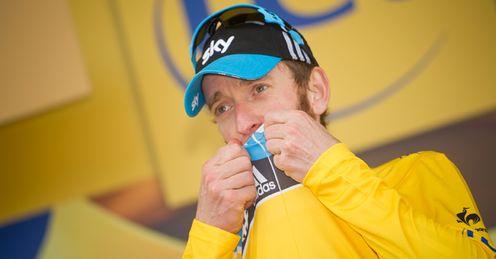 As Wiggins said after the time trial that all but confirmed his victory before Sunday's final stage into Paris, the likes of Millar and Tom Simpson "were cult heroes that you never saw because they rarely raced in the UK. They lived in France, you didn't have the internet, so your only means of seeing these people was in cycling magazines."
Stars of the Tour were distant, exotic, out-of-reach. Wiggins said that he doesn't feel he belongs in such company: "I still don't see myself up there." But he is wrong about that. As a Tour de France winner, he will be placed above them, up among the brightest sporting stars Britain has produced, and, in cycling terms, alongside Fausto Coppi, Jacques Anquetil, Eddy Merckx, Bernard Hinault, Greg LeMond and his hero, Miguel Indurain.
On the bike, Wiggins managed a near-flawless display, which is astonishing when you think of all that can go wrong over three weeks.
Richard Moore
Quotes of the week
He deserves it. On the bike, Wiggins managed a near-flawless display, which is astonishing when you think of all that can go wrong over three weeks. Off it, he grew in stature after a couple of early wobbles, when he allowed anger and emotion to colour his responses to questions about doping that were as inevitable as they were justifiable, given the sordid recent history of the Tour.
Some of us wondered how Wiggins would cope if he took the yellow jersey. It was one thing to be favourite, quite another to find yourself in a winning position and subject, after every stage, every day, to the attention of the international media.
But after those early wobbles he turned it around. When he penned an article addressing the doping suspicion in the Guardian on 13 July, and then delivered an eloquent and heartfelt speech to back up the points he'd made, something changed. It was as though the mask slipped to reveal the real Wiggins, and from then on he seemed more relaxed, more honest and more entertaining as he allowed his personality - which he often seems to keep hidden behind high walls - to emerge.
Le Gentleman
He was 'le gentleman' after ordering a ceasefire and slowing to wait for Cadel Evans, who punctured after tacks were scattered on the road last Sunday. But it was the way he conducted himself in the press room that impressed those such as François Thomazeau, the novelist and doyen of the French press corps, who said that in his opinion Wiggins had given "the best winner's press conference since Greg LeMond in 1989."
The paradox is that Wiggins came to the Tour as well-prepared as any champion. His team had a plan that was perfectly executed. Yet he still seemed bemused, on Saturday evening, to find himself on the brink of winning, and to consider himself as anyone other than the boy "who grew up with my mum in a flat in London."
"At the end of the day I'm just Bradley Wiggins," he shrugged. "I go to the toilet everyday like everyone else."
Enough about how Wiggins handled himself off-the-bike. He won the Tour on the road, and in convincing fashion. He came to the race believing he could win and with every pedal stroke affirmed that. He did not put a foot wrong, from placing second in the prologue to taking the yellow jersey at the first hill-top finish, to the not inconsiderable task of defending it for two weeks.
No rider since Hinault in 1981 has kept the yellow jersey for so long. There were suggestions that his teammate, Chris Froome, was stronger in the mountains, but that is not clear. Which is a pity, because the spectacle of Froome waiting for Wiggins on two occasions, in the Alps and Pyrenees, could have devalued his eventual victory, particularly if he had not so convincingly won Saturday's time trial.
But the two incidents might just have been a consequence of Wiggins and Froome being different types of rider. Though Froome was capable of bursts of acceleration on the climbs, it is not certain that he would have been able to sustain the effort. Wiggins, who prefers a steadier rhythm, may well have recovered and reeled him back in, or at least limited his losses. It is not at all certain that Froome, who finished second in Paris, would have the beating of Wiggins if given free rein to ride his own race in the mountains. Perhaps we will find out next year.
This question should not remove any of the gloss from Wiggins' success, and neither should the absence of Alberto Contador and Andy Schleck. Contador at his best is formidable, but if he and Schleck had performed as they did last year, Wiggins would have beaten both.
Wiggins is a worthy winner. And, more importantly, he did all that he could - and more than any other Tour winner of the last 20 years - to convince a sometimes sceptical audience that he is a credible champion.
As such, after the controversies surrounding Contador, Frank Schleck and the ongoing case against Lance Armstrong, the Tour needs that far more more than we need a British winner.
Comments (2)
Greg Bishop says...
Your point, Paul? He was comparing the Contador to the one Evans beat last year. Are you trying to claim we should strip Cadel Evans TDF away from him? Besides, Contador is suspended for a reason. let's see how he does now that he isn't beefed up, before taking his results pre-conviction as a benchmark, eh? Regardless, Wiggins wouldn't have tried to react to Contador's attacks, he and his teammates would have ridden a steady pace in an effort to overhaul him, so your comparison is invalid. Not to mention that the courses are completely different, and this year's TDF played to Wiggin's strengths more than that Giro would have.
Posted 23:18 24th July 2012
Paul Griffin says...
How can you say that Contador on his form from last year's Tour would be beaten by Wiggins? It very unfair to use that as a barometer to judge since Contador had a brutal and gruelling Giro in his legs. Do you think Wiggins would of won this Tour if he did that exact same Giro course before this Tour? No chance. It was widely recognised that Giro was one of the hardest Grand Tours ever with long transfers between some stages. Look at Wiggins when he tried to combine the both in 2010. That Giro was a tough one as well and Basso who won the race was in poor physical condition and struggled in the following Tour where he finished nowhere. Not very good was it. If you want to compare Contador and Wiggns you take this Tour from Wiggins and last year's Giro from Contador and see who wins. Wiggins would be on the end on sustained prolonged attacks just like Etna last year and not the unsustained ones from Nibali. Remember Nibali more or less stayed with Wiggins in this Tour and Contador had no problem dropping him last year in that Giro. We could also look at Verbier in 2009 when Contador's performance was frightening. Armstrong was on about the watts that Contador produced that day and said even at his peak he would'nt of been able to stay with him. Lets see how he deals with that. I bet he struggles.
Posted 20:38 22nd July 2012