After the euphoria of Bradley Wiggins' Tour de France triumph, and the positive mood engendered by Friday's Opening Ceremony, it all fell a little flat on Saturday.
Around the Mall at 9.30am, as the riders of the road race signed on and began to line-up, the sense of anticipation was palpable. And all along the route, through central and west London, into Richmond Park, and around the Surrey lanes on a circuit they would tackle nine times, they turned out in their hundreds of thousands.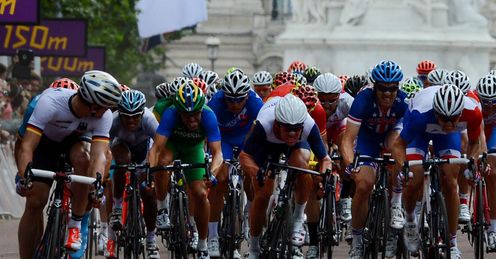 According to one Belgian journalist, a veteran of 20 Tours de France, it was "the biggest crowd there has ever been for a cycle race." It's very possible.
They were galvanised by the Olympics, galvanised by Wiggins, galvanised by their absolute and unflappable confidence in Mark Cavendish. And Cavendish's four British teammates felt exactly the same. They sat on the front for kilometre after kilometre after kilometre -- for the whole 250km, in fact -- as though riding their own race, oblivious to all the others.
It was to prove their undoing. They had been open before the race about their plan, which was to control the race, letting groups go off the front, but not get too far ahead, then get Cavendish to the final 500 metres in contention and ready to unleash his sprint. If they pulled it off, said David Millar, it would be "one of the biggest performances we've ever seen in road racing."
And it almost came off. But there was a single moment that changed the course of the race.
It came on the ninth and final ascent of Box Hill. On each previous lap Cavendish had ridden among the first five or six, just behind his teammates. He looked comfortable.
By laps eight and nine he was beginning to tire a little. But, as Millar later said, the British plan was "to race at Mark's pace on the climb." They knew they had to nurse him up the hill, taking care of him, allowing him to remain as fresh as possible.
It meant that, when riders began attacking on the final climb, they didn't react. They had to let the riders go. But they included some dangerous men: Fabian Cancellara, Luis Leon Sanchez and Alexandre Vinokourov, to name three.
It was a gamble: jump after these riders as they attacked and potentially put Cavendish in difficulty, or even out the back; or let them go, maintain the steady tempo, and reel them in later? They stuck to the plan. Steady as she goes. But the escapees linked up with the survivors from two earlier breaks to create a lead group of 32. It contained some serious firepower.
Back at the Mall the crowd were beginning to get restless. Some feared the worst. The script couldn't be more clear: a Cavendish win in front of Buckingham Palace, to keep the extraordinary wave of British success going.
For some, however, the worst case scenario was not just a Cavendish defeat, but a Vinokourov victory.
Five years ago, when the Tour began in London before similarly enormous crowds (but not as enormous as yesterday, according to my Belgian friend), Vinokourov was in the field. He won two stages, then tested positive for an illegal blood transfusion. When Millar heard the news, on the rest day in Pau, he cried.
Vinokourov was banned for one year, and cycling's world governing body, the UCI, said they'd appeal -- they wanted him out for two years. But Vino wrong-footed them by announcing his retirement. And then, six months later, he returned.
Yesterday, he wrong-footed the British team, but he wasn't the only one. Cavendish and Millar were critical at the finish of the other teams, especially Germany and Australia, who could have offered more help to chase the break. That they didn't is a compliment - of sorts - to Cavendish, who is considered simply too dangerous to take on in a sprint at the finish.
But this was no consolation for Cavendish, nor for the fans. Nor, for most of the partisan crowd, the fact that it was a thrilling race, with fascinating tactics, aggressive racing - Philippe Gilbert in particular - and lots of intrigue. Whatever you think about Vino, on the day he deserved to win: he was smart, courageous and clinical in beating his fellow escapee, Rigoberto Uran, at the finish.
And so the British cycling juggernaut is halted. Or perhaps only paused. Day two, Sunday, sees the women's road race on the same circuit. Nicole Cooke is the defending champion, but her teammate Lizzie Armitstead is the in-form rider, who, as well as winning a gold medal, might go some way to healing the wounds inflicted upon the men.
Comments (1)
Matt Christie says...
It was not missing the break that cost Cav a shot at the gold. Breaks happen all the time in "flat" stages such as this one. They still had 40km to go which is plenty of time for an efficient pelotion to reel in the breakaway, you see this time and again on the grand tours. What cost Team GB was that the other sprinters teams Australia and Germany did not help. They were too concerned with trying to weaken Cav's lead out (even though he can win without one). If they had helped and shown some ambition they may have won gold (Cav is not invincible) or at least a medal. A five man team cannot pull for 250km on its own and win simple as.
Posted 16:11 31st July 2012