There was a carnival atmosphere on the final day in the velodrome, or the pleasuredrome - or the gold medals factory.
After six days its original nickname, the Pringle, seems too spare, too unassuming. On the way in, one of the ever-cheerful volunteers assumed the role of ringmaster: "Roll up, roll up," he yelled as 6,000 people streamed into the arena. "Three gold medals! Three gold medals!"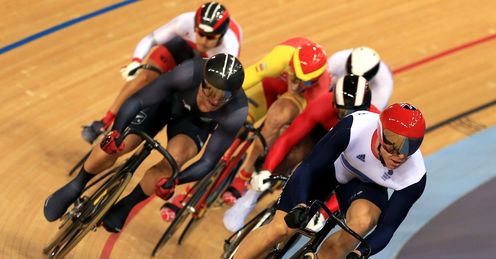 He didn't mean just any gold medals. The inference was that there could be three British gold medals, to add to the five already pocketed. This represented cycling's effort to match athletics' Super Saturday with their own Tremendous or Terrific or Medal-tastic Tuesday.
I walked in behind some men in suits, clearly making their first visit to the velodrome. There's a complicated entry system, with two sets of doors, and a small area between them. The outer doors must be closed before the inner doors can be opened, to avoid blasts of wind and to keep the temperature at a constant (and uncomfortably hot) 28C.
If Chris was in my shoes, there's no way he'd lose this. When it comes to the big races, he always delivers.
Jason Kenny on Sir Chris Hoy
Quotes of the week
As the businessmen waited between the doors, and set their eyes beyond the tinted glass and on the bright wooden bowl, they began, despite themselves, to smile. "Wow, look at it," said one. "That's incredible," said another. The mere sight of the place seemed to have the effect of knocking about 30 years off.
Mind you, perhaps the time has come to declare a moratorium on superlatives, especially when it comes to describing the atmosphere in Olympic venues. Or perhaps we could start again, contenting ourselves with 'noisy' and 'excited' and then build up to the final weekend, when we can wheel out 'raucous' and 'frenzied' and 'frenetic' again.
But let's just acknowledge, before the moratorium comes into effect, just how extraordinary the atmosphere in the velodrome has been. Everyone who has been has spoken about it. It was so loud that earplugs should have been supplied on the way in. Perhaps it is the low roof; the sound is held in the confined space, and amplified by the 56km of Siberian pine that went into its construction.
It has been the place to see and be seen. Yesterday alone included more 'names' than all the other venues put together: Princesses Anne, Beatrice and Eugenie, Princes William and Harry, ex-PM John Major, Sebastian Coe, Kobe Bryant - becoming a regular - Boris Johnson and the Olympic gold medal-winning rower, Kath Grainger. No Paul or Stella McCartney this time, and no mass renditions of Hey Jude.
But it was noisy. The crowd were excited. There were three gold medals up for grabs. And there were British contenders -- maybe favourites - for all three, with Laura Trott in the omnium, Victoria Pendleton in the sprint and Chris Hoy in the keirin.
In the end they couldn't match Saturday's performance by the athletes, but it was close. After the precocious Trott produced a stunning 500-metre time trial to leapfrog Sarah Hammer and win gold in the omnium, Pendleton stepped up for her sprint final against her old rival, Anna Meares.
In the tradition of some of the best sporting rivalries, they are very different: different builds, different personalities, different strengths, different styles. While Pendleton is lightweight and fast, Meares is big and powerful. In the final, it was a question of which would prevail - power or speed?
The previous night, when Jason Kenny's speed came up against Grégory Baugé's power, speed won. Pendleton had to make hers count. But Meares, equally, had to play to her strengths; her best strategy was to try and intimidate Pendleton, to make her doubt herself. To this end, in the build-up to London, she trained with male sprinters, encouraging them to get in her way, bump into her, barge shoulders, toughen her up for battle.
She used her physicality as she and Pendleton sped into the home straight of their first match - the first of three, potentially - and Meares, coming around the outside, bore down on her rival. There was contact; elbow to elbow, and maybe thigh, too. Pendleton flinched, altered her line, and drifted briefly out of the sprinter's lane.
Tears
She crossed the line first, a huge roar went up, but then came the announcement that she had been disqualified, and it was as though the air had been sucked out of the place. Perhaps someone had left the doors open.
It might as well have been a best-of-one contest, because Pendleton seemed defeated when she returned to the track for round two. When Meares jumped, she reacted, but it was as though the tank had run dry. Her head dropped. It was her final Olympics; her last ever race. There were tears. And Pendleton cried too.
For a moment there was an air of stunned disbelief; this highly partisan audience didn't know what to do. But then there were cheers for Pendleton, swelling to appreciation for Meares. She was a deserving winner, and this was a form of restitution after her defeat to Pendleton in Beijing, just months after she suffered a broken neck.
It was up to Hoy, in the last event of the evening, in the last Olympic race of his career, to lift the place. As he lined up, with five others in a strong field for the keirin final, Jason Kenny's words from the previous evening came to mind. "If Chris was in my shoes, there's no way he'd lose this," Kenny had told himself before his deciding sprint against Baugé. "When it comes to the big races, he always delivers."
And here he was closing the meeting, and homing in on the sixth gold medal that would lift him above Sir Steve Redgrave on the all-time list of great British Olympians. It was pretty big, then.
In the opening, nervous laps, as Hoy sat in the middle of the string, circling the track behind the pacing motorbike, he waited, glancing around frequently to keep his eye on the dangerman, little Azizulhansi Awang of Malaysia. In the semi-final Hoy had led Awang home: the sight was like a fighter jet following a jumbo.
Now, in the final, Hoy had a plan: to take it on from the front. And so, as Awang and Maximilian Levy began to jostle and move forward, he made a decisive move, hitting the front early, with more than two laps to go. "Obviously that's harder, you're pushing the air and it's easier for the guys behind," he said later. "But I wanted to be proactive, to take the initiative."
On the next lap he was still leading, but out of the corner of his eye he saw his coach, Jan van Eijden, jumping up and down, gesturing frantically. "He was about two feet off the ground, and I thought: OK, I have to go now."
Levy was attacking from behind, coming up fast. Hoy had been cruising, "feathering the throttle," but now he responded. Yet Levy had the momentum and began to come over the top. Hoy was thinking, "I can't let his back wheel pass my front wheel, I can't let his back wheel pass my front wheel. I drove like I've never driven before, but for a split second I thought it was over."
And then it was over. Hoy had held his line, broken Levy, and won. The roar might have been heard in Hoy's home city of Edinburgh. It was raucous, frenzied, frenetic, etc, etc. But now it's over.
There will be World Cup meetings in this velodrome, and an annual Festival of Cycling is planned, with talk also of a bid for the 2016 world championships. It won't be the same, maybe. But, for the foreseeable future, full houses should be guaranteed, and noise.