Sport isn't all about winning, you know. British success has been almost routine at these Olympics, but the third last day of the Games brought some reminders that a Team GB uniform does not guarantee gold, and that more will leave London 2012 disappointed than will skip off, with their dreams and ambitions fulfilled, into the sunset.
Amid all the stories of athletes partying in Chinawhite, of the athletes' village being transformed into a mini Ibiza in the heart of East London, not to mention Boris Johnson's proud boast that "the condom count in the village is up there with Sydney," it is worth bearing this in mind. For many it's a case of drowning their sorrows rather than toasting their success.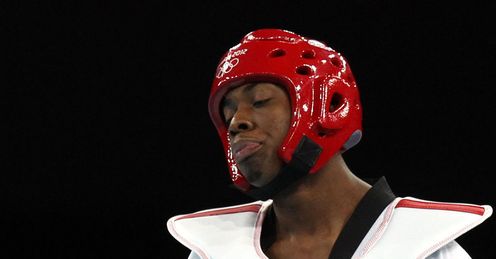 I was reminded of this on Friday, having been attracted to the ExCel by the promise of violence. There was boxing, wrestling and taekwondo. The intention was to get round as many sports as possible as the light begins to fade on this great Olympic adventure. But the best laid plans, and all that... I only made it as far as the wrestling and taekwondo, with the latter proving too compelling.
Another reason for lingering, however, was that it was also so baffling, in contrast to the wrestling, which is as simple as sport gets. The only confusion is caused by the fact that there are three mats, and three bouts happening simultaneously. You can be guaranteed that while watching the action on one mat, something spectacular will happen on another.
The wrestling is almost primitive in its simplicity. This will be how cavemen fought. And there are moments of humour. At one point a North Korean tries to scamper away from his Russian opponent while the Russian holds his ankles: all that was missing was the Benny Hill theme tune. I also spot a 'wheelbarrow': a wrestler walking with his hands while his opponent holds his thighs.
Outside the taekwondo arena, meanwhile, were mini-demonstrations of the martial art. Kids were inspired to try out the moves, bouncing on their toes and kicking their legs high, just like the players inside, while parents looked on, urging them not to practise by kicking their sibling in the head. (Some hope.)
In the morning, Sarah Stevenson's Olympic dream is over in just six minutes. It seems particularly cruel as she had come into these Games on such a tide of goodwill and sympathy, having lost both her parents to cancer last year. Amid all the tears spilled over the last two weeks, Stevenson's, after her defeat to Paige McPherson of the USA, were surely among the most poignant.
Another British player (and they do call them players, not fighters), Lutalo Muhammad, is still in the competition. Yet while there had only been goodwill towards Stevenson, there was controversy, and much adverse comment in the media, over his selection ahead of Aaron Cook, the world number one.
Stressful
It wasn't Muhammad's fault that he was picked over Cook, but the 21-year old from Walthamstow has endured a stressful couple of months. Not merely stressful, in fact, but disturbing and probably frightening: he said on the eve of his Olympic debut that he had received hate mail.
Such idiocy is enough to make you hope for the best for him, while fearing the worst. The pressure on him is extreme and must be close to unbearable. If he loses it won't just be a personal defeat; he knows that he will be blamed for depriving Cook of a place. And possibly a gold medal.
On the eve of the bout, Cook had said he "could not bear to watch" Muhammad, adding: "I can guarantee whoever wins gold, I will have beaten this year. I am extremely bitter about it."
Having won his first round bout, Muhammad, in the white Power Rangers-style outfit and helmet of the taekwondo player, faces Nicolas Garcia Hemme of Spain and starts cautiously: it's 0-0 after round one. In the second, with the Spaniard off-balance, Muhammad lunges and catches him on the back of the head. But it's the Spaniard who is awarded a point. No idea why.
There are points for offensive kicking, defensive kicking, offensive punching and defensive punching. There is also a kyong-go (warning penalty) and a gam-jeom (deduction penalty). But the main object seems to be to kick your opponent in the head.
There are several appeals and deliberations between the referee and the officials, and in the end Muhammad loses. He slumps to the mat and remains there for some time, clearly devastated. He stops briefly on his way out the arena, but appears almost unable to speak. "That's the nature of sport," he says, "it doesn't always go your way.
"I came here to win gold. I understand this opportunity won't come along again. But I have to live with that and re-focus and gather myself for a possible repechage match."
Did the controversy over his selection affect him? "I wasn't focused on that. It's always been my dream to win gold. It wasn't meant to be today. But thank you very much for all your support. The crowd were tremendous. Thank you."
As he disappeared into the bowels of the ExCel he looked on the verge of yet more tears.
But, surprisingly, he gets another chance. Hemme makes the final, which gives Muhammad a way back into the competition, and a possible shot at the bronze medal, through the repechage. He faces an Iranian, the bronze medallist in Beijing, Yousef Karami.
He comes out with aggression and confidence and races into a 5-1 lead. The crowd are fully behind him, cheering every kick, every point won, and you can see Muhammad respond. But Karami fights back. After two rounds it's 6-5 Karami. All down to the final two minutes. The crowd urge Muhammad on; for a kick to the head he is awarded three points: 9-6.
And he keeps up the intensity, spinning and kicking his opponent in the body: two more points. He wins 11-7, the place erupts, and Muhammad celebrates as though he's won gold.
Intensity
So he's fighting for the bronze medal, against the Armenian Arman Yeremyan. He picks up where he left off against Karami, with blistering intensity. After one round he's 4-1 up.
And at the end of the second, with a running, Cantona-esque high kick to the head, he surges into a 9-2 lead, to the fury of the Armenian and his coach. He holds on in the third, and then the crowd counts down from ten to one, and roar their approval: he has a bronze medal. And some form of redemption.
When he appears backstage he is more talkative. "We don't normally get a second chance but there was no way I was going to miss this opportunity. I didn't feel like losing twice in one day. My coaches said, 'Look, this bronze medal is now your gold medal and you have to treat it like that.' That got me in the right shape mentally."
He mentions the "massive, massive pressure" he and the other taekwondo team had felt coming into the competition, but refuses to blame the controversy and the ensuing attention for his loss to Hemme.
At least he can smile now. "It's not the colour I wanted," he says of his medal. "But it's hard earned. I fought hard for it. And I'm very grateful and happy."
And I must admit that I was happy for him, too.