If you were falsely accused of a crime you would fight until your very last breath, wouldn't you?
You wouldn't run up the white flag and seek to draw a line under the matter by refusing even to answer the charge, knowing that many would conclude that by doing so you were guilty. No innocent person would do that, surely.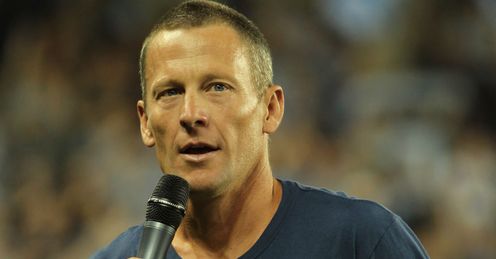 Yet this is exactly what Lance Armstrong, by refusing to fight the US Anti-Doping Agency's case against him, has chosen to do.
People's responses to his decision seem to have been split three ways. Many now accept that he was guilty of doping during his seven-year domination of the Tour de France.
But among this group, some have been arguing that most of his rivals were doping, so it was, in effect, a level playing field, and it doesn't matter that he was also doping.
The information USADA has compiled should come to light, and there must be the most serious consequences for those who oversaw - and perhaps colluded in - this mess.
Richard Moore
Quotes of the week
Finally, a small and dwindling band maintain that he cannot be declared guilty of doping, because - to use Armstrong's own refrain - he "never tested positive," and the only evidence against him is witness testimony.
Evidence
Such evidence has been described as 'circumstantial', the inference being that it is flimsy. Yet many criminals are convicted on the basis of evidence from fewer than the ten-plus witnesses believed to have testified against Armstrong - only a tiny minority of criminals are caught in the act. And many athletes have been punished for a doping offence despite having never tested positive. It is hardly proof of innocence.
Armstrong's decision not to fight the charges is curious, not least because the image of him as a fighter is so deeply ingrained, and stretches back further than 1999 and the start of his Tour-winning run.
As a 21-year old he brought Texan brashness, confidence and aggression into a staid, traditional sport. Then, most famously, he fought cancer, and "won". And when he returned after cancer, he battled those who'd written him off - the French team that sacked him mid-treatment and those who spoke out against him or, most damningly in this context, against doping.
He seemed to manufacture battles against opponents whose limitations he so ruthlessly exposed. It didn't seem enough for Armstrong that he won. He had to make enemies of his rivals. Anger was his fuel, defiance his motivation.
Even his final victory speech on the Champs-Élysées in 2005, after winning his seventh Tour, concluded not on a triumphant note, but with a battle cry.
That was the first Tour I covered as a journalist. I went there having written about cycling for several years, but from a distance. I was astounded at the pervasiveness of the suspicion and scepticism around Armstrong and his team in the press room.
There were constant nudges, winks, stories of blood bags being dropped off at hotels by motorbikes, and there seemed a general belief that Armstrong was doping. I had been suspicious at the start of the Tour and ended it a confirmed sceptic, though there were always nagging questions and doubts. There were only dubious associations and rumours. There was much to be troubled by. Ultimately, however, it was just hearsay.
When Armstrong gave his final speech in Paris, in which he attacked the "cynics and sceptics," it seemed directed at the press room: "I'm sorry you can't dream big and I'm sorry you don't believe in miracles."
Exposed
The following year, when many of Armstrong's main rivals were exposed as dopers, and then his former teammate, Floyd Landis, tested positive, it appeared, finally, that the scale of the problem was being exposed, and addressed. Even the UCI, cycling's governing body, seemed to wake up.
In 2006, '07 and '08 the climate changed. Riders were still doping but some - many, actually - were being caught. This was new. The culture was maybe changing. Many believed that the 2008 Tour, won by Carlos Sastre, was the cleanest in years.
Perhaps Armstrong did, too. Watching the race from a distance, and seeing his old teammate Christian Vande Velde - riding for a team, Garmin, whose raison d'etre was anti-doping - challenge for the podium, he perhaps thought he could return and win an eighth title.
And so, in 2009, he was back. Many of us believed that the sport had changed, and speculated that Armstrong fancied seeing what he could do in this new climate. I didn't believe, given the very real possibility of being caught and all that he had to lose, that he would risk not riding clean.
Which is why, for me, the most shocking allegations in the USADA dossier concern suspicions that Armstrong was doping in his comeback years, 2009 and 2010, and the suggestion that he may have been aided and abetted in this by people in authority.
The other shocking allegation is a long-standing one: that the UCI covered up a 2001 positive test in exchange for a financial donation from Armstrong.
This is why, after Armstrong's name has been erased from the record books, the sport cannot be allowed to do what he is seeking to do, and ignore the charges, draw a line, and move on.
The UCI's attempted interference in the case and silence on the pending judgement against Armstrong is deplorable. The information USADA has compiled should come to light, and there must be the most serious consequences for those who oversaw - and perhaps colluded in - this mess. Otherwise, there will be another Lance Armstrong.
Comments (5)
Andrew Kenneally says...
Fine article, Richard; the UCI are every bit as guilty and deplorable as Armstrong. What a marriage of bedfellows.
Posted 13:56 29th August 2012
Eoin Comerford says...
Great to see a reasonable article on this issue. Im sick of people saying he isn't guilty if he doesn't answer the charges, If I am charged with something in court and dont answer those charges I am guilty. I agree completely that the evidence has to come out, all those others involved have to be charged, and that the UCI's actions are very suspicious. As an Irishman I am ashamed by how Pat McQuaid has handled himself over the years, taking donations from Armstrong etc. The most worrying thing about this for me however has been the lack of professional cyclists coming out and criticising Armstrong, and drugs in general on the back of this. Geraint Thomas for example actually said the case was bad for cycling, saying the accusations are old news, instead of criticising the drug taking!
Posted 13:42 29th August 2012
Jamie S says...
Richard, how have you come to the conclusion that it is only a small dwindling band that still dont believe that he is guilty when in fact, when you read most comments on various news sites the majority still seem to believe he is not guilty. I think you have it the wrong way around. Let people make their own decisions and try and reflect that in your articles please.
Posted 13:41 29th August 2012
Eoin Comerford says...
Great to see a reasonable article on this issue. Everywhere I look I see people
Posted 13:35 29th August 2012
Alan Scully says...
The truth is already out.500 tests no positives.What happened to innocent until proven guilty?
Posted 13:16 29th August 2012