It is more than seven years since Lance Armstrong won his seventh and final Tour de France, yet he remains the dominant figure in cycling.
A thrilling Vuelta is racing towards its conclusion in Madrid on Sunday, the same day the Tour of Britain, with Bradley Wiggins and Mark Cavendish, starts in Ipswich, but these seem almost peripheral events.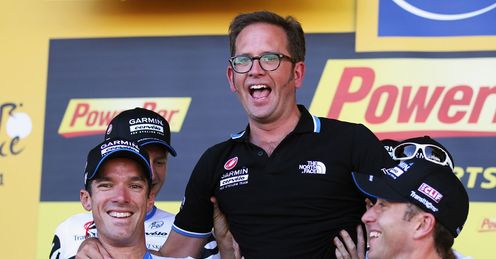 Even by cycling's standards, it has been an extraordinary couple of weeks. The US Anti-Doping Agency's move to strip Armstrong of his Tour titles, following his decision not to contest their doping charges, has opened the gates to a tsumani of revelations: from Tyler Hamilton's book, The Secret Race, published in the UK next Tuesday, to Jonathan Vaughters' apparent 'outing' of three of the riders on his Garmin-Sharp team, to Belgium's former Classics king, Johan Museeuw, admitting that in the late 1990s and early 2000s "doping was part of daily life for almost everyone."
And for many, this is the crux of the matter. If Vaughters, Museeuw, Jacksche, Hamilton, et al, are to be believed, then a majority of riders were doping well into the 2000s, and this leaves us with a problem as we watch cycling today.
Richard Moore
Quotes of the week
Museeuw, who in 2007 made a partial admission, has now said that "the only way out of this murderous spiral" is "a collective mea culpa."
This is the great dilemma cycling now faces. Even Armstrong has been urged by Hamilton to tell all: "I think he'd feel a lot better. I don't think there's ever a point of no return... Maybe if he just did a general press conference. No details. Said he broke the rules a few times, shed a tear. I'd want to go give him a hug. He's still Lance the champion."
Vaughters, a former US Postal teammate of Armstrong and Hamilton, has taken a different approach to most. He has been open about his past, to a point. He values transparency and engages easily with fans on Twitter and online forums.
But it was on the cyclingnews.com forum on Wednesday that he took his openness to new levels, outing three of his riders as ex-dopers: "CVV [Christian Vande Velde], [Dave] Zabriskie, [Tom] Danielson, while all clearly have a past, and from an ethical standpoint are no different from JJ [Jörg Jaksche], there is a very pragmatic difference."
Hypocrisy
Vaughters was responding to Jaksche's criticisms, made the previous day, that his openness about his doping past backfired when teams, even anti-doping teams like Garmin, seemed scared to hire him. Jaksche accused them of hypocrisy. Vaughters countered that it wasn't what he said about doping that meant he didn't sign him; it was simply because he didn't rate him as a rider.
Elsewhere in his comments - for which he later apologised - Vaughters discussed his recruitment policy. "Talent, work ethic and personality" are more important than whether someone had doped in the past, he said. All he asks is "that they will ride clean on my team."
The fact a rider has doped in the past is, added Vaughters, not "part of my consideration, because quite frankly taking the Sky/new suisse [Swiss IAM] team stance on 'we're hiring no one with a known history in doping' is just stupid in cycling today. It's just glorifying those who managed to slip by and damning those who got caught, even though the crime is exactly the same. It's ethically untenable for me."
And for many, this is the crux of the matter. If Vaughters, Museeuw, Jacksche, Hamilton, et al, are to be believed, then a majority of riders were doping well into the 2000s, and this leaves us with a problem as we watch cycling today.
It means that, as we thrill at Alberto Contador's bid for Vuelta glory, we can't help but consider that he has just returned from a doping ban, or that, as we learned this week, his team manager, Bjarne Riis, was not only a doper himself, but provided Hamilton with an introduction to Eufemiano Fuentes, the doctor who ran the blood doping ring at the centre of Operacion Puerto; or that Fuentes worked closely with Contador's former boss, Manolo Saiz; or that Contador also rode with Armstrong under Johan Bruyneel at Discovery Channel and Astana; and so it goes on, and on.
Different approach
As Vaughters pointed out, Team Sky have taken a different approach: zero-tolerance. Ex-dopers have no place on the team; if anyone admits to any previous involvement, they face the sack. But does this - as Vaughters suggests - merely disqualify those who have been caught, and effectively reward or "glorify" those who have got away with it?
Never mind the ethical minefield, we are entering dangerous legal territory in any discussion of individuals. But it does leave a rather large, cumbersome elephant in the corner of the room.
Where are the governing body in the discussion? While thoughts and opinions spew forth from Vaughters, the UCI and its president, Pat McQuaid, remains silent, as though in denial.
Jaksche claimed that, when he talked to the UCI, he had the impression they would rather he stayed quiet: "They think that a sport without scandal is a clean sport... [but] there are so many cadavers. It's like having a dead body in your basement festering away and going bad."
I hope he's right. The rotting body in the basement might have more effect than the elephant that could sit forever, perfectly obvious to everyone but also easy to ignore, in the corner of the room.