There's a difference between shock and surprise, and it can be summed up by people's reactions to what will come to be known as the Lance Armstrong Affair.
Doubtless it will go down as cycling's biggest ever doping scandal, dwarfing the Festina Affair of 1998, and 2006's Operacion Puerto.
Yet few who have followed cycling closely can be surprised by the confirmation, spelled out in the US Anti-Doping Agency's report into Armstrong and the US Postal team, that doping went on.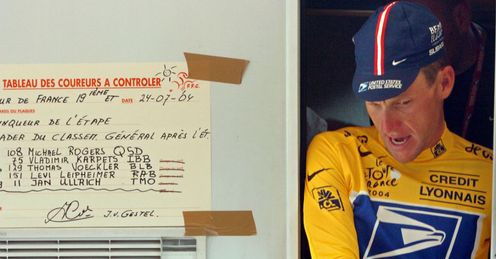 Many are shocked by the scale, sophistication and the sheer brazenness of it. But surprised at the fact of Armstrong's cheating? No.
Now come the recriminations and 20/20 hindsight, and the questions. Did the corruption extend beyond Armstrong and the US Postal team and cover the rest of the peloton, the governing body and race organisers, the sport as a whole, the journalists who covered it, the fans?
Many are shocked by the scale, sophistication and the sheer brazenness of it. But surprised at the fact of Armstrong's cheating? No.
Richard Moore
Quotes of the week
If so many people knew, or at some level suspected, does that make them all, to some degree, complicit?
Of course there was suspicion around Armstrong; he was asked all the time about doping by journalists, and sometimes appeared to relish rather than resent the inquisition, turning it into theatre. He could also be defensive and vaguely threatening. I covered his final Tour win, in 2005, and his press conferences were, by then, tense affairs.
Yet Armstrong thrived in such an atmosphere, which is why some of us thought he'd go on to a career in politics (he can forget that now). He seemed to feed off the suspicion and enmity - an impression that makes far more sense now, having read the USADA report, which underlines how gung-ho he was about doping; that he seemed to regard it as a test of his mettle; and a game of 'catch-me-if-you-can' in which he regarded himself as un-catchable.
During the Armstrong years, the challenge for many reporters was in trying to convey their suspicion within the constraints of the law, and without - as unpalatable as this might sound - turning the reader (or editor) off. Read many of the reports from the time and a sceptical tone is discernible, even if it was necessarily buried in the depths of the story.
Olympic contrast
Of course there were some who wilfully ignored the suspicion, and were prepared only to perpetuate the myth that anti-doping was foolproof and that passing drugs tests meant an athlete was clean, but they were in a small minority compared to, say, this summer's Olympics.
I went to London 2012 straight from this year's Tour, won by Bradley Wiggins, and it was like jumping from a cesspit into a golden orchard.
It is a legacy of the Armstrong years, and the fact that so many from that era remain deeply involved in the sport, that such a climate of suspicion prevails at the Tour.
It is why Bradley Wiggins, when in yellow, found himself subject, daily, to the questions about doping that it is absolutely necessary to ask, because so many of the riders who have worn that jersey before him have cheated and lied. It is why, in the midst of an historic British victory, we spent more time discussing doping than anything else.
Compare this to the Olympics, when a typical question put to Usain Bolt after his three gold medals was: "Do you think you're a legend now?"
Not to cast aspersions against Bolt in particular, but suspicion around his event would be legitimate given its history, which is almost as tarnished as the Tour's. Yet he and other heroes of London 2012, like Mo Farah, were spared that, perhaps because journalists were, like most people, infused by the positivity around the Games - to which I plead guilty, m'lud. Nobody wanted to kill the mood.
We've been here before. After Ben Johnson tested positive at the Seoul Olympics in 1988, the recriminations and 20/20 hindsight will sound familiar - everybody had heard rumours and had their suspicions; it was an open secret in the track and field world that Johnson, and many others, were on steroids, and that some of the biggest stars were 'protected' by the authorities.
Perhaps Armstrong has done us a favour. His fall, because he was an icon who transcended sport, and whose story touched so many people so deeply, is the biggest and most devastating in the history of sport.
It can't therefore fail to change sport.
It can't happen again.
Can it?
Comments (3)
John Atkin says...
Paul Kimmage is the standard that the rest have to reach
Posted 23:39 20th October 2012
Clive Oram says...
Anyone who has ridden a cycle in competition knows how much agony it takes to reach the top of the sport. We all wanted Lance to be the clean competitor who achieved so much in an area of the sport that was so riddled with cheats. Sadly we now realise that even with his meticulous attention to detail and dedicated training he found it impossible to resist the temptation to utilise the same unfair advantages of those who preceded him. In truth we all, in our heart of hearts, knew that such domination was impossible without resorting to drugs and related manipulation of the natural strength and resilience of the human body, and yet, he was competing on a similar level, if not the same, as those he raced against. That does very little, if anything at all, to excuse the deception and lies he used to cover his actions, but those of us who watched him outperform his contemporaries for those 7 years will still marvel at his strength in body and mind as he competed in the worlds toughest sporting event.
Posted 16:41 15th October 2012
Andrew Outram says...
You'd hope not, but people always say the dopers are one step ahead of the testers.
Posted 15:55 15th October 2012