It was almost lost amid all the other stories concerning British cycling, from Bradley Wiggins to Mark Cavendish and the Olympics, with Victoria Pendleton, Laura Trott, Chris Hoy et al, but a young road rider, on a team other than Sky, enjoyed a mightily impressive debut season in 2012.
Andrew Fenn, the 22-year old who stepped up from the An-Post Sean Kelly team to Omega Pharma-Quick Step, began the year with a simple aim: to win a race.
He then gave himself a problem by achieving that in early February, at the Trofeo Palma de Mallorca. Still on the Spanish island, he won again the next day, with both wins coming from bunch sprints.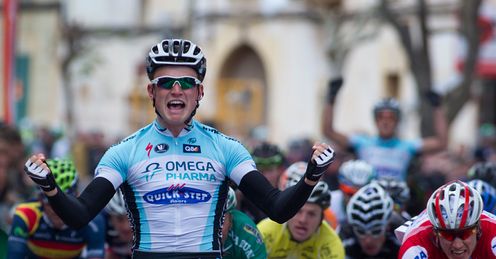 Looking back on his year, though, perhaps the most impressive aspect has been his consistency. Fenn had twelve top-ten placings, from February to October, when he ended his season by riding the Tour of Beijing, and placing second on stage one.
It has been clear for some time that Fenn, who grew up in Hertfordshire but rode for Scotland at the 2010 Commonwealth Games, has serious potential. In 2008, aged 17, he won Junior Paris-Roubaix. The rider in second was a certain Peter Sagan of Slovakia. Sagan has had a reasonable year, too.
Fenn seems to have most, if not all, of the attributes. He's fast, physically big and imposing; and his main asset is his ability to go long.
Richard Moore
Quotes of the week
Mid-way through his debut year Fenn signed a contract extension with Omega Pharma, taking him up to the end of 2014. And next year he will, of course, have a new British teammate, with Mark Cavendish joining from Team Sky.
This raises an intriguing possibility. One thing that Cavendish sorely missed at Sky was a lead-out man of the quality of Mark Renshaw, who did the job so well at HTC-High Road. So why not Fenn?
Attention
He seems to have most, if not all, of the attributes. He's fast, but a very different type of sprinter to Cavendish. Physically, he is big and imposing; and his main asset is his ability to go long, a bit like the Italian veteran Alessandro Petacchi - who, incidentally, Cavendish at one point fancied as his lead-out man at Sky.
Fenn admits he doesn't actually know Cavendish very well, but welcomes his arrival at the Belgian team. As for acting as his lead-out man, he is open to the possibility, but admits there is one aspect of sprinting that requires his attention.
"I'm trying to go down the sprinting route," he says. "My kick is okay, but my long sprint is my main strength. Positioning is something I have to work on, because getting in position is half the battle.
"I can learn a lot from Cav, I hope, because you learn from watching how others do it, and he's the best. Having Tom [Boonen] and Cav on the same team can only be a good thing."
Fenn wants to emulate both of them, eventually, contesting bunch sprints in the Grand Tours and - as his Junior Paris-Roubaix win suggests - having a go at the classics. Boonen's career path could be a good one to follow. He began as a sprinter before turning his focus to the classics as he got a bit older, and his sprinting lost its sharp edge.
For 2013 Fenn's ambition is to ride a three-week tour, and he'd settle for any of the three. Cavendish's arrival could change things. If Fenn hits it off with him and proves he can lead him out, then a supporting role at the Tour might become a possibility.
Otherwise, the Vuelta, which has become a popular race for young riders to gain Grand Tour experience, is the one most likely to feature on his programme.
Central
For now, however, he can reflect on a job well done. "I'm happy with my season," he says. "I've achieved what I wanted. I wanted to get a win somewhere, and to find my place in the team, and I feel that I've done that."
It was a team that seemed to click in 2012. Boonen's resurgence, and his wins at the Tour of Flanders and Paris-Roubaix, were central to that, and Fenn says one of the highlights of his year was having Boonen help him at the Tour of Denmark in August, where he managed second and fourth on stages.
"He's a big, down-to-earth guy, and he helped me out in Denmark, which was amazing," Fenn recalls. "Here was I, a first-year pro, and Tom, after the year he's had, was trying to look after me and set me up."
It's little wonder that, despite some rumours linking him to Sky, Fenn wanted to commit to the Belgian squad for another two years. And it is no bad thing to have British riders in top teams other than Sky.
It also speaks volumes for the country's strength in depth that a debut season like the one Fenn has just enjoyed can go almost unnoticed.