Anyone who didn't grow up with BBC Sports Personality of the Year as a pre-Christmas ritual must be baffled by the annual debate that it provokes.
It is a debate that usually begins around February, coming to a feverish head when the shortlist is announced, as it was this week.
Even those who claim to despise the programme in its current incarnation - heavy on glitz and glamour, with the sport reduced to bite-sized morsels, or totally unsatisfying canapés - seem unable to resist weighing in.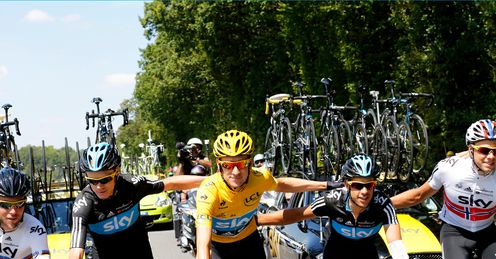 But the annual debate can be boiled down to one question: how to compare achievements in different sports?
This year, from the 12-strong list of contenders, there appear to be two front-runners: Bradley Wiggins and Andy Murray.
On the home of canapé-sized debate, Twitter, some made a case for Wiggins, others for Murray.
The danger of putting too much emphasis on the team is that it creates the perception that an average rider can be towed around France if his team is the strongest in the race.
Richard Moore
Quotes of the week
It is exceptionally difficult to decide between this pair, because, on paper, they appear pretty evenly matched. Wiggins became the first British cyclist ever to win the Tour de France, then claimed an Olympic gold medal. Murray became the first British tennis player in 76 years to win a Grand Slam, just weeks after winning an Olympic gold medal.
Personally, I think Murray would be a worthy winner - not least because he doesn't seem to care, and will be absent from the awards bash, training in Miami, since he'd rather win the Australian Open than SPOTY. In other words, he has his priorities right.
Team game?
But there is one aspect of the Wiggins-Murray debate with which I take issue. I noticed that some were seeking to mark Wiggins down because his is "a team sport", whereas Murray's is an individual sport. According to this argument, Wiggins being "part of a team" diminishes his achievement.
That is utter cobblers, and I tried to make the point on Twitter that the team aspect of cycling can be overstated and its significance exaggerated. Admittedly, I didn't make the point very well, and attracted some criticism, and some opprobrium, for my ignorance of the team dimension to cycling.
The problem is, professional road racing is unique: it is a team sport but it is also an individual sport.
I accept that it is vital for a leader, whether in one-day or stage races, to have a strong team to support him or her. Yet I still maintain that the importance of the team can be overstated.
It is overstated, for example, when the argument is made that having a strong team makes the task of winning easier.
Wiggins' success this year owed something to his team, but more to him developing the ability to lead that team. That meant accepting the responsibility and handling the almost intolerable pressure of having eight riders lined out in front of him, working on his behalf, knowing that, when it came to the brutal climbs ahead, it was up to him, and him alone.
Far from diminishing the achievement of winning the Tour, I think the team aspect enhances the individual feat.
I also think the team element is overstated when the argument is made that a rider has won because of his team.
Let's be clear: Wiggins did not beat Vincenzo Nibali because he had a stronger team. In fact, on the one day that Nibali's Liquigas team had a coherent plan, and worked well to set up their leader, on the final day in the Pyrenees, Nibali fell apart.
I can think of few occasions when a major victory has owed more to team work than to the leader's ability to finish the job off - which isn't the same as saying that the team was no help at all, or that it is never the case that the team can be the deciding factor.When Carlos Sastre won the Tour, in 2008, it owed more to team tactics, and his CSC squad having strength in numbers, than any other Tour I can think of. Otherwise, it is rare that you can say the winner of the Tour won because he had a strong team (which, again, is not the same as saying that the winner of the Tour does not need a strong team; he does).
The danger of putting too much emphasis on the team is that it creates the perception that an average rider can be towed around France if his team is the strongest in the race. This perception has a long tradition: in 1929, when Maurice De Waele, backed by the powerful Alcyon team, suffered crashes and sickness yet still managed to win, the Tour organiser, Henri Desgrange, complained: "My Tour has been won by a corpse."
And, true, there have been other incidents - in 1985, when Greg LeMond felt he could have beaten his injured teammate, Bernard Hinault, and maybe even this year, when Chris Froome felt he could have claimed time on Wiggins in the mountains, had he not been held back by team orders. But was that the difference between him winning and losing? I'm not sure.
Sprint train
What about Mark Cavendish? It's difficult to argue against the assertion that he wouldn't win so often without his lead-out train - but would his team form such an effective and motivated lead-out train if they didn't have such faith in Cavendish's ability to finish off the job?
Take Cavendish's victory at the 2011 world road race championship in Copenhagen. Would he have won without the exceptional work done by the British team that day?
Perhaps not. But perhaps he would. On a flattish course there was, say, a 70-80 per cent chance of the race being decided by a sprint finish, regardless.
The work done by the British team increased those odds. Ultimately, however, there was another incident that was arguably just as significant as the six hours of solid team work that led up to that moment. As Matt Goss of Australia led it out in the final 300 metres, he left a gap that Cavendish was able to sneak through. Had Goss moved fractionally to his right, Cavendish would not have won.
A popular suggestion before the Olympic road race in London - in which the British team work did not pay off for Cavendish - was to present medals to the whole team. In some cases - such as Copenhagen - that might be justified. But Alexandre Vinokourov's victory in London owed little to his one Kazakhstan teammate, Assan Bazayev. It would have been odd to see him presented with a gold medal.
To emphasise the team aspect to road racing is to argue that it is manageable and controllable - but as Vinokourov's victory in London demonstrated, it isn't. It is gloriously unpredictable.
Team work and team tactics make the sport fascinating, beguiling, mysterious. The impact of the team is unmeasurable and adds an intriguing dimension. I can't think of parallels in other sports. Perhaps if Andy Murray didn't have to play rallies, but had to run on a treadmill to the side of the court before coming on for the most difficult shots.
But here's the key question: would that make the most difficult shots any easier? I don't think so.
Comments (2)
Why i Vaughter says...
Wonderful to see such a complex subject probed so deeply and written in purple prose. The last time I read vibrant, throbbing imagery such as "canap¿ized debate", I was in the guts of David's seminal, fluid-jerking biography "Prententious, Moi?".
Posted 17:21 28th November 2012
Nick Porter says...
Cavendish is eloquent about the pressures and responsibility of team leader in his book Boy Racer. In any case is no player in a team sport to be eligible. I think it's unfortunate that great personalities who miss the top spot don' t get a look in
Posted 13:18 28th November 2012