There will be plenty of books written about Lance Armstrong but none will be as essential as 'Seven Deadly Sins', which is out this week.
David Walsh's 400-page tome, sub-titled 'My pursuit of Lance Armstrong,' provides a vastly different reading experience to Tyler Hamilton's 'The Secret Race', which, to prove that cheating really can pay, recently walked off with the William Hill Sports Book of the Year award and the £24,000 that went with it.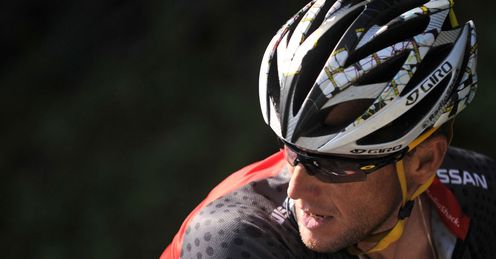 Whereas Hamilton's sordid tale can leave you feeling dirty and conflicted, Walsh's story, neither bitter nor triumphant, can seem cleansing. It is also surprisingly funny. Not laugh out loud funny, but there is dry humour, like this:
"Close to the village, we saw the actor Robin Williams out on his bike with some friends. Williams and Armstrong were friends even though at that stage I think Armstrong had appeared in more decent films."
Walsh versus Armstrong was the unstoppable force against the immovable object, and finally the immovable object won, though not without help from the American Anti-Doping Agency.
Richard Moore
Quotes of the week
'Seven Deadly Sins' is not a polemic. We don't find Walsh dancing in the face of Armstrong's disgrace, despite the fact that he and others he describes - slightly melodramatically, he concedes - as "a loose group of survivors" have endured considerable stress and torment.
Armstrong made life as difficult as possible for them, including the "little troll" Walsh, who sought for 13 years to expose Armstrong's cheating. Yet the tone in his book isn't angry, it's sad. And that has much to do, it seems, with an interview Walsh did with Armstrong in 1993, when he was, if not charmed, then certainly impressed.
It was the 21-year-old Texan's debut Tour, and Walsh knew he would go on to great things: "He had something inside that made him unlike any other young sportsman I had met. Radioactivity. How did I know this? Because it was obvious."
Six years later, post-cancer, when Armstrong returned to the Tour and demolished the field in the time trials and mountains, Walsh couldn't believe it. He could not see how a rider of Armstrong's previous, more limited, abilities could be so transformed.
Well, the clues were in their first encounter, and in the context in which Armstrong found himself - a context that Walsh wouldn't fully appreciate until the Festina scandal in 1998, the year before Armstrong's return.
"This Armstrong, you knew he wasn't going to settle for an ordinary life," writes Walsh of that first meeting.
Did Walsh know that Armstrong was doping in 1999? No, but he saw clues and his certainty hardened over the following years as he spoke to witnesses who each provided a piece of a larger jigsaw.
While these pieces fitted together, and featured in Walsh and Pierre Ballester's 2004 book, L.A. Confidentiel (only published in France), the sport ignored the mounting evidence, and one charge made by Walsh is that all but a few journalists did, too.
Yet, while many were deeply suspicious, not everyone had Walsh's absolute certainty, perhaps because nobody burrowed so deeply into this particular hole as Walsh, with an obsessive zeal that took a toll on his professional and family life ("Lance followed us everywhere," says his wife, Mary, meaning that wherever they went, Walsh was asked about Armstrong).
Walsh's burrowing proved essential partly because Armstrong was a very convincing liar. He might not have been the most tested athlete in history, as he claimed, but he was surely the most interrogated. He was asked about doping all the time. But this is what made him unique: he offered nothing.After Armstrong retired, it became possible to see how normal people reacted to questions about doping (if they were doping); they sweated, became anxious, or prevaricated. You didn't need a lie-detector to know that Floyd Landis, Michael Rasmussen and Riccardo Riccò, to name just three, were cheating.
Walsh versus Armstrong was the unstoppable force against the immovable object, and finally the immovable object won, though not without help from the American Anti-Doping Agency, who in turn had a little assistance from the aborted federal investigation into Armstrong ("the feds have more power than us trolls," Walsh notes).
In fact, although the book is hugely inspirational for any journalist, it is also, paradoxically, a story that highlights the limitations of journalism, especially in Britain, where the libel laws acted against people like Emma O'Reilly, and prevented her telling the truth.
And there are elements of the story that continue to intrigue Walsh. Why did Armstrong visit his notorious trainer, Dr Michele Ferrari, in January 1997, when his ability to return from cancer seemed far from certain? And why, when cheating on such an industrial scale, and when, post-Festina, the landscape should have changed, was he not more discreet?
For instance, Walsh was told by O'Reilly, Armstrong's soigneur in 1999, that he handed her some used syringes to dispose of: "The casual nature of it all astonishes me. Sure, there's a cloak-and-dagger element to what Emma is relating, but there is bravura too. An arrogance. 'Just dump these for me.'"
Statement
The shadow of Walsh's first encounter with Armstrong hangs over the whole story. Really, he is an enigma, a source of bafflement. Walsh tells us that Armstrong is capable of small, human gestures, which only makes the larger narrative, the one that now eclipses everything, more puzzling. As Kathy LeMond asks: "How do you get to be like that?"
If it is impossible to fathom Armstrong, Walsh appears to think the same of cycling's governing body, the UCI. "I've thought many times about that seminal 1999 Tour de France and the UCI's failure to protect their sport," writes Walsh.
"How difficult would it have been to discreetly re-test the '99 samples in the autumn of 2000 when the [new EPO] test was in place? Quite a number of high-profile cheats would have been kicked out of the sport for two years, Lance included. What a statement that would have made. Instead, the UCI sat idly by as one worthless Tour de France followed another."
The irony is that, as all these Tours ticked by, and the sport turned a blind eye to the growing body of evidence that its biggest ever star was cheating, it was Walsh who was called the cynic.
Seven Deadly Sins: My Pursuit of Lance Armstrong, by David Walsh, is published on 13 December by Simon & Schuster. £18.99
Comments (2)
Shelley Verses says...
Richard, thank you for helping readers untangle the web behind the scene. Walsh's 6th sense was telling him that a Pro Tour rider of this caliber 'should be' experiencing something different....suffering, at a certain point. Even the 5 time Tour Champions showed it. You could see it in the evening as the stages advanced, the way the boys 'shuffled' their feet in their team sox and sandals to the dinner table. Being a soigneur we watched these signs, the stalling, the hollowed cheeks, taking longer to eat...just too tired to eat! I once lied to my team doctor: told him the reason I could not raise my right arm up was because it was my stronger arm; overuse. We loaded 70 some-on pieces of equiptment into the team truck every morning, blah, blah, I went on telling him it was my dominant arm in massage. The real story was that our team's domestique was so fucking blown out in the Alpes that he told me his " knees were falling open ". He went to absolute failure each and everyday, recruiting one muscle group after the next until he was through. I had to literally hold his leg up during the remainder of the Alpes and Pyrennes while he passed out on the table. I got the cortisone shot!! He worked like a soldier everyday and so did most other teams back in those years. Riders felt agony and ecstacy and there was no hiding it. There are not enough brave writers like you and David Walsh. Thank you.
Posted 21:00 12th December 2012
Bruce Thomas says...
I've got my copy of the book on order and will have it the day it comes out. Respect to David Walsh -- and also to Richard Moore, who is one of the best cycling journalists around.
Posted 13:49 12th December 2012