Oprah Winfrey has billed her TV engagement with Lance Armstrong next week as a 'conversation' rather than a 'confession,' which is telling, as is the fact that it will take place in Armstrong's house in Austin, Texas.
The 'at home' format does not lend itself to the kind of grilling he might have expected in a neutral venue, such as a TV studio. And Oprah is hardly Jeremy Paxman, so it is difficult to imagine her skewering Armstrong on his own sofa.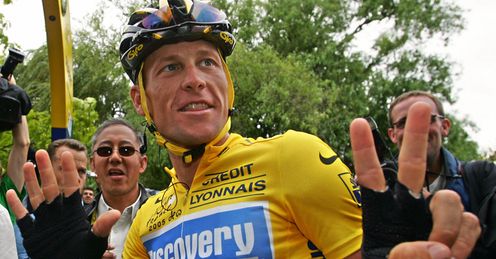 Comparisons have already been made with Marion Jones' Oprah confessional in 2008, but those hoping for tears from Armstrong should prepare to be disappointed, unless he decides that tears are required.
On the one hand, presenting a hitherto deeply hidden vulnerable side might help mitigate the charge of bullying, which has been almost as damaging to Armstrong's reputation as his own doping.
You can no more partly take banned drugs than you can be a little bit pregnant. But perhaps Oprah will allow for some fudging of the issue, letting him away with an explanation that certain of the 'medical practices' of a professional cyclist are unavoidable, cultural and, moreover, essential for the health of the athlete.
Richard Moore
Quotes of the week
On the other, Armstrong crying? Hell might freeze over first.
It is difficult to know what his strategy will be - and let's face it, his appearance on Oprah is no more or less than a strategic move, to gauge what he might be able to salvage from the wreckage of his reputation.
Among Armstrong's options: confession; contrition; context. The three 'cons': how appropriate. A fourth possibility is that he goes on the offensive, attacking Travis Tygart and the US Anti-Doping Agency for their 'witchhunt' and slamming the riders who turned informers, landing him in it in exchange for their soft six-month bans.
So how about a confession? A full confession seems not impossible but highly unlikely because of the subsequent legal fights it could open up, and because he has been so steadfast and unambiguous in his previous denials. The discussion would then be all about him, and he will surely want to implicate others.
Can he make a partial admission? You can no more partly take banned drugs than you can be a little bit pregnant. But perhaps Oprah will allow for some fudging of the issue, letting him get away with an explanation that certain 'medical practices' of a professional cyclist are unavoidable, cultural and, moreover, essential for the health of the athlete.
Remorse
Contrition? Surely a little - not so much for the doping, because that would involve a confession, but for the way he treated some people, though he might go on to justify this on the basis that it was necessary and standard behaviour for a 'winner'.
Bernard Hinault, the five-time Tour winner, could bully and intimidate, deciding when other riders could attack and bawling them out when they defied him. Roy Keane had his own brand of induction for new signings at Manchester United - his own teammates. In the cases of Hinault, Keane and countless others, their bouts of callousness was described as 'character', and widely admired.
But, considering his mainstream audience, Armstrong isn't likely to try to justify his intimidation of some riders, or coercing of his own teammtates to dope.
And so, expanding on his concession that cycling and medical 'preparation' go hand-in-hand, he might try to explain the context of his sport. This is probably the bit that Oprah will be least interested in. But it is the bit that cycling fans will be most interested in.
It would be interesting to know what kind of world Armstrong entered when he turned professional at the end of 1992. How long did it take him to realise that that there was a wonder drug, EPO, being used by an ever growing number of his peers in the early 1990s?
When did he decide that, if he was to have any kind of career, he would have to use it? And who helped him? Or did his doping education begin earlier, when he was part of the US Olympic team in 1992 - a team that, at the Los Angeles Games eight years earlier, carried out blood transfusions similar to those that Armstrong would perform two decades later.
Despite the Festina scandal of 1998 the context had not changed when Armstrong returned to the sport that same season after overcoming cancer.
When he was ill he was abandoned by his French team, Cofidis, and he returned angry and determined to prove himself - and apparently under no illusions that he would not only need to dope, but to do so far better than his rivals.
Quiet rivals
Because let's not forget that his rivals at the Tour were doing it too. In one of a couple of forceful messages on social media this week, before his Oprah interview was announced, Armstrong updated his Strava profile: "According to my rivals, peers, and teammates I won the Tour de France 7 times."
When he was challenged on this, he replied: "Ask Alex Zulle, Jan Ullrich, Joseba Beloki, Ivan Basso and Andreas Kloden how many Tours I have... and if that doesn't please you then ask the 200 guys in those '7' pelotons."
The sad reality is, he's right, at least about the riders that finished second to him. Has there been a peep from Zulle, Ullrich, Beloki, Basso and Kloden - the last two of whom are still enjoying lucrative careers? Their silence tells us that they don't think they should be upgraded to winner. Which tells us everything.
None of this is to justify Armstrong's doping, which was also more sophisticated and arguably more cynical than anyone else's, but the single focus on one individual detracts from a more important issue, which is that doping didn't begin and end with Lance Armstrong.
Moreover, Armstrong and his team's doping involved a number of individuals still involved in the sport, and it must have been at best ignored, at worst facilitated, by some of those in positions of authority: so who were the ignorers or facilitators?
This matters a lot more than whether Armstrong tells Oprah he is sorry. Perhaps the best we can hope for is that he is really, really angry, decides he has nothing to lose, and dumps on some of his co-conspirators.