There was a moment in Majorca last week when Bradley Wiggins, sitting beside Chris Froome and talking to reporters, said that he would "love to experience" winning the Tour de France again, adding that "it may be this year, it may be next year..."
Beside him, Froome gazed at his feet and then lifted his flask of green tea to his mouth for a sip. That served to momentarily obscure his face - at exactly the moment Wiggins said "...this year..."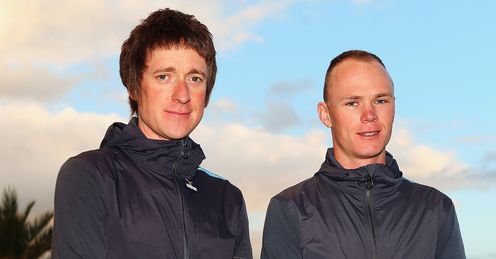 The body language between them was fascinating. It confirmed that, whatever else they might be, they are not best friends; they simply do not appear comfortable in each other's company.
Then again, Froome would dismiss the notion that there is anything to read into their body language, and complain that journalists are just stirring trouble. And he would have a point. Guilty, m'lud.
The leadership question might be a source of irritation, but Team Sky should be grateful that people are interested.
Richard Moore
Quotes of the week
Yet the day after our meeting with Wiggins and Froome, the former was quoted as saying that a Giro d'Italia-Tour de France double is "the dream," while Froome reiterated, lest there was any doubt, that he is "100 per cent the team leader for the Tour."
Several things seemed abundantly clear as Froome sat beside Wiggins, or perhaps it would be more accurate to say that their tête-à-tête confirmed impressions.
As well as the frostiness between them, they include that Wiggins seems more confident and gregarious, while Froome appears quiet and diffident.
There is also a seriousness and intensity about Froome, whereas the wisecracking Wiggins can seem fairly relaxed, which is new, and a consequence, surely, of his 2012 season.
A year ago, it was Wiggins who was on edge: he still had it all to do. Now he has done it, and it can seem as though he is having fun.
Leader
Froome, it is clear, becomes irritated by the talk of internal rivalry at the Tour. So does Dave Brailsford, the team principal, who insisted that the relationship between his two potential leaders is "very different to how it's perceived."
You might ask: whose fault is that? Perceptions were formed by the way they rode last year, when Froome appeared stronger on two summit finishes, and had to be told to wait.
And they were reinforced by Wiggins' latest book, in which he admitted that he didn't know what Froome was up to on La Toussuire in the Alps, and was so rattled by his apparent willingness not to follow instructions, that he almost went home that night.
"They're both responsible professionals," said Brailsford. "They want the team to win. I think it's not the issue that people perceive it to be. They're both acutely aware that both of them in great shape, riding together, would promote the chances of one of them winning, and both of them in great shape riding against each other would promote the chance of neither of them winning.
"Ultimately, they're seasoned professionals and they know they have responsibilities. This isn't like a boys' club coming together for a Sunday run."
Exactly a year ago, Brailsford insisted that Wiggins and Mark Cavendish could both be accommodated by Team Sky. "I don't see a problem," he said in the same Majorcan hotel. Yet there was, as Cavendish's departure made clear.
But there is another important point, far more important than the sensibilities of Froome, Wiggins and Brailsford.
For all that the leadership question might be a source of irritation and annoyance - and it is clear that it is - they should be grateful that, at this particular time in the history of cycling, people are interested.
The Wiggins-Froome conundrum is a sporting story; the kind that captures the imagination and which cycling desperately needs to begin its recovery from the scandals and damage done by Lance Armstrong and the rest.
If it is what people are talking at the Tour, it might be seen as a small victory.
Comments (5)
Cycling Cyclops says...
"2 potential winners of the Tour de France from Britain" - One born and bred in Kenya the other in Belgium...Either way should make for an interesting race - Much more interesting than the 7 that were annulled....
Posted 19:14 30th January 2013
Andrew Kenneally says...
As the Tour shapes up the stronger rider should have to earn the position of team leader. It's a tough sport so this issue of who's team leader of a race half a year away has looked, to me, all pretty childish & petty.
Posted 15:49 30th January 2013
Paul Bates says...
Froome could have left Wiggins for dead in the mountains last year and conceivably might have won the tour on the strength of that. He showed his team spirit thought, despite making a small point on a couple of occasions. Make Froome team leader this year, let Wiggins go all out in the time trials but ride as support to Froome for all other stages....
Posted 14:41 30th January 2013
Philip Willoughby says...
2012-2013/Team Sky/Wiggins/Froome has shades of 1988-1989/McLaren/Senna/Prost. Two athletes at the peak of their abilities in the best team in their sport. I will be (very pleasantly) surprised if they are both together in 2014 and beyond.
Posted 13:17 30th January 2013
Tim Curtis says...
forget about the rivalry between these two its what the sport has lived on for years but its usually from the cycling powerhouses of italy spain germany etc,we are actually talking about 2 potential winners of the tour de france from britain and dont forget mark cavendish will feature in many stage wins too. The brits have finally arrived on the cycling world scene with real power and the world is watching and i can't wait.
Posted 20:08 29th January 2013